Can two simple boiler changes save £300 on your energy bill?
The changes boiler experts say many of us can make to shave pounds of our energy bills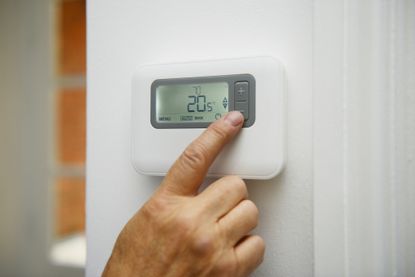 (Image credit: Getty images)
Boiler experts claim you can save up to £25 per month on your energy bill with two simple boiler changes.
The 80% increase to the energy price cap will kick in on 1 October 2022, with bills costing the average household almost £300 per month.
Here we explain the changes experts recommend many of us can make to our boilers to shave precious pounds off our energy bills.
TWO BOILER TRICKS THAT COULD SAVE £300 ON YOUR ENERGY BILL
1. Turn of the boiler's preheat function
Starting with a small change, you can save around 5% to 10% on your energy bill by turning off the preheat function on your boiler.
When this function is switched on, it means there is hot water ready at the go, even when you go to wash your hands. Essentially, the boiler always keeps a small amount of hot water even when you're not at home using the water.
Whereas if this function is turned off, it only means you have to wait a little until the water heats up which is a small price to pay for your shower in the morning compared to the rising costs.
This is a good way to save energy and money as you will stop burning heat for no reason.
2. Turn down your flow temperature
If you have a combi boiler it is worth checking its factory settings. Most combi boilers in the UK are set at 80C, however this isn't an efficient temperature for boilers to operate in.
It's recommended to lower the boiler's flow temperature. This regulates the water temperature when it goes from your boiler to your radiator.
When the transfer of heat happens between the boiler and your radiator, a lot of the heat escapes and is lost into the air. So it is recommended that you keep your flow temperature low.
Keeping the flow temperature low means less heat is lost because the boiler recycles majority of the heat back into the water to help it warm up.
It's important to note you can only go for this option if you have a condensing combi boiler that is not connected to a hot water cylinder (a tank or cylinder where your hot water is stored).
Your first point of call should be your boiler manual. If you don't have a physical copy, you can also find one online. This will be different for many households depending on the boiler you have.
Many energy suppliers are recommending this move for households, including Octopus energy.
Rebecca Dibb-Simkin, Chief Product Officer at Octopus Energy, said: "Safely turning down the water flow temperature of your gas boiler is a little-known but very effective tip for saving gas whilst staying warm, and could save people up to 8% off their gas bills.
"Over 100,000 of our customers who took part in our energy efficiency scheme last winter told us they tried it, with some of them knocking nearly £100 off their bills."
Jo Aslop from the Heating Hub believes households can save approx 6% to 8% of their annual gas usage just by lowering the flow temperature.
Jo Aslop said: "It's worth making the point that condensing boilers, even though they're A-rated on the box (for efficiency), they don't necessarily achieve A-rating in the home.
"Some A-rated boilers have been found to operate at E-rated efficiency levels in the home, at just 75%.
Also note that this doesn't work in the same way as turning down the thermostat. Turning the flow temperature down means it may take a little longer than usual to heat up the house.
The bottom line is the lower the temperature, the more efficient your boiler is. It's best that your household test out different temperatures to see what works for you, and don't forget to check in line with the savings you will make on your energy bill.
Vaishali graduated in journalism from Leeds University. She has gained experience writing local stories around Leeds and Leicester, which includes writing for a university publication and Leicester Mercury.
She has also done some marketing and copywriting for businesses.
When she is not writing about personal finance, Vaishali likes to travel and she's a foodie.