Money saving boiler challenge could cut your energy bill by up to £112 - here's how
One easy change to your boiler could save you around £112 a year. Here's what the money saving boiler challenge is all about and how you can take part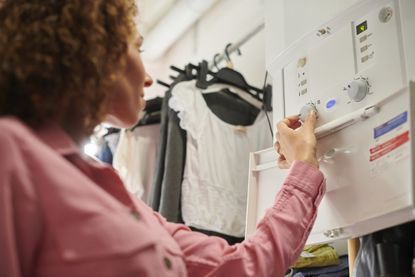 (Image credit: Getty images)
Annual energy bills have risen to £2,500 with the energy price guarantee, leaving households to cut costs where possible. With the new money saving boiler challenge, homes can save over £100 a year on energy bills.
Temperatures are dropping and many households are asking when they should turn on their heating, so Innovation charity Nesta has kicked off its money saving boiler challenge urging households to turn down the flow temperature on their combi boiler to 60 degrees or below.
With more than 15 million homes with a combi boiler in the UK according to Nesta (opens in new tab), this will save around £112 a year on energy bills.
The challenge aims for 10 million homes to make one easy change to their boiler, to save one billion pounds in energy bills and 1.7 tonnes of carbon emissions.
Nesta is in partnership with energy suppliers such as EDF, Octopus Energy, E.ON Next and Energy UK and have also been working with the UK government.
Here's how to take part and lower your boiler flow temperature to cut on your energy bills.
HOW TO LOWER YOUR BOILER'S FLOW TEMPERATURE
You can only lower your boiler's flow temperature if you have a combi boiler and it's suggested not to go in blindly when making the change.
Not everyone has the same boiler, so check your boiler manual which will tell you how to change the flow temperature in the correct way. If you can't find it, there should be a copy online.
Nesta (opens in new tab) has put a step by step guide (opens in new tab) together on how to change the flow temperature on your boiler which you can use too.
Save £100+ on your energy bills turning down your boiler flow temperature. So simple, even I can do it pic.twitter.com/9iGpsAft0hJanuary 26, 2023
See more
This change to your boiler does not work in the same way as a thermostat, which means it might take a bit longer to heat your home after lowering the flow temperature.
Also note, you might have to test different temperatures at 60 degrees or below to see which one heats your radiators comfortably.
At different times of the year you can change the flow temperature again, for example in the summer, the temperature could go lower than what it's set at in winter.
WHY YOU SHOULD LOWER YOUR BOILER'S FLOW TEMPERATURE
Your boiler's flow temperature is what controls the temperature of the water that goes from the boiler to the radiator.
Usually the flow temperature on your combi boiler is set to around 80 degrees, but this is too high and it's not the best temperature for your boiler to operate at.
Lowering the flow temperature to 60 degrees or below will result in your boiler working at its most efficient - saving you money..
Research by Nesta (opens in new tab) found that an average household uses 12,000 kWh of gas consumption, and reducing the flow temperature to 60 degrees will save 1,092 kWh of gas per year.
At the current 0.34p kWh, that results in a saving of £112 per year and a 9% saving on total gas usage per year.
The reason for this is when the water travels between the boiler and the radiator, heat is lost.
So if you keep your flow temperature at 60 degrees or below, it means less heat will escape and your boiler will work less hard to reheat the water..
Octopus Energy (opens in new tab) also vouches for this boiler change. Rebecca Dibb-Simkin, Chief Product Officer at Octopus Energy, said: "Safely turning down the water flow temperature of your gas boiler is a little-known but very effective tip for saving gas whilst staying warm, and could save people up to 8% off their gas bills.
There is also another boiler hack which in addition to lowering the flow temperature, could save you around £300 on your energy bills.
HOW TO TAKE PART IN THE MONEY SAVING BOILER CHALLENGE
All you need to do is go onto the money saving boiler challenge website (opens in new tab) and click 'turn down your boiler today' on their page.
This will take you through a step by step process, asking you what type of boiler you have and it will instruct you on how to reduce the flow temperature on your boiler.
Related articles
Vaishali graduated in journalism from Leeds University. She has gained experience writing local stories around Leeds and Leicester, which includes writing for a university publication and Leicester Mercury.
She has also done some marketing and copywriting for businesses.
When she is not writing about personal finance, Vaishali likes to travel and she's a foodie.