The best gas and electricity deals
Even in these strange times, it may be possible to save money in the long run by signing up to the best gas and electricity deals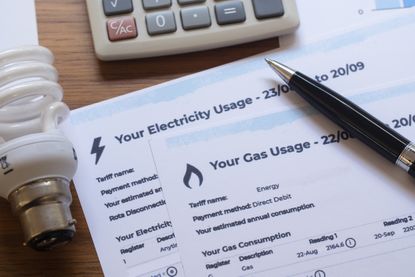 (Image credit: Getty images)
Contributions from
With households coming under increased pressure, it is only sensible to try and get the best gas and electricity deal you can.
But with bills set to shoot up by a whopping 78% (based on typical average use) in October, when the next energy price cap sets in, you may be thinking about how you can get the best gas and electricity deals.
Now, energy bills are set to rise and fall quicker after Ofgem announced plans to update the energy price cap every three months. While the move may shield consumers from rising prices in the long term, the next price change, due at the start of 2023, is already anticipated to be higher than October's projected increase.
Cornwall Insights' latest forecast suggests a typical household's default tariff energy bills will be as high as £4,000 a year for the next 15 months. The average bill over Summer 2023 sitting at £4,118.57 – just over £340 per month.
Households in England, Scotland and Wales are set to receive £400 in energy bill discounts as part of the new cost of living help package, but many households will still be feeling the pinch over winter.
Unfortunately, the cheapest price for gas and electricity at the moment is the current price cap, which limits how much energy suppliers can charge you per KwH. It is predicted to hit an average of more than £3,500 in October when the next price cap is set.
It is currently not possible to switch providers or use comparison sites to find cheaper deals as many providers have withdrawn their fixed deal offers.
However, it may still be possible to save money as some providers are offering fixed rate tariffs to existing customers.
But, they come with a significantly higher price tag.
Keep in mind that energy prices will go up in October, some people may be able to save money by taking the fixed deal offer. We explain in our article 'Energy bills predicted to go up - should you switch to a fixed price energy tariff?' whether it is worth switching to a fixed rate tariff.
If you think prices will increase again next year, and you're the sort of person that likes the security of having a fixed deal, you could consider switching to a fixed rate that is 60% or even 70% higher than the current price cap, but no higher than that.
What are the best gas and electricity deals?
There are a couple of suppliers offering new fixed tariffs to existing customers only. Below we break down the details of those tariffs, and how the costs involved compare to the energy price cap.
EDF Energy Fix Total Service Jul24 v4 (opens in new tab)
Two-year fixed tariff
Will cost the typical household £3,050 a year ‒ 55% more than the energy price cap
£300 dual fuel exit fees
Only available to existing customers on fixed tariffs that end in July or August
EON Fixed Online v18 (opens in new tab)
One-year fixed tariff
Will cost the typical household £3,407 a year ‒ 73% more than the energy price cap
No exit fees
Available to all existing customers
FIXED ENERGY DEALS OPEN TO ANYONE
There is also an open-market gas and electricity deal any can sign up to available at the moment worth considering.
It does come with significant downsides to be aware of though. It's also worth noting that these prices can change quickly. In only a matter of weeks, some of the best deals we've found are hundreds of pounds a year more.
Utility Warehouse Green Fixed 3 (opens in new tab)3
One-year fixed tariff
Will cost the typical household £2,850 a year ‒ 45% more than the energy price cap
£50 dual fuel exit fees
BUT, you must take two other services with Utility Warehouse to qualify for the energy tariff. Other services on offer include broadband, mobile, boiler and home cover). If you can make the switch and take on two other products which offer you good value, then it may be worth considering.
Ebico Living Prime 12 Saver July 2022 v1 (opens in new tab)
One year fixed-term energy plan
No exit fees
Will cost the typical household £4,200 a year – 133% more than the energy price cap.
This is the least expensive open-market option currently available. With this service, you do not need to sign up to any other products from the provider.
Why are the best gas and electricity deals more than the energy price cap?
You might be wondering why signing up for the best gas and electricity deals available today will mean that your costs actually go up? After all, surely the whole point of switching deals is to lower your bills?
Ultimately this all comes down the way that the energy price cap works. The cap only applies to the standard variable tariffs offered by suppliers, rather than fixed tariffs. In the past, the standard variable tariff was pretty terrible value ‒ it was what you moved onto when your initial tariff expired, and the sort of deal that it was a good idea to switch away from as soon as possible.
However, the turmoil of the energy markets over the last few years, with a host of suppliers going bust, has meant that bizarrely deals which are subject to the energy price cap are now the lowest around.
Tom Higgins is a journalist covering all aspects of the financial world, from investing and sustainability to pensions and personal finance. He graduated from Goldsmiths, University of London in June 2020 and has since written online and in print for the Financial Times group, New Statesman media group, numerous trade magazines, and has worked with Bloomberg on social media projects. He has a deep interest in environmentalism, social change, and data-driven storytelling. He can be found tweeting at @tomhuwhig.