The best energy suppliers for 2023 - and the worst, revealed by consumer organisation
Which? research reveals if your energy provider is rated as one of the best or below-average energy suppliers for 2023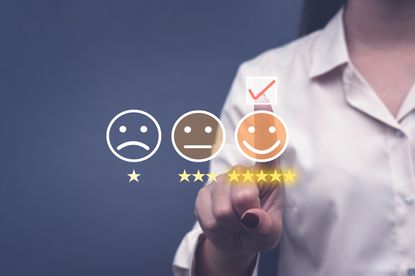 (Image credit: Getty images)
The best energy suppliers in 2023 have been revealed based on a customer survey, and the worst.
With energy bills rising, the government setting the energy price guarantee and now households hoping will energy prices will do down in 2023, the research by Which? (opens in new tab) Reveals how well energy suppliers are looking after customers.
As a result, regulator Ofgem called for energy providers to improve customer help as households struggle to afford their energy bills.
Find out which energy suppliers were rated the best and below-average by Which?, and what energy support your provider is offering customers.
The best Which? rated energy suppliers for 2023
Which? (opens in new tab) surveyed more than 10,000 customers and they rated their energy provider based on customer service, plus a Which? Assessment core looking at support and information around rising energy costs, complaints performance and how clear the firms statements are. Here's how the energy suppliers ranked.
Swipe to scroll horizontally
| Company | Total score | Customer score | Which? assessment score |
| --- | --- | --- | --- |
| Octopus Energy | 78% | 73% | 82% |
| Utilita | 67% | 59% | 75% |
| Utility Warehouse | 65% | 67% | 64% |
| Co-op Energy | 64% | 56% | 72% |
| Bulb Energy | 63% | 54% | 72% |
| Ovo Energy | 63% | 50% | 76% |
| EDF Energy | 62% | 53% | 71% |
| Boost Energy | 61% | 52% | 71% |
| British Gas | 60% | 52% | 68% |
| Sainsbury's Energy | 59% | 54% | 63% |
Octopus Energy wins Which? Energy provider of 2023 for the sixth consecutive year as they top the table for customer score and Which? assessment score.
Which? found Octopus Energy was the only provider out of 16 with any five star ratings from its customers regarding the usefulness of information about energy costs.
Octopus Energy customers were also satisfied with the easy and quick communication with the provider, as it answers emails every day, including weekends.
Utlilta takes the runner up spot and Utility Warehouse takes third place, but their customer ratings differed hugely from the top spot and they received four star ratings, no five stars.
The good news is, Octopus Energy (opens in new tab) has told The Money Edit they are continuing to take new customers, all you need to do is call them on 0808 164 1088.
Utilita has also told us that they are "actively selling again."
But this might not be the case for other energy providers. Before the energy crisis, it was normal to shop around for the best energy tariff, but with the EPG there is no competitive pricing in the energy market.
As a result, some energy companies are actually turning customers away.
If you're moving house, you might be able to switch provider and in which case, go for a top rated provider like Octopus Energy.
And if you are going to switch to Octopus Energy or Utilita, it's more so for the customer service rather than the price you pay.
Low scoring energy companies
Which? found Scottish Power (opens in new tab) took the last spot with the lowest total score of 51%, with Shell Energy and SSE scoring even lower in the customer survey.
Amongst the feedback, Scottish Power received one star for clarity of communication about the energy market and most other measures received two stars.
SSE Energy received one star on three different areas of its servies and when it came to customer rating, Scottish Power, Shell Energy and Boost received just one star.
If one of your energy providers is a low scoring energy company and you want to switch, top scorers Octopus Energy and Utilita are taking new customers, so it is worth giving them a call.
Note, it most likely won't bring down the price you're paying for energy, but they can bring you better customer service.
What are energy suppliers doing to help in the energy crisis?
You should take your energy providers rating into consideration as it's good to know, but what's better is knowing the support your current provider is offering or what energy help is available.
Some energy providers are rewarding customers who use energy at off peak hours. Providers taking part in the scheme include British Gas, Ovo Energy, EDF, Octopus Energy, Eon Next, Shell Energy and Utilita. Read more about how you can take part and earn rewards up to £100
Energy bill hardship funds. You could be elgible for a hardship fund so you should check if your energy supplier is offering them. Read our full list of available energy bill hardship funds available. British Gas Energy Trust (opens in new tab)offers hardship funds to anyone, you do not need to be a customer.
Call up your supplier and ask them for support. If you really need the support and there isn't much out there to help, you can call up your supplier and ask them advice on how to use less energy, whether they can give payment breaks or make you a payment plan.
Get on the priority register. Ofgem (opens in new tab) says if you fit a certain criteria, you can be put on the priority register which means your energy supplier has to offer you an affordable payment plan and if you can't afford to top up your prepay meter, they can also offer emergency credit. To apply you should contact your energy provider. According to Ofgem, you are eligible if you:
are recovering from an injury
have a hearing or sight condition
have reached your state pension age
are disabled or have a long-term medical condition
are pregnant or have young children
have a mental health condition
have extra communication needs (for example if you don't speak or read English well).
You might still be able to register for other reasons if your situation isn't listed. For example, if you need short-term support after a stay in hospital.
Find out what other help is available if you can't pay your energy bill.
Related articles
Vaishali graduated in journalism from Leeds University. She has gained experience writing local stories around Leeds and Leicester, which includes writing for a university publication and Leicester Mercury.
She has also done some marketing and copywriting for businesses.
When she is not writing about personal finance, Vaishali likes to travel and she's a foodie.