Nearly 1 million more households can now claim £400 energy bill discount- here's how
Nearly a million households yet to get the £400 energy bill discount can now claim the payment - here's how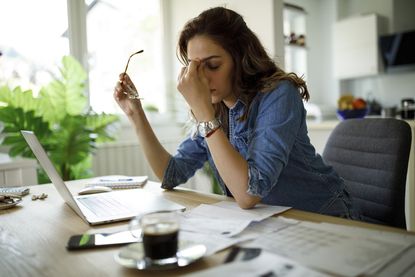 (Image credit: Getty images)
If you're one of the million households who are yet to claim the £400 energy bill discount, here's how you can apply for the payment.
If you haven't yet received the payment, you might be wondering how the £400 energy bill discount is paid.
Most households who pay their energy bill via direct debit have been receiving the £400 energy rebate in monthly instalments since October 2022.
But many of those in the UK living off-grid, in park homes and care homes, have not seen the payment at all, affecting more than 900,000 households.
The Department for Business Energy and Industrial Strategy (BEIS) has confirmed that the application form to apply for the £400 grant is now live on the government website.
Amanda Solloway, Minister at the Department for Energy Security and Net Zero, said: "Today I'm urging everyone who couldn't get their £400 discounts in the regular way to apply via our secure channels.
If you don't have a direct contract with an electricity supplier, it's essential you submit your application as soon as possible. The sooner you do, the sooner help can get to you."
Here's how to apply.
How to claim the £400 energy bill discount
To claim the £400 energy grant you need to search for 'apply for energy bill support if you do not get it automatically' either in Google or in the search engine on GOV.UK (opens in new tab).
You will need your phone number, email address and bank account details with you during the application process.
After you apply your local council will verify that you live at the address provided in your application, and you should be notified within six weeks of applying on the progress of your application, through email or letter.
If you do meet the criteria you will get a one-off £400 payment to your bank account and you will not need to repay this money.
You should also be aware of the £400 energy bill discount scam.
Am I eligible to claim the £400 discount?
Note, if you are already receiving the £400 grant monthly in £66 instalments, you do not need to apply for this as you are already receiving the payment.
But if you have not received a penny from the government for the £400 grant, your main home needs to be one of the following for you to be eligible for the payment:
A park home
On a residential boat
On a permanent traveller site
In social or private rented accommodation that has a business energy connection or a communal electricity supply
A home without an electricity meter
A care home or assisted living facility
Off the gas grid
In a separate domestic home within a non-domestic property- for example, a flat above a shop or a farmhouse
Other energy help available
There is more help available if you can't afford to pay your energy bills.
Energy providers are offering hardship funds. Scottish Power, Shell Energy and OVO Energy are among many of the energy providers who are offering customers hardship funds to low-income households. So if you're struggling to pay your energy bill, you should contact your energy provider as soon as possible.
Some providers are offering rewards for off-peak energy use. If you participate in the famous 'blackouts' and use less energy at the given 'off-peak times, providers like EDF and British Gas are rewarding customers with up to £100 as an incentive.
Contact your local council. Depending on your circumstances, you might be eligible for financial support via the council's Household Support Fund or welfare assistance schemes. So it's worth getting in touch with your local council, especially if you are claiming Universal Credit or other benefits.
Get in touch with your energy supplier. If you can't pay your bill, you should contact your energy supplier sooner rather than later. They can help you by coming up with an affordable payment plan based on your income, or under Ofgem rules your energy provider lets you ask for the following help:
payment breaks or reductions
more time to pay
A review of your payments/ debt repayments
Advice on how to use less energy
Find out more about help with energy costs: what can you do if you can't pay your energy bill?
Related articles
Vaishali graduated in journalism from Leeds University. She has gained experience writing local stories around Leeds and Leicester, which includes writing for a university publication and Leicester Mercury.
She has also done some marketing and copywriting for businesses.
When she is not writing about personal finance, Vaishali likes to travel and she's a foodie.