Energy crisis: everything you need to know about why your bills are going up
The current energy crisis is expected to dominate household finances in 2022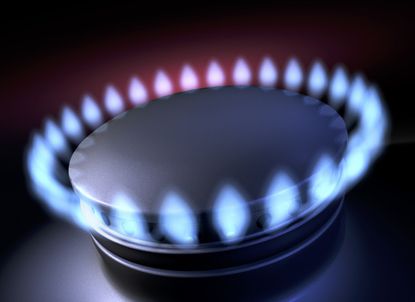 (Image credit: Getty)
The current energy crisis has seen wholesale gas costs rise astronomically, forcing the energy regulator Ofgem (opens in new tab) to raise its latest energy cap level by 54%.
The energy price cap, which limits how much suppliers can charge those on default tariffs, has skyrocketed from £1,277 to £1,971 - that's £693 more for the average household.
Expert analysts at Cornwall Insight are now predicting a further increase in October that could see the energy price cap go up to £2,900 a year.
To help you understand why your energy costs have gone up, we take a look at why there is a energy crisis in the UK and what it means for you.
Energy crisis: Why are gas prices up?
A number of circumstances has led to a squeeze on gas supplies which are now at a record high.
The UK has in recent years increasingly depended on imported energy. A fire last year shut down a cable that brings electricity into the UK from France while, more significantly, there has been a reduction in supplies from Russia as the country continues to cut its supplies to Europe.
The UK's lack of energy storage was then made worse by lower gas storage stocks than normal due to a short summer and lower wind turbine output in 2021, for example. Tapping into the North Sea reserves for gas has also been wound down in recent years in favour of renewable alternatives.
The invasion of Ukraine has also led to further volatility in the European gas market, and this has led experts to predict yet another rise in October 2022.
What about my energy bills?
Millions of households in England, Wales and Scotland saw their bills rise when the price cap increased in October 2021 from £1,223 to £1,370.
It will now go up to £1,971 on April 1 - that's £693 more for the average household.
In October the energy price cap may even go up to £2,900 a year, according to data analyst firm Cornwall Insight.
Note that these figures are based the "typical" three-bedroom semi-detached house. If you live in a larger home, or live in a particularly draughty property or simply use more energy, you could easily see your bill exceed these figures.
If you are on a fixed-price deal then your bills should remain flat until that contract ends. When it ends, however, you're likely to face a big increase.
If you pay for energy using a direct debit and are on a standard tariff then the amount taken each month will go up in line with energy price increases that come into force next month.
Some customers have been vocal on social media about shockingly high and potentially unfair increases to their direct debit - threefold in some cases.
Guy Anker, director of The Money Edit, challenged E.on when it raised his direct debit from £42 a month for electricity to £116. "I emailed to explain prices are rising by 54%, not trebling! I asked for it to go to £69 and a rep kindly agreed," he tweeted.
Finding the best energy deal
There are currently no good energy deals, so you are unlikely to find anything that is cheaper than the cap.
If you want price certainty you could find a fixed deal for a year that is preferably no more than 25% above the April price cap (of £1,971).
Whether you will be better off doing that is unclear - there is so much uncertainty about the energy crisis.
GoCompare's energy comparison service was paused in September 2021 due to the restricted number of tariffs available on the market. Gareth Kloet, the site's energy expert, says: " Traditionally, if energy prices increase, we encourage bill payers to switch and save on their energy costs but at the moment, there aren't any competitive deals available for people to compare. In addition, an unprecedented number of suppliers have exited the market in the past 12 months, so it's a much smaller market to compare. At the moment, the least expensive option is to stay on your suppliers Standard Variable Tariff (SVT) when any deal you might have previously secured ends."
If your energy supplier goes bust, Ofgem will be on it to find a new supplier to take over your account. Take a meter reading so that you can be billed correctly as your prices may increase when the new supplier takes over - and don't try to switch supplier however tempting that may be.
One way to mitigate your energy bill is to reduce your energy usage as much as possible. Read how the Wallaces have used targeted heating, dehumidifiers, logs and a laundry technique to cut their energy consumption by 30%.
Which energy companies are failing? How will I be affected?
Shockingly, 30 energy suppliers have folded (opens in new tab) including: Hub Energy, Igloo Energy, Avro Energy, Green, Utility Point, Green Network Energy, Simplicity, PfP Energy, People's Energy, MoneyPlus, Pure Planet, Colorado Energy, Daligas, Entice Energy and Orbit Energy. The largest to fold, Bulb Energy, had around 1.7 million customers.
These suppliers could not charge customers more than the cap, and so had to take on the rising cost of wholesale energy themselves. As the cost of natural gas on the market is up by more than 400% in a year, many suppliers could simply not keep themselves afloat.
If your energy supplier goes bust you will still receive gas and electricity while Ofgem moves you to a new provider. If Ofgem cannot find a new provider it will appoint a temporary 'special administrator' to the failed energy firm.
Industry rules mean affected customers will not lose money owed to them. Any new company is also responsible for taking on any credit balances the customer may have.
Katie is staff writer at The Money Edit. She was the former staff writer at The Times and The Sunday Times. Her experience includes writing about personal finance, culture, travel and interviews celebrities. Her investigative work on financial abuse resulted in a number of mortgage prisoners being set free - and a nomination for the Best Personal Finance Story of the Year in the Headlinemoney awards 2021.