What shall I do if my energy company goes bust?
What to do if your energy company goes bust and what help is available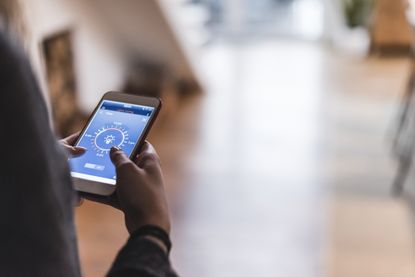 (Image credit: Getty)
Not sure what to do if your energy company goes bust? We take a look at what you need to know.
The energy crisis has seen a number of energy companies go bust due to gas shortages. Energy suppliers Hub Energy, PfP Energy, MoneyPlus Energy, People's Energy, Simplicity, Green Network Energy, Utility Point, Green, Avro Energy, ENSTROGA, Symbio Energy, Igloo Energy, Pure Planet, Colorado Energy, Daligas, Entice Energy and Orbit Energy have stopped trading after struggling with the 250% rise in wholesale cost of gas.
The UK's sixth largest energy firm, Bulb, with 1.7m customers, has been placed into special administration - the first firm to rely on the regulator special administration regime where the Government effectively nationalises the energy company temporarily.
The latest firm to go bust (January 18) is Together Energy, an energy firm half-owned by Warrington Borough council that has 170,000 customers. This brings the total number of energy companies to go bust since August 2021 to 28.
Two smaller operators are also expected to go bust soon.
Ministers are under pressure to intervene to take the pressure off households and businesses, with proposals being put forward such as a cut to VAT and levies on environmental bills.
To help you understand what you can do, we have answered your most common questions on what to do if your energy company collapses.
What shall I do if my energy company goes bust?
If you're told your energy company is closing down, don't panic, you will not be left without gas or electricity.
Ofgem, the energy regulator, will move you to a new supplier. It has now appointed what's called a 'supplier of last resort' to take on the customers of the failed suppliers.
Hub Energy and Igloo Energy customers have moved to E.ON.
Avro Energy customers have moved over to Octopus Energy.
Green, Pure Planet, Colorado Energy and Daligas customers have been transferred to Shell Energy.
Utility Point and Green Network Energy customers have been switched to EDF.
Simplicity, PfP Energy, People's Energy and MoneyPlus have been transferred to British Gas.
Entice Energy and Orbit Energy customers will be transferred to Scottish Power.
Together Energy customers are waiting to hear from Ofgem where they will be transferred to.
You don't have to do anything - it is the regulator's responsibility to move you. If you try and switch yourself, you risk losing your credit balance.
What Ofgem cannot guarantee is that the new provider will offer you an equivalent tariff. The new supplier will put you on a special 'deemed' contract - a deal you haven't chosen and that will be at, or around, the new price cap of £1,370 (since October 1). All deals cheaper than the price cap have been pulled.
So if you are on a fixed contract you may see a huge rise. But be aware that the energy cap is projected to rise to almost £2,000 a year when it is reviewed in February 2022.
Once your new provider is in place you can choose to switch. Don't forget to cancel your direct debit with your old supplier.
What do I do if I'm a Bulb customer?
Nothing. A Bulb spokesperson said: "If you're a Bulb member, please don't worry as your energy supply is secure and all credit balances are protected."
"We've decided to support Bulb being placed into special administration, which means it will continue to operate with no interruption of service or supply to members."
Special administration means the Government, via regulator Ofgem, will temporarily nationalise the energy firm. It means taxpayer cash - tens of millions of pounds of pounds - will be used to prop-up the company until a long-term solution is found.
My energy company has gone bust and I was in credit - will I lose that money?
No. There are guarantees that protect your credit balance - you start with that when the new supplier takes over.
It is a different situation if you are in debt with your old supplier. The new supplier may take you and your debt on but if they don't then the agency that deals with your old supplier's bankruptcy may try to get it from you at a later date.
I think my energy company might go bust, what shall I do?
If you think your energy provider is at risk of collapse, take photos of your meters, submit meter readings online, download bills and screenshot your credit balance. This will help find a more accurate switch later and clear up any potential future complications.
Even if you don't think your energy provider is at risk, take weekly screenshots of your account because if it does go bust, the company's website goes offline meaning you won't have a record anymore. You don't want difficulties proving your record of past credit.
Is it worth switching energy suppliers?
There is nothing to stop you from switching. If you feel you can get a better deal elsewhere then, yes, you can still switch suppliers.
However, with so many energy suppliers going bust, the fixed rate deals that used to be cheaper than the Standard Variable Rate Tariff cap have all disappeared.
You could wait until wholesale prices settle down and it becomes clear which energy suppliers will survive. Fixed-rate deals may improve then.
If you are on a fixed price deal that's coming to an end, don't switch ahead of time. The reality is that you won't get a better rate, so wait until it ends. You might as well stick with a cheaper fixed rate for as long as you can - even if your supplier is going to go bust you can at least enjoy a cheaper rate until then.
Even if your energy company does not go bust or you somehow switch to a better deal, expect a rise in your bill. The cost of the firms going under will be shared across all households under a levy as part of a deal with regulator Ofgem. Moving millions of customers to new suppliers will cost the industry about £1.5bn. This translates to an extra £100 at least for households.
What is the best comparison site for energy right now?
Most comparison sites have ended partnerships with energy companies, meaning it is unlikely you will find the best deal using them. ComparetheMarket, however, is now back up and running.
If you are looking to switch, see if your current provider has another deal you can move to or go direct to other providers to see what options are available.
Should I switch to a new fixed rate deal?
This is a difficult question to answer. If you fix now and wholesale energy prices suddenly drop (so fixes get cheaper in the future) you will have moved onto a fixed deal to only lose out. If you don't fix now and prices rise then fixes could get more expensive.
Campaigner Martin Lewis has made an educated estimate that a fix that's no more than 40% costlier than your current price-capped tariff is worth considering. If you value some price certainty, then a fixed rate deal close to this 40% estimate may be for you.
Do I qualify for the warm home discount to help with future energy costs?
The Warm Home Discount gives millions of people £140 off bills to help with their energy costs over winter.
You have to be over 62 and on certain benefits or on a low income. If you are 62 and on pension credit and your supplier goes bust then you will get the discount automatically.
However, if you are part of the broader group which is normally eligible for the discount and your supplier goes bust, you may be moved to a new supplier that doesn't offer the discount. Check if the new supplier offers the discount. If not, then you will have to reapply for the discount. You have until March 31 to apply - but suppliers have limits on the number of discounts they offer. You will need to be quick on this.
Financial help for energy bills
With an extortionate increase in energy prices, it's understandable that households may be concerned about their finances.
"Behind the headlines, the people I speak to are deeply concerned about the high cost of energy and just getting through the coming winter when money is tight. It's time to take stock of what the future might hold and plan for it," Martyn James, consumer expert says.
Anyone already struggling to pay their bills amid the current crisis must be supported. For example, Octopus Energy must ensure that any debt repayment plans Avro Energy customers may have been on are respected. Speak to the new supplier to have this confirmed.
Winter Fuel Payments are available if you receive the state pension or get another social security benefit.
Cold Weather Payments are for people who live in areas where the average temperature in their area is recorded as zero degrees celsius or below over seven consecutive days.
If you work from home, don't forget the working from home tax relief worth up to £125 per person which takes just a few minutes to claim via the government website - all you need is your government gateway ID.
Talk to your provider if you're struggling with energy bills. They will talk you through options and can offer advice. Debt advice charities such as StepChange also offer free, impartial guidance.
If you are in debt to your energy supplier there are grants from charitable trusts to help pay it off. British Gas Energy Trust offers help to anyone - you don't have to be a customer. Firms such as Scottish Power Hardship Fund , Ovo Debt and energy assistance, E.on Energy Fund and EDF Energy Customer Support Fund offer grants to their customers.
How can I lower the cost of my energy bill?
There are ways to do damage control when it comes to your energy bills, especially if you are working from home.
Turning the heating down by just one degree can save you £80 a year on your energy bill, according to comparison site Uswitch.com. Setting the thermostat to only turn on when the temperature falls below a set number will also help cut your bills, compared with having the heating on constantly.
Switching electrical appliances off off standby can save you £24 a year according to British Gas and turning off the lights in rooms you are not in can save you £14 a year, according to the Energy Trust.
If you are doing laundry four times a week at 20 degrees rather than 40 degrees you can save you £24, according to Which? And if you cut down your use of the tumble dryer (which costs up to £43 a month with some models if you use it for 10 hours in the month) you will make a further dent in your energy use.
Replacing bulbs with energy efficient LEDs can save you £35 a year though the expense of doing this (around £100 for the average household) may seem initially pointless but you could start small and replace just the bulbs in the room that you're working in.
The Energy Saving Trust website has more detailed information on how to save energy at home if you want to do more than wear extra jumpers and drink from a flask while working from home.
When will the energy crisis be resolved?
Energy experts say may be several months before the crisis has settled and by then it looks likely that there will be fewer suppliers in the market. Experts have predicted that there could be as few as 10 firms trading by the end of 2021.
Look After My Bills Newsletter
Get the best money-saving tips, tricks and deals sent straight to your inbox every week. Make sense of your money in partnership with The Money Edit.
Katie is staff writer at The Money Edit. She was the former staff writer at The Times and The Sunday Times. Her experience includes writing about personal finance, culture, travel and interviews celebrities. Her investigative work on financial abuse resulted in a number of mortgage prisoners being set free - and a nomination for the Best Personal Finance Story of the Year in the Headlinemoney awards 2021.