Council tax when renting - what to do whether you're moving in or moving out
Paying council tax is your responsibility, even when you rent a home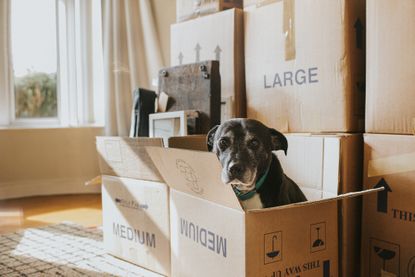 (Image credit: Getty images)
If you're 18 or over, not in full-time education and live in a property that you rent you will need to pay council tax.
Council tax is an annual fee that you pay to your local authority for local services such as rubbish collection, street lighting and park maintenance.
How much council tax you pay will depend on where you move to. It may be unexciting compared to the joy of moving into a new home but it's important to be aware of your responsibility so you don't end up missing payments.
And when payments like the £150 council tax rebate are made, you want to be registered correctly to promptly receive it.
Here, we explain everything you need to know about council tax as a renter.
How to register for council tax as a renter
When you move into a rental property, you need to contact the local council. If you are moving out of another rental property at the same time then you need to tell the council for the old area that you are moving away from if it falls under another local authority.
This way you'll be registered correctly to pay the right amount of tax.
If you struggle to know which council you should be contacting you can put your postcode into the government search facility.
Check your local authority website for when you need to contact them as it will vary. For example, Camden says residents are required to tell the council within 21 days. Leeds asks residents to contact them less than fourteen days before moving.
Your local authority website will have a 'change of address' page or online form to fill in. Be ready to share information such as:
your moving date
your new address, so the council can send your final bill
bank details if you want to set up a Direct Debit
landlord or agent's details
details of everyone aged 16 and over that lives with you
When do I start paying council tax when I move house?
You pay council tax from the day that you move into your new address.
If you are moving into a rental property for the first time you will have to set up a direct debit. If you are moving into a new rental property from another rental property in the same local authority area, you can use the same direct debit.
If your new home is in a different local authority area, you'll need to set up a new direct debit.
If there happens to be an overlap in the dates you rent your old home and your new home, you might have to pay council tax on those two properties for a short period.
If you don't act in advance you will eventually receive a 'new occupier' letter. The council will backdate any payments you owe so you could end up with a hefty bill.
If you've overpaid council tax for your old address and are moving within the same area, the council will usually use the credit to reduce what you owe for your new address.
If you've overpaid council tax for your old address and are moving out of the area, your council will issue a refund when they close your account.
How much council tax will I pay?
The rates for council tax are set by 339 local authorities across the country. The cost is usually split into 10 monthly payments with February and March being typically the two months where you don't pay council tax, though this may vary depending on the payment plan you have agreed with your council.
Council tax is based on the value of your property in 1991. If the property was worth up to £40,000 that year it falls into band A. On the higher end of the scame those properties valued between £68,000 and £88,000 are in Band D while at the top of the scame those valued over £320,000 are in Band H.
The higher its value then the higher your 'band', and the more council tax you pay.
In England the bands look like this:
Band A – Up to £40,000
Band B - Over £40,000 and up to £52,000
Band C – Over £52,000 and up to £68,000
Band D – Over £68,000 and up to £88,000
Band E – Over £88,000 and up to £120,000
Band F – Over £120,000 and up to £160,000
Band G – Over £160,000 and up to £320,000
Band H – Over £320,000
The average Band D council tax set by local authorities in England for 2022/23 is £1,966.
An example of council tax rates in Bristol for 2022/23:
Band A - £1,486.91
Band D - £2,230.37
Band H - £4,460.74
Another example of council tax rates in Leeds for 2022/23:
Band A = £1,240.15
Band D - £1,860.22
Band H = £3,720.44
Some renters are exempt from paying council tax, such as full-time students and some live-in carers. Discounts and reductions are available in some cases. For example, in Leeds the reduced rate for the disability discount is £1,033.45. There's council tax reduction for some pensioners too.
Look After My Bills Newsletter
Get the best money-saving tips, tricks and deals sent straight to your inbox every week. Make sense of your money in partnership with The Money Edit.
Katie is staff writer at The Money Edit. She was the former staff writer at The Times and The Sunday Times. Her experience includes writing about personal finance, culture, travel and interviews celebrities. Her investigative work on financial abuse resulted in a number of mortgage prisoners being set free - and a nomination for the Best Personal Finance Story of the Year in the Headlinemoney awards 2021.