BT price increases - what can customers do?
BT customers now pay 9.3% more for services than last month. Here's what you can do to beat the hike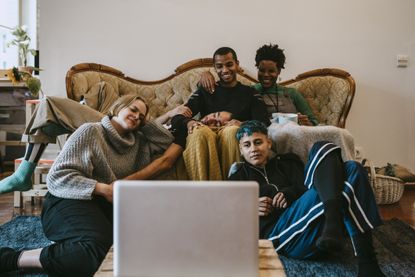 (Image credit: Getty images)
Look After My Bills Newsletter
Get the best money-saving tips, tricks and deals sent straight to your inbox every week. Make sense of your money in partnership with The Money Edit.
Thank you for signing up to The Money Edit. You will receive a verification email shortly.
There was a problem. Please refresh the page and try again.
Millions of BT broadband, phone, mobile and TV customers have seen their bills increase by 9.3%, adding to the growing cost of living, such as the increase in energy prices.
This includes customers of EE and Plusnet too, which are part of the BT group.
If you are in a contract, then you will be stuck with the increase - but if you are coming to the end of your contract then now could be the time to get out of it and bag a better deal.
The telecoms giant announced in January that the price rise was due to a "dramatic increase" in data usage. Working from home, online schooling and television streaming services have put greater demands on BT's network and running expenses, it said.
The price hike will affect the majority of its customers who will pay an extra £3.50 a month on average. This equates to an extra £42 a year. There are no easy solutions as other broadband and phone providers are also increasing their prices.
If you are a BT customer, we explain everything you need to know and what you can do about the price increases.
BT price hike: How much will my bill increase by?
If you signed up after 31 August 2020, or got out of contract before 31 March 2022, then your bill will have risen by 9.3%.
Customers who signed up before 1 September 2020 and who will be in contract after March 2022 will have seen their bill rise by 5.4%.
Taking a 9.3% rise into account, it means a BT customer with an iPhone SE with 64GB of storage and 5GB data who was paying £28 a month will now pay £30.06. This equates to an annual increase of £24.72.
If you signed up to a broadband deal that costs £29.99 a month, an increase of 5.4% means your new bill will cost £31.61. An increase of 9.3% will now take you to £32.78.
Should I leave my BT contract?
If you are in contract
Customers cannot leave their contracts early just because of the upcoming price rise, according to BT. The annual rise of inflation (currently 5.4%) plus 3.39% was included in the terms and conditions when you signed your contract and you therefore won't be able to cancel it penalty-free.
So you will be charged an early exit penalty fee if you decide to leave early. How much you'll pay depends on how long is left to run on the contract and how much the contract is for.
It is usually the total of the remaining amount you would have paid up to the end of your minimum period. BT subtracts the costs it saves from you leaving early plus an extra 1% if it gets your final payment early. It means you'll pay anything between £6 and £44 for every month remaining on your contract depending on whether it's a mobile or broadband contract inclusive of line rental.

If you are out of contract
Yes, it's easy to switch - and switch without penalty - but only if you can find a deal that's worth it. As many as 40% of all broadband customers are currently out of contract, according to telecoms regulator Ofcom.
It might not be worth leaving because all providers have increased their prices anyway.
If you do decide to switch, comparison websites such as Go Compare or Uswitch can help you find cheap deals.
Hannah Isitt, broadband expert at GoCompare, says in the comparison website has seen a massive increase in the number of people comparing broadband deals in the last two months: "While it's certainly possible to switch away from BT at any stage in your contract, you'll have to pay an early termination fee and perhaps even pay a fee for returning their equipment.
SEE MORE: Find the best broadband deals
"Before switching, you should weigh up the cost of remaining a BT customer and paying the increased amount versus switching to a new broadband provider."
You may also want to include the level of customer service you have experienced when making a decision. Paying a little more for good customer service may be worth it to you, especially if you work from home and need good internet connection.
How can I leave my BT contract penalty-free?
1. If you are out of contract and have been rolled onto a more expensive tariff without actually signing up for it then you can leave penalty-free by giving 30 days' notice. Newbies tend to get the best broadband and mobile deals so you could be paying less elsewhere. Alternatively you could do your research and benchmark prices elsewhere and use this information to negotiate a cheaper deal with BT.
2. If you suspect your broadband speed is much slower than it should be. Ofcom's Voluntary Code allows customers to leave their contracts without paying penalties if the broadband service speeds aren't the same as advertised. The code sets out that all providers, including BT, must give accurate estimates and provide a minimum guaranteed speed and if they fail to deliver this you can end your contract penalty-free.
But make sure you check your contract first to see what the minimum speed should be. If your broadband is too slow, contact BT and ask for help. BT then has 30 days to fix the problem from the moment you report it. If BT can't fix the issue, you are entitled to £20 compensation and you can leave penalty-free. Of course, you can also use slow speed as an argument to negotiate a cheaper deal with BT.
3. If you move home and BT is unable to provide the same service at your new address then you are allowed to leave your contract penalty-free.
How can I save money on my internet and phone bill?
The first thing to do is shop around for a better deal. You can use our broadband comparison chart below to see the best broadband deals around right now.
Loading...
The second step is to speak to BT as you may be able to negotiate a cheaper contract, especially if you explain that you have found a better deal and are prepared to move providers. Have your account details to hand and call 0800 800 150.
Research by the consumer group Which? showed that half of people who had haggled with their provider ended up saving £85 a year on broadband and £35 a year on mobile bills.
If you experience a change in circumstances and find yourself on a low income or start claiming certain state benefits (such as Universal Credit or Jobseeker's Allowance), BT offers a basic £15 a month phone and broadband package.
Look After My Bills Newsletter
Get the best money-saving tips, tricks and deals sent straight to your inbox every week. Make sense of your money in partnership with The Money Edit.
Katie is staff writer at The Money Edit. She was the former staff writer at The Times and The Sunday Times. Her experience includes writing about personal finance, culture, travel and interviews celebrities. Her investigative work on financial abuse resulted in a number of mortgage prisoners being set free - and a nomination for the Best Personal Finance Story of the Year in the Headlinemoney awards 2021.