Evri text scam: how to spot and report the latest fake delivery text messages
The Evri text scam will typically ask you to pay in order to rebook a delivery - but steal your money and your personal information. It's essential you can spot the signs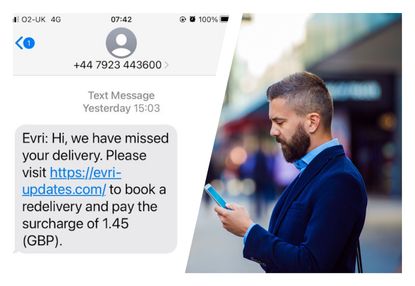 (Image credit: Future / getty Images)
Various Evri text scam messages are after your card details: don't get taken in
It's likely you've received at least one text message claiming to be from a delivery company, such as Evri (formerly Hermes), telling you that its driver has missed your delivery.
But how can you tell if the message is genuine? Or is it the latest scam.
What do Evri text scams look like?
These texts arrive from random numbers and instruct you that you have a fee to pay in order to book a delivery. The charges are often relatively small - they're designed to appear plausible and not arouse suspicion.
The messages then include a link where you can 'pay the surcharge' and 'book a redelivery'. But these texts are fake.
Scammers are attempting to send you to a fake website, usually a convincing clone of the official Evri site, where they can capture your card details and other sensitive personal information when you 'pay' the fake fee.
The texts can use different wording, often around missed delivery attempts and outstanding fees.
But no matter how the fraudsters word the messages, they will almost always include a URL that when you look closely has nothing to do with Evri:
As with most scam tactics, the messages are attempting to panic you into taking action and tap the link quickly before you've had time to assess whether the communication is genuine, or if you've even ordered anything that you're awaiting delivery of.
Fortunately in one of these cases, Google's Chrome web browser was able to detect that the site was a scam attempt:
However, this warning may not always appear when accessing the URL from mobile devices or a variety of web browsers.
Who's being targeted by fake delivery texts?
Much like the Amazon Prime cold call scam, these texts are indiscriminate and simply attempt to reach as many people as possible, regardless of whether you're actually awaiting a delivery or not.
The scammers know that those who are awaiting a delivery could believe that the text is genuine, while those who aren't could be intrigued or concerned enough to proceed anyway.
How do I know if an Evri text is genuine?
Because Evri does genuinely contact its customers via text message, including at times when a parcel is in its delivery process, it could be easy to be taken in by these scams.
However, as explained by Evri on its website, there are two key rules that you can use to identify the fakes:
Evri will NOT show the sender name as a mobile phone number
Evri will NEVER ask you for a payment in its text messages
Evri also says it will never include a URL except for tracking links called https://evri.link/…. But, it adds a disclaimer that it cannot guarantee that those are always genuine - this is likely because scammers are able to spoof URLs (or create extremely similar ones).
What should I do if I've fallen victim to a fake Evri text?
If you think you may have given sensitive information, such as card details, to scammers via a text that led to a fake website, let your bank know what's happened immediately by calling its official fraud line.
Your bank should work with you to secure your account and get your money back.
It's important to report a scam to get your money back.
How can I report fake Evri text messages?
SMS scams, known as 'smishing', can be reported to the National Cyber Security Centre (NCSC) by forwarding them to 7726, which spells SPAM on the keyboard.
If you're unable to forward the message, take a screenshot and email it to report@phishing.gov.uk - the fake sites can then be investigated and removed before any others can fall victim.
The NCSC has always issued official guidance for dealing with fake 'missed parcel' messages on its website. You can also report these scams to Action Fraud.
George is a freelance consumer journalist with a keen interest in scams and housing. He worked for the Consumers' Association for seven years where he was the editor of Which? Conversation - his work on exposing new scams saw him often quoted in the national press.
George has been at the forefront of the cladding and building safety crisis, campaigning for the rights of leaseholders and giving a voice to those caught up in the scandal - as a result he was nominated for Property Journalist of the Year in 2021 at the Property Press Awards.