Your rights if a company goes bust
You can easily find yourself out of pocket when a company goes bust. If you've paid for goods that don't arrive, got faulty items or a gift card you can no longer spend – here's what you need to know about your rights.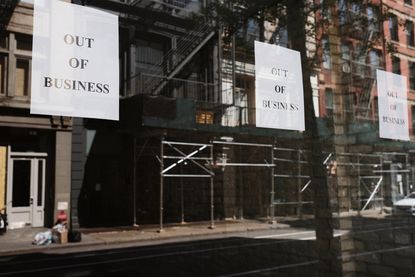 (Image credit: Getty images)
The troubles of the last couple of years have meant that an awful lot of companies have gone bust, potentially leaving us worse off financially as a result.
For example, last year over 17,000 shops closed their doors for good according to the Centre for Retail Research (opens in new tab). That's around fifty every day of the year and up by a whopping 50% on the figure for 2021.
In some cases, you may get advance warning that a company is struggling financially, as was the case when Made.com went into administration last year. At this stage, a company may be bought out, although in other cases it may be forced to close down for good.
Thankfully, there are certain protections in place through the likes of the Consumer Rights Act which can ensure you don't end up out of pocket when a business fails.
Here we run through your rights when a company goes bust, and where you stand when it comes to getting your money back.
You can ask your bank for a refund when a company goes bust
If you've paid for goods that haven't arrived when a company goes bust then, depending on how you paid, you may be able to get your money back.
If you paid by debit or credit card, there are different protection schemes you may be able to tap into in order to get your money back.
With debit card payments – or credit card if the item was under £100 - you can ask your bank to make a 'chargeback' claim.
Chargeback is a voluntary agreement between card providers such as Visa, Mastercard and American Express and applies when paying with debit, credit or prepaid cards.
It basically reverses the transaction to the company's bank, so that even if the store or outlet has gone bust, it may still be possible to get a refund from their bank. Claims must usually be started within 120 days of the date of purchase.
You can ask your credit card company for a refund when a company goes bust
If you paid by credit card for an item that cost over £100 which you bought from a company that has gone bust, and it hasn't arrived, then you can ask your credit card provider for a refund. You can also try this in the event you've paid for goods that turn out to be faulty, but you can no longer return them to the company as it's no longer trading.
The protection comes under legislation often referred to as Section 75, which is part of the Consumer Credit Act. It means that when you pay for something with your credit card, both your card provider and the retailer are jointly liable for ensuring the purchase is honoured. If the company you paid your money to has gone to the wall, then you can ask your credit card company to pay up.
It's worth knowing that Section 75 applies even if you only put a small deposit on your card, just providing the full cost of the item is over £100. So for example you might have bought something for £1,000, but only put £10 of the purchase on your credit card ‒ the purchase is still covered by Section 75.
You can claim back the cost of gift cards if a company goes bust
If you've got unused gift cards kicking around for companies that have gone bust, these will ultimately be worthless. In the past, when stores like Bhs went into administration, gift cards were only permitted to be used in part payment for goods ‒ you couldn't cover all of a purchase with gift cards alone.
However, there may still be a way to get something back for those unused gift cards. You could try making a chargeback claim or claiming under Section 75, depending on the cost of the gift card and how you paid for it.
You can contact the administrators if you're owed money by a company that has gone bust
If you're owed money and can't get it back any other way, for example, because you paid with cash rather than a card payment, then you could try making a claim with the administrators.
The company website will have details of who is handling the administration process. However, as a customer, you can expect to be at the back of the queue and there may not be any money left in the pot once the business's other debts have been paid.
There's a strict pecking order when it comes to dishing out what's left in the company coffers.
Sarah Coles, personal finance analyst with Hargreaves Lansdown (opens in new tab), says:: "First they'll pay back any secured borrowing – borrowed against specific property or other assets. Next, they'll pay the insolvency practitioners, then they'll pay outstanding wages or redundancy pay to employees".
Only then will everyone else get a share of what's left – including customers.
How is 'going into administration' different from going bust?
If a company goes into administration, while it may subsequently end up closing down, this isn't always the case.
Some companies may go into administration and are later bought out by new owners.
However even if the business is bought out, it may still mean you can't use gift cards or get refunds on returns or faulty goods directly.
What happens if my energy supplier goes bust?
When it comes to companies that supply a service going bust, rather than a retailer, the process is slightly different as any credit will be paid to your new supplier.
If your energy supplier goes bust you won't have to worry, as transferring you to another supplier will all be done by the energy regulator Ofgem. There won't be a period where you are without an energy supplier ‒ instead, your account will simply be transferred to a new supplier.
More on this:
Sue Hayward is a personal finance and consumer journalist, broadcaster and author who regularly chats on TV and Radio on ways to get more power for your pound. Sue's written for a wide range of publications including the Guardian, i Paper, Good Housekeeping, Lovemoney and My Weekly. Cats, cheese and travel are Sue's passions away from her desk!