The Winter Fuel Payment: what is it and who can claim?
What is the Winter Fuel Payment and who can get it? We explain everything you need to know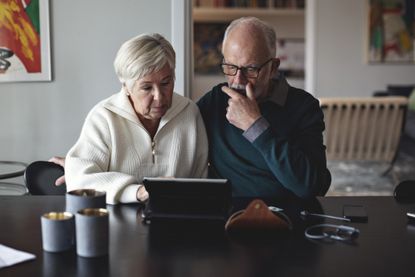 (Image credit: Getty)
Over 11 million households receive a Winter Fuel Payment each year, according to the government, which aims to help older people with heating costs.
With energy bills set to go up again from April, with a 54% rise in the energy price cap, it's worth checking if you can make a claim.
What is the Winter Fuel Payment?
It's a flat annual payment to help people of state pension age with the cost of their Winter heating bills and worth up to £300 per household. Those eligible should receive payment automatically from the Department for Work and Pensions during November and December.
"The Winter Fuel Payment gets paid to those who are getting the state pension, and it's not means tested, which means everyone gets it", says Laura Suter, head of personal finance at AJ Bell.
Payments are tax free, won't affect other benefits you receive, and in most cases, get paid directly to your bank or building society account automatically, unless you have moved abroad.
How much you get depends on your specific circumstances, including your age, whether you live alone, or in a care home.
Who can get the Winter Fuel Payment?
You can get the Winter Fuel Payment for Winter 2021/2022 providing you were born on, or before, 26 September 1955, and lived in the UK for at least one day during a specific week. This is known as the 'qualifying' week, and was 20th – 26th September 2021.
However it's worth knowing the "dates of the qualifying week and the age cut off date vary slightly from one year to the next", says Sarah Pennells, consumer finance specialist at Royal London.
Anyone not living in the UK during the 'qualifying' week, may still get the Winter Fuel Payment, providing they were living in Switzerland or an European Economic Area country, (this includes EU countries along with Iceland, Liechtenstein and Norway), and have links within the UK, like having lived and worked here, or have family here.
There are however some exceptions. As payments are designed to help with heating costs, if you live in Cyprus, France, Gibraltar, Greece, Malta, Portugal or Spain, you won't get the payment. This is due to the fact it's warmer in these countries, with an average winter temperature higher than the UK.
While in most cases, Winter Fuel Payments are made automatically, in some cases, you may need to apply.
This includes if you have never had a Winter Fuel Payment before, and get state pension, but live in Switzerland or another European Economic Area (EEA) country, in which case you should make a claim by phone or post.
Worth knowing too, that if you have 'deferred' your state pension, (decided to put off taking it until a later date), you'll also need to apply, as the Winter Fuel Payment won't be made automatically.
If you live in the UK you'll need the form for UK residents claiming for the first time and if you live abroad it's a different one.
Payments for Winter 2021/2022 should have been made already, however if you need to make a claim, you should do so by 31st March 2022.
How much is the Winter Fuel Payment worth?
The Winter Fuel Payment is worth between £100 - £300 per household, and payments are set at fixed levels: £100, £150, £200 or £300.
How much you get depends on your age and circumstances during that all important 'qualifying' week.
"As a rule of thumb, (as long as you're state pension age or over), you'll get £200 if you live on your own and are under 80, or £300 if you are 80 or over", says Sarah Pennells.
"And, if you live with someone else, you'll each get £100, £150 or £200, depending on whether one, both or neither of you is 80 or over".
You should be told how much you'll get before payments are made, with the money paid in the same way you get your state pension or other benefits. This can be your bank, building society or credit union account.
If you think you're due a Winter Fuel Payment and not had one contact the Winter Fuel Payment Centre or call the helpline on 0800 731 0160.
Sue Hayward is a personal finance and consumer journalist, broadcaster and author who regularly chats on TV and Radio on ways to get more power for your pound. Sue's written for a wide range of publications including the Guardian, i Paper, Good Housekeeping, Lovemoney and My Weekly. Cats, cheese and travel are Sue's passions away from her desk!