Top WhatsApp scams to avoid in 2023
As Action Fraud issues fresh warnings about WhatsApp fraud, we highlight the different types of scams to help you stay aware and safe.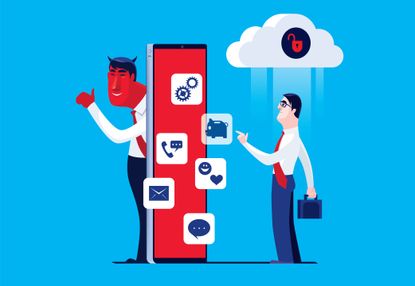 (Image credit: Getty images)
With tens of millions of people in the UK using WhatsApp, scams on the messaging app are increasingly common and fraudsters are finding new ways to target unsuspecting victims.
Last month, Action Fraud warned that between December 2022 and February 2023, it received more than 60 reports relating to a scam that steals access to a WhatsApp user's account. The criminal can then access your messages, pose as you, and commit further offences.
The most common Whatsapp scam is known as the "Mum and Dad scam", which involves con artists convincing people their children are in trouble and need a cash transfer.
The scam typically begins with a "Hi mum" or "Hi dad" text followed by another message explaining why your child has changed their phone number. After exchanging a few more messages to build up a convincing rapport, they claim they urgently need money. But it's all a lie.
There has been a twist on this "Mum and Dad scam" recently, with fraudsters telling the victim to ask a family or friend to transfer the money, to cover their own backs.
Over the past few years, Whatsapp users have lost millions of pounds to this kind of fraud.
Many of people have taken to social media claiming they've been targeted, including the mother of BBC Sport commentator Jacqui Oatley. Tweeting about her mum's experience, Oatley said the scam was "incredibly believable" and fortunately "their spelling and grammar were so terrible it alerted my mum!"
Clicking on any scam link runs the risk of exposure to phishing scams, spam and malicious websites that allow scammers to potentially steal personal information, like your bank details. It's a distressing experience that leaves victims feeling embarrassed and devastated. Yet, personal stories of it happening to people recounted on social media show that anyone can be vulnerable to being tricked.
"Hi, Mum and Dad" scams could be a particular problem for parents with children aged 18 to 25 who are starting or returning to university, leaving home or going travelling.
WhatsApp has two billion users – meaning fraudsters only need to scam a tiny fraction of WhatsApp's users to make money.
Chris Ainsley, head of fraud risk management at Santander UK, explains that scams like these can appear on your mobile phone texts too.
WhatsApp scams – what do they do?
Persuade you to hand over personal details such as your name and address that can be used in identity theft
Install malware (malicious software) on your phone which can spy on your activity and collects information that can be used in identity theft or lock you out of your phone
Charge you for services that should be free
Scammers pretend to be a family member and then request money
The top WhatsApp scams
1. Impersonation fraud
Sometimes dubbed the "Mum and Dad scam", this is where scammers use WhatsApp to impersonate family members in difficulty and, specifically, in need of money. This type of scam has evolved from fraudsters impersonating a bank, police or HMRC.
It starts with a message from an unknown number, claiming to be a loved one who has just lost their phone and got a replacement. It gives them a reason for having a different number and means they can just use a generic term like "Mum", "Dad" or sometimes "sis" or "bro".
The story they tell varies, but usually involves a claim that because they have a new phone they don't have access to their internet/mobile banking app and so need urgent help to pay a bill. Any attempt to call to verify their identity is often fobbed off with an excuse. Victims transfer money to an account thinking they are helping out their loved ones. On average victims lose £1,950 this way.
There is also often a middleman in these types of scams. WhatsApp users are told by the fraudster to tell a family member or friend to transfer the money into the given account, and then the fraudster moves this into their own account. In this case, the victim is usually given account details which are controlled by the fraudster.
The precaution fraudsters take is to trick the bank into thinking the transfer is "low risk", so it is less likely to be flagged at the time. More importantly, if you tried to trace the payment it would be more difficult, as the money has gone through a number of accounts and once the money has been transferred to the fraudster, they cut all contact with the victim.
Money Edit reader, Christine almost lost £1,000 to a WhatsApp scammer pretending to be her daughter. Luckily, she caught out the scammer by asking for her daughter's middle name.
People have taken to social media to suggest personal safety measures:
Some have even tweeted the jokes they have played on their scammers:
2. WhatsApp verification message trick
An increasingly common scam begins when a criminal gets access to another WhatsApp account which is one of your contacts.
Pretending to be your friend or someone that's a member of a WhatsApp group you're in, the scammer will try to start a conversation by sending you what appear to be normal messages.
Around this time, you will receive a text message with a six-digit WhatsApp code that you were not expecting. This code is sent to you because the criminal has been trying to log in to WhatsApp using your mobile number.
This is a code you would need to set up a new account or log in to your existing account on a new device. Alarm bells should be ringing if you have not made this request because there is a very high chance it is a fraudster trying to log in to your account.
In the next step of the scam, you receive a WhatsApp message from a friend asking for the six-digit code. Because your account has already been hijacked, the message appears to come from a genuine friend.
The criminal will then claim they sent you their code by accident and ask you to help them by sending it to them. If you don't spot that it is a scam, you will end up sending the access code for your own account to the scammer. Once the criminal has this code, they can log in to your WhatsApp account and lock you out.
They can then use the same tactic with your WhatsApp contacts to steal more accounts and use them to perpetrate fraud.
What's worse is the hijacker can then message your friends, family and contacts and pretend to be you. They can access your group chats where they can see private information and try the six-digit code trick with new victims.
One common tactic is for scammers to pretend you're having a crisis and ask your contacts for money. There are concerns scammers are taking advantage of the cost-of-living crisis where people might already be asking family or friends for money to help pay their bills.
3. The free flights scam
Another scam circulating on Whatsapp is the free flights' scam. People are receiving messages claiming Emirates is giving away free flights, with a link to claim the tickets. The scam message says "Emirates Airlines 2022 Anniversary giveaway" and another one states "Emirates Airlines 2022 Vacation giveaway".
The scam offers 5,000 free round-trip flights to Europe, Asia or Domestic. As tempting as it might be to bag a free getaway, remember that if it seems too good to be true, it probably is. Be warned that Emirates is doing no such thing, as it has confirmed to Which?. Emirates has clarified that any competitions it runs are posted on its verified social media channels or on its official website Emirates.com.
Victims of the scam have taken to Twitter:
It might be easy to fall for the scam when you see the Emirates logo on the message. If you ever receive this message and are unsure whether it's a scam or not, take a look at the URL. On this specific scam, the URL looks odd. It doesn't include the brand name "Emirates" which means it most likely isn't taking you to the Emirates website and is instead a combination of random words and numbers, as you can see in the image below.
4. The WhatsApp Gold upgrade
The "WhatsApp Gold" scam claims to be a special version of the messaging app used by celebrities and rich people with access to hidden features. It first appeared in 2016 and reappears every few years.
The Covid-19 pandemic meant we were more reliant on apps like WhatsApp and we still are, so any chance of an upgrade seems like a good thing. However, WhatsApp Gold does not exist, so be sure to ignore any messages like this.
According to those who have been targeted, a message will drop into your inbox saying a special version of WhatsApp is available. The message reads along the lines of: "Hey, finally Secret WhatsApp golden version has been leaked, This version is used only by big celebrities. Now we can use it too." A link will invite you to download WhatsApp Gold. However, in reality, these links can be riddled with malware that locks you out of your phone or steals valuable personal information.
Social media users have recounted how the WhatsApp Gold hoax appeared with a video called the "Dance of the Pope" in an effort to persuade victims to open the link
Yes, WhatsApp does introduce new features all the time. But the popular app is very vocal about what it's pushing out and when. Also watch out for the tell-tale sign of a scam: poor spelling and grammar mistakes.
Any updates will occur through updating the app itself – and not through clicking a link embedded in a message.
5. Supermarket WhatsApp scams
With shoppers trying to bag any discount they can right now, this is one to watch out for.
Scammers send out fake Tesco, Asda and Marks & Spencer vouchers on WhatsApp. The messages look like they have been sent by a thoughtful friend and are designed to trick you into clicking on the link to claim the voucher.
One such example is: "Hi, ASDA is giving away a £250 free voucher to celebrate its 68th anniversary, go here to get it. Enjoy and thank me later!" But the supermarket isn't giving out any £250 vouchers at all.
There are two classic signs this is a scam: the spelling and grammar mistakes and, if you type in the URL mentioned in the offer, you will see the page does not exist on the Asda website.
How can you protect yourself from scams?
Never hand over your security codes, a password or a Pin to anyone - not even friends or family
Be very wary of messages from your loved ones asking for money. If you're in doubt, call your friend or family to check. If you can't speak to them on the phone for some reason, ask them something personal that you know the answer to such as what their middle name is or what they call their dog. If you don't independently verify the person's identity before making a payment you may not be due a refund under the Contingent Reimbursement Model Code.
Set up the two-step verification option for extra security. This is how to do it:
Tap Settings > Account >Two-step verification > Enable.
Never share your Whatsapp account's 6-digit activation code
Beware of a sense of urgency. When you sense that there is an urgency or time limit to respond or you will be charged a fine, take that as a red flag.
Scam messages often have spelling or grammatical mistakes, so keep a lookout for these.
Report spam messages or block a sender within WhatsApp. Press and hold on the message bubble, select 'Report' and then follow the instructions.
The Take Five to Stop Fraud campaign advice is to pause and think in a timely manner before giving out any money or personal information, especially when you receive messages randomly
Read WhatsApp's guide on its website for further reassurance.
What to do if you get scammed
If you have been a victim of fraud or cyber-crime, report it to Action Fraud or call them on 0300 123 2040 (Monday to Friday 8am - 8pm). If you or someone else is in immediate danger or at risk of harm, dial 999.
Want more?
We've joined forces with our friends at Look After My Bills on a free money-saving tips email which you can sign up for below.
Look After My Bills Newsletter
Get the best money-saving tips, tricks and deals sent straight to your inbox every week. Make sense of your money in partnership with The Money Edit.
Katie is staff writer at The Money Edit. She was the former staff writer at The Times and The Sunday Times. Her experience includes writing about personal finance, culture, travel and interviews celebrities. Her investigative work on financial abuse resulted in a number of mortgage prisoners being set free - and a nomination for the Best Personal Finance Story of the Year in the Headlinemoney awards 2021.