What is universal credit?
What is Universal Credit and how can you access it? We explain everything you need to know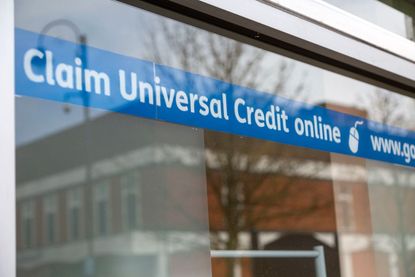 (Image credit: Getty images)
Universal Credit is a means-tested benefit paid out once a month to those with low incomes or who are unable to work.
If you've recently had a drop in income or a change of circumstances, you could be entitled to universal credit. Around 1.3 million people who are eligible for the benefit, worth up to £7,300 a year, aren't claiming it according to research from the New Economics Foundation (opens in new tab). It says this figure could reach 2.3million by 2027 when the system will be fully rolled out.
Universal Credit was introduced in 2013 to gradually replace the older benefit system which allowed people to access different payments depending on their circumstances.
There are around 5.6 million people receiving Universal Credit in the UK, according to government data - this has fallen from a peak of six million during the pandemic in March 2021.
Sue Anderson, head of media at StepChange (opens in new tab), says: "Every year people in the UK miss out on billions of pounds worth of benefits and tax credits, which are usually available if you're out of work, you've got children, you have a low income or you're ill or disabled.
"If you're struggling financially, it's important to make sure you're getting all the income you're entitled to, particularly with the cost-of-living crisis affecting so many people."
To help you understand whether you may be entitled to Universal Credit, we explain what it is and how you can get it.
What is universal credit?
Universal credit is gradually replacing six existing benefits:
Housing Benefit
Income-related Employment and Support Allowance (ESA)
Income-based Jobseeker's Allowance (JSA)
Child Tax Credit
Working Tax Credit
Income Support
For anyone receiving one of the older benefits, when they reapply or if their circumstances change, they will have to apply for universal credit instead.
It's available to those with a low income or who are unable to work. In the pandemic there was a huge surge in the number of people applying, due to high numbers who found themselves out of work because of the coronavirus lockdowns.
Who can get universal credit?
To be eligible for universal credit, you'll need to meet the following criteria:
Aged 18 or over
Be under the age for receiving your state pension
A UK resident
Have less than £16,000 in savings
If you have a partner their savings and income will also be taken into account in the application process.
Self-employed workers can also get universal credit, and the application is the same to those in permanent employment.
The way they are paid is slightly different. Each month they need to report their earnings to the Department for Work and Pensions (DWP). It then checks if the worker has earned more or less than the level it expects them to earn, also known as their 'minimum income floor.'
If they earn less than this amount, the universal credit is usually worked out as if they had earned the minimum. But if they earn more, the payment will be based on their actual earnings.
How much do you get in universal credit?
The amount of money you'll receive depends on your financial and personal circumstances.
During the pandemic, a temporary uplift of £20 was added to universal credit payments, and many organisations have called for this to be reintroduced in light of the current cost of living crisis.
You'll get a standard set amount and then extra cash if you have children, a disability or health condition which stops you from working, or you need help paying for housing costs.
The standard monthly allowances are the following:
Single and under 25: £257.33
Single and 25 or over: £324.84
In a couple and you're both under 25: £403.93 (for you both)
In a couple if you're 25 and over: £509.91 (for you both)
The amount you can receive depends on your net earnings, after deductions from things like tax or pension contributions have been made. If you're paid via Pay As You Earn (PAYE) your universal credit will be automatically updated based on how much you earn.
Some people are allocated a 'work allowance'. This lets them work and earn a certain amount of money before their universal credit payments start to fall. Those who receive help with housing costs through universal credit have a work allowance of £335 per month.
Those who don't, but who have children to look after, or those only able to work a limited number of hours because of an illness or disability, have a work allowance of £557 per month.
There is also a taper rate which is a rate at which your universal credits will reduce, as you earn more money. This changed in December 2021 to 55%, from 63%. It means that for every £1 you earn over your work allowance, your universal credit allowance will go down by 55p.
How is universal credit paid?
For most people, the benefit is paid once a month directly into their bank, building society, or credit union account. In Scotland it's possible to get two payments a month.
When you apply, it takes around five weeks for the first payment to be made. To cover this shortfall you can apply for an advance payment to be made.
How can I check my entitlement?
There are lots of free benefits calculators online where you can quickly check if you're eligible for universal credit, or any other benefits, and how much you're likely to receive.
Both StepChange (opens in new tab)and Turn2Us (opens in new tab)have free benefits calculators. If you are eligible, you can apply on the Gov.uk website (opens in new tab).
Freelance personal finance journalist
Rebecca Goodman is a freelance personal finance journalist, regularly writing for The Independent, The Guardian, The Sun and a range of specialist publications. Covering all aspects of finance, Rebecca has worked in the sector for the last decade and specialises in insurance, household finance and consumer issues.