What is the UK inflation rate and why does it matter?
Why is the cost of living rising? The UK inflation rate and what it means for you explained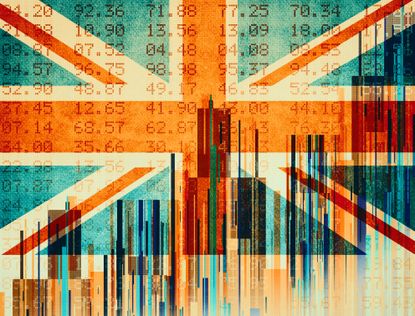 (Image credit: Getty images)
Look After My Bills Newsletter
Get the best money-saving tips, tricks and deals sent straight to your inbox every week. Make sense of your money in partnership with The Money Edit.
Thank you for signing up to The Money Edit. You will receive a verification email shortly.
There was a problem. Please refresh the page and try again.
The UK inflation rate hit 10.5% in December down from the 10.7% recorded in November. According to the ONS, which calculates the figure each month, one of the big drivers in this slight easing of inflation was transport costs, particularly motor fuels.
But what is inflation and what does it mean for the pounds in your pocket?
In simple terms, inflation is the rate at which prices are going up. It includes everything from the price of food on the supermarket shelves to soaring energy bills and how much we pay at the pump for petrol and diesel.
When inflation is low, and the Bank of England has a target of 2% for inflation, we may barely notice any change in prices.
When inflation is high, costs can go up and you can quickly notice you're getting less for your money.
For example, if the annual rate of inflation is 10% a loaf of bread that typically cost £1 a year ago could now set you back £1.10. These price hikes all add up, leading to a higher cost of living.
Here we explain how inflation is calculated, how it can be used to hike prices and if there's anything you can do about it.
How is inflation calculated?
The Office for National Statistics (ONS) is responsible for crunching the numbers and coming up with the UK inflation rate.
Each month it checks the prices of around 700 goods and services typically bought by the average UK household.
The ONS then works out if we're paying more than we did at the same time last year – arriving at the current inflation figure which is called the Consumer Prices Index (CPI).
The contents of the basket of goods are updated once a year to reflect changes in our buying habits. Last time, men's suits and doughnuts were left out while meat-free sausages and anti-bacterial wipes were included for the first time to reflect our changing shopping habits.
But to make things complicated there's not one single measure of inflation.
There's also another older index - the Retail Prices Index (RPI). It's usually higher than CPI and it's used to increase prices on things like train fares, mobile bills and the interest you pay on your student loan.
Generally, CPI tends to be lower than RPI. CPI is currently 10.5% while RPI is 13.4%.
Which inflation rate is used for what?
While the UK inflation rate reflects the price of pretty much everything we buy – it also affects increases in benefits and pensions.
When it comes to the Government giving you money - any increase in benefit payments is pegged to the lower CPI figure and applied to payments including Universal Credit, Jobseeker's Allowance, Income Support, state pension and statutory sick pay.
But according to Sarah Coles: "RPI is used for all sorts of things we have to pay to the government – like car tax and duty on alcohol and tobacco. It has been accused of inflation shopping – where it chooses the inflation rate that will leave it better off".
With train tickets – any rise in rail fares is usually pegged to the July RPI rate plus 1%. With the higher RPI rate used - this would have meant a hefty rise of 13.3% next March when rail fares are due to go up.
But the Government has promised any increase will be lower than the rate of inflation – but we don't know how much this will be.
If you live in a shared ownership property - it's the RPI figure that's usually used when working out any annual rent rise. Under Government rules most landlords are limited to charging the RPI figure plus 0.5%.
And when it comes to your mobile and broadband bills – any annual increase is usually pegged to the RPI figure plus an additional amount of around 2-3 % but may be as high as 3.9% in some cases as with Virgin Mobile and O2.
How does inflation affect your savings?
Inflation is eating away at the buying power of any savings you have.
Finance Expert at Moneyfacts, Rachel Springall, said: "The stark reality is that not one standard savings account can currently beat inflation.
But, it's still worth looking at savings rates, says Springall. "Savers must not become apathetic as they could miss out on a lucrative rate, so even if cash is being eroded in real terms, savers can at least secure a higher interest rate to mitigate its impact. It's wise to keep a close eye on the rapidly moving savings market".
How does inflation affect mortgages?
Unfortunately, rising inflation is rarely a good thing for homebuyers or those looking for the best remortgage deals. In times of high inflation, mortgage interest rates tend to be pushed up.
Look After My Bills Newsletter
Get the best money-saving tips, tricks and deals sent straight to your inbox every week. Make sense of your money in partnership with The Money Edit.
Katie is staff writer at The Money Edit. She was the former staff writer at The Times and The Sunday Times. Her experience includes writing about personal finance, culture, travel and interviews celebrities. Her investigative work on financial abuse resulted in a number of mortgage prisoners being set free - and a nomination for the Best Personal Finance Story of the Year in the Headlinemoney awards 2021.