What is the Enough is Enough campaign with 200,000 people already signed-up?
A new campaign has been launched by trade unions, community organisations and MPs to demand action to solve the growing cost of living crisis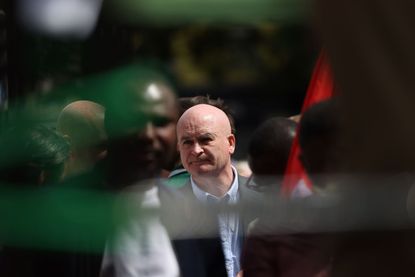 (Image credit: getty images)
Enough is Enough, a new campaign demanding that the government take action to combat the cost of living crisis, has promised strikes and rallies if its demands are not met.
Those demands include a "huge slash in energy bill prices, a real pay rise for all, an end to food poverty, decent homes for all, and greater taxes on the super-wealthy".
The campaign has formed in response to astronomical rises in energy bills, food costs and transport prices. Another campaign, Don't Pay UK, which is encouraging people to refuse to pay their energy bill, has also hit the headlines in recent days.
The Group says 200,000 people have signed up to Enough is Enough since its launch on Monday morning. Its twitter profile currently has more than 100,000 followers. It plans to organise rallies and attend picket lines to force the government to meet its five demands.
Senior personal finance analyst Myron Jobson says: "We're seeing troubling reports of people skipping meals. The harsh reality is those living on a bare bones budget simply cannot make any further cuts to spending to deal with the escalating cost of living pressures. And the government's existing cost of living support measures will not stretch far enough to shield the most vulnerable members of society from eye-watering price rises from all corners."
Consumer expert Martyn James says: "Many economists will baulk at some of Enough is Enough's demands, in particular, wage rises, arguing that this could drive inflation higher and make the problem worse. The problem with that logic is it doesn't provide any answers for people who are struggling to make ends meet and their individual circumstances.
"Ultimately, the challenges we face come not from British people overspending or borrowing too much cash. They come from external sources that we have no control over. While we need to be realistic about what those solutions might be, we need realistic proposals now - not later."
We explain what you need to know about the new campaign.
What is the Enough is Enough campaign?
Enough is Enough is supported by the Communication Workers Union, Tribune magazine, the tenants union ACORN, the community group Fans Supporting Foodbanks, the Right to Food Campaign and Labour MPs Zarah Sultana and Ian Byrne.
The campaign has five main demands:
A real pay rise
Slash energy bills
End food poverty
Decent homes for all
Tax the rich
A real pay rise is defined as a "significant rise in the national minimum wage and a path to £15 an hour, a real public sector pay rise, and an inflation busting-rise in pensions and benefits."
To slash energy bills campaign demands that the October energy price hike be cancelled and the pre-April cap be restored.
To end food poverty it wants to enshrine the right to food in law, introduce universal free school meals and community kitchens and reinstate the £20-a-week Universal Credit uplift.
To provide decent homes for all it wants rent caps, a charter for renters' rights and a commitment to build more than 100,000 homes a year.
Its call to tax the rich says: "make the rich pay their fair share by raising taxes on the wealthiest and the profits of big businesses," and "crack down on tax avoidance and evasion."
In a video on social media, Rail Maritime and Transport (RMT) union general secretary Mick Lynch says: "People are fed up with the way they are treated at work, we need to turn that mood into real organisation on behalf of the working class. We need everybody campaigning for a better deal."
Enough is enough. It's time to turn anger into action.Join the campaign to fight the cost-of-living crisis.https://t.co/1SeHcIXdMr pic.twitter.com/sVFpFpXMe1August 8, 2022
See more
Analysis
Adam French
Personal finance editor, TheMoneyEdit.com
The latest energy price cap predictions have caused panic, with bills set to hit truly unsustainable levels and tip millions more households into fuel poverty.
How you feel about the solutions being offered by the Enough is Enough campaign will likely depend on which side of the political divide you consider yourself. But there can be no doubt that it has captured considerable attention.
Day in and day out at The Money Edit we're inundated with people looking for help navigating this crisis, and the sad truth is our help can only go so far - this is a problem the government needs to tackle, urgently.
Whether it is by putting more cash in people's pockets, doubling the cost of living package or taking measures to limit the scale of energy bill rises as they have done in other countries like France - government action is need sooner rather than later
In the meantime, if you can't keep-up with the higher direct debits being asked by your energy supplier, you can let it know you're struggling. Making the call means your energy supplier can't just cut you off if you're suddenly unable to pay your bills in full.
Energy firms are also legally bound to help customers who are unable to pay and work with them to find solutions. It could be simple steps like agreeing a payment plan, paying your bill directly from your benefits or giving you temporary credit for your prepayment meter.
Look After My Bills Newsletter
Get the best money-saving tips, tricks and deals sent straight to your inbox every week. Make sense of your money in partnership with The Money Edit.
Katie is staff writer at The Money Edit. She was the former staff writer at The Times and The Sunday Times. Her experience includes writing about personal finance, culture, travel and interviews celebrities. Her investigative work on financial abuse resulted in a number of mortgage prisoners being set free - and a nomination for the Best Personal Finance Story of the Year in the Headlinemoney awards 2021.