Paperchase look for a buyer to avoid going into administration
From loyalty cards to vouchers and returns. What are your rights if the high street stationary store Paperchase goes into administration?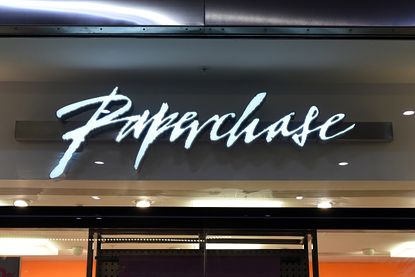 (Image credit: SOPA images)
High street stationary store Paperchase is hunting for a buyer in a bid to avoid being the latest high street casualty and falling into administration.
Paperchase has clocked up 50 years on our high street with over 100 stores selling everything from pens, cards, and notepads to photo albums and gifts.
In addition to its stand-alone stores, it has concession outlets in other chains including Next.
But now according to Sky News, it's looking for a buyer for the chain and has lined up administrator Begbies Traynor who could step in if one can't be found.
This comes just months after its last change of ownership when it was taken over last summer by Steve Curtis, who had been involved with both Tie Rack and Jigsaw.
The Paperchase website reveals nothing of this with plenty of '3 for 2' deals on school stationary and it's expected all stores along with the website will continue trading as usual right now.
What does this mean for Paperchase customers?
While right now we don't know whether Paperchase will find a buyer or go into administration, it makes sense for shoppers to stay one step ahead and protect any purchases.
If you're making a purchase at Paperchase, paying by debit card, means you have rights under the chargeback scheme in the event an item is faulty and needs to be returned.
You'd need to stock up on a lot of stationery to top £100 in Paperchase, but if so, use your credit card to pay, as this means automatic legal protection under Section 75 of the Consumer Credit Act.
In the event Paperchase goes into administration, this means you can tap up your credit card company for a refund if items you order don't arrive or turn out to be faulty.
Gift cards and loyalty cards
If you've got a Paperchase loyalty card – known as a 'Treat Me' card, it's worthwhile using up any perks, including vouchers - as soon as possible. Just in case the company ends up going into administration.
If you've got a gift card – may be worth considering using this sooner rather than later. This is because in the past when companies have gone into administration – many have either refused to accept gift cards or only accept them in part payment for goods.
Sue Hayward is a personal finance and consumer journalist, broadcaster and author who regularly chats on TV and Radio on ways to get more power for your pound. Sue's written for a wide range of publications including the Guardian, i Paper, Good Housekeeping, Lovemoney and My Weekly. Cats, cheese and travel are Sue's passions away from her desk!