Waspi: retired men have 70% more income than women
The Waspi campaign group continues to fight for compensation from the government for failing to properly communicate the rise in state pension age for women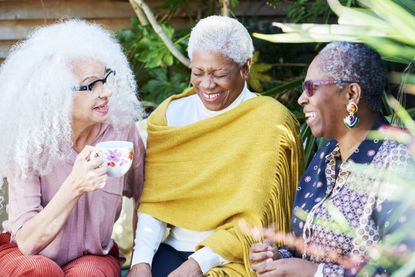 (Image credit: getty images)
Retired men have 70% more income than women, according to a study by campaign group Women Against State Pension Inequality (opens in new tab) (Waspi).
When private and state pensions are added together, women in Britain are living on just £26 a day of pension income while retired men are living on £44 per day.
The study uses the latest February 2022 figures from the Department for Work and Pensions (DWP) and private pension wealth statistics from the Office for National Statistics (ONS).
According to Waspi, the ONS data reveals that men aged between 65 and 74 have £182,700 in private pension savings while women of the same age have just £25,000 saved up. Meanwhile, men receive £170.50 a week of state pension while women get £164.74 per week on average, according to the DWP.
Waspi says the difference in private pension is most acute because many women, already disadvantaged by balancing work with caring responsibilities, were not given enough time to make further savings when the pension age for women rose from 60 to 66.
Last July, the Parliamentary and Health Service Ombudsman (PHSO) said it found "failings" in the way the DWP communicated changes about the women's state pension age. It accused the DWP of "maladministration", and said it should have told certain women about increases to their state pension age 28 months earlier than it actually did.
WHAT IS WASPI CAMPAIGNING ABOUT?
Many women born in the 1950s have had their retirement dreams affected by the rapid rise in state pension age from 60 to 65, to bring it into line with that for men. Critics have long argued that the rise was implemented too fast, and not communicated properly.
Waspi says it agrees with the equalisation of the state pension age, but not with the unfair way the changes were implemented.
Following the ombudsman's ruling last summer that the government was too slow in telling many women about the rising state pension age, Debbie de Spon, Waspi's communications director, commented: "After six years of campaigning – and the government repeatedly telling us it had done nothing wrong – we feel vindicated by the ombudsman's ruling. The DWP failed to adequately inform 3.8 million 1950s-born women that their state pension age was increasing, and this has had devastating and life-altering impacts on women across the country."
Waspi is now campaigning for a one-off compensation payment from the government for the failure to communicate the changes.
Waspi chair and finance director Angela Madden said: "The new figures show why women were so devastated by the DWP's maladministration. The lion's share of that paltry £26 per day [that retired women receive] comes from the state pension. If women had known they were going to retire up to six years later than they thought, they would have been able to plan better."
WHAT DID THE OMBUDSMAN SAY AND HOW COULD IT HELP WASPI?
The Parliamentary and Health Service Ombudsman investigated complaints that since 1995 the DWP has failed to provide "accurate, adequate and timely information about changes to the state pension age for women".
The ombudsman found that between 1995 and 2004, the DWP's communication of changes to the state pension age were accurate, and were publicly available in leaflets and on government websites.
However, the department then failed to take action after its own research highlighted that it should send out more targeted information to women affected by the changes. This happened in 2004, and then again in 2006. The ombudsman ruled that this was maladministration.
Amanda Amroliwala, CEO of the PHSO, said: "After a detailed investigation, we found that DWP failed to act quickly enough once it knew a significant proportion of women were not aware of changes to their state pension age."
WHAT HAPPENS NEXT?
The ombudsman has moved onto the final two parts of its investigation (opens in new tab): considering the impact of the maladministration (and if there was injustice), and whether the affected women should receive any redress.
There is no timeline for this – a further announcement could be made later this year.
WILL THE WOMEN FINALLY GET COMPENSATION?
This is the big question. The ombudsman has no power to refund "lost" pensions, and it is also unable to recommend that anyone receive their state pension earlier than the current law allows.
However, it could propose that those affected receive a one-off payment, or that a claim fund be set up where women apply on the basis of the distress and inconvenience suffered.
There is then a further question of whether the government accepts any compensation recommendations made by the ombudsman.
Baroness Ros Altmann, a former pensions minister, said: "The ombudsman will need to consider how much detriment the women have suffered, how the failure to properly warn them of the rising state pension age has affected them and what loss, distress or stresses they have suffered as a direct result."
According to Altmann, the ombudsman can award different levels of compensation to reflect the six levels of injustice.
"For example, if it were considered to be a Level 2 injustice, where people had suffered stress they will recover from once the injustice is remedied, the level of recommended compensation is between £100 and £400. If the injustice is considered to be Level 3, which means the distress, worry or stress will last for a very long time, then £550 to £950 could be awarded. I certainly hope the government would accept any recommendations she makes," said Altmann.
However, Steve Webb, partner at the consultancy LCP – and also a former pensions minister - told The Money Edit that he thought compensation was unlikely, and that the ombudsman may simply tell the DWP to apologise and act differently in future.
"The findings show that the system did not treat these women properly. At best, the ombudsman may recommend some token compensation, but I think it's more likely there won't be any. That's because it'll be very, very hard to work out where to draw the line. Some women won't have been affected that much, but for others it has had a much bigger impact," said Webb.
HOW HAVE THE CHANGES AFFECTED 1950S-BORN WOMEN?
While some women may not have been particularly affected by an increase to the date in which they can apply for their state pension, others have been hit hard.
Lillian Cummins was told her state pension age was rising from age 60 to 62, so continued working at the Post Office as she only had a small personal pension. She says she didn't hear anything else from the government and when she later checked the DWP website was devastated to find that her state pension age had moved again to 64 and 11 months.
Lillian was made redundant at age 63. "I thought 'I can use this money to get me to 65' but it wasn't enough, I signed up with the Jobcentre, applying for many jobs," she recalled. "I only got one interview; this was unsuccessful. Who is going to give a job to a 63 year old?"
She then had a knee replacement, while her husband was diagnosed with cancer. Lillian had little money coming in – just £50 a month from her personal pension – and a growing credit card debt. She said the health problems, redundancy, and added pressure of waiting for her pension made it the most stressful time in her life. She finally got her state pension in November 2018.
Janet Roberts says she only found out about the state pension age rise from her sister. She struggled financially after her marriage broke down when she was 52. In her early 60s she looked for a job to tide her over until she was eligible for her pension, and eventually got a job in a supermarket. "I realise that compared with lots of other women, I'm lucky to have found a job, but I would love to be there for my grandkids [instead of working]," she said.
WHAT CAN THESE WOMEN DO?
"All those affected would presumably want to keep writing to their MP and also perhaps explain why they are suffering hardship," notes Altmann.
In addition to Waspi lobbying the government, some MPs are also calling for the women to receive compensation. Mary Kelly Foy, Labour MP for the City of Durham, wrote to Therese Coffey, the secretary of state for work and pensions, last summer demanding a full apology and proper compensation.
WHAT IS THE CURRENT STATE PENSION AGE?
The age at which people receive the state pension currently stands at 66 for men and women. The state pension age for women was moved from 60 to 65 between 2010 and 2018.
Going forward, the government is planning to increase the age further as people live longer – and of course, to save the exchequer some money.
It will rise to 67 between 2026 and 2028, and to 68 from 2044 (although this could be brought forward to 2037).
You can check your state pension age on gov.uk (opens in new tab).
The full new state pension is worth £179.60 per week.
For any future changes to the state pension age, the government has pledged to provide at least 10 years' notice to anyone affected.
Ruth Emery is contributing editor at The Money Edit. Ruth is passionate about helping people feel more confident about their finances. She was previously editor of Times Money Mentor, and prior to that was deputy Money editor at The Sunday Times. A multi-award winning journalist, Ruth started her career on a pensions magazine at the FT Group, and has also worked at Money Observer and Money Advice Service. Outside of work, she is a mum to two young children, a magistrate and an NHS volunteer.