Discount code not working? Bag a free £20 gift card from Vouchercodes
You can claim a £20 gift card if you discover a voucher code that doesn't work. We've already successfully applied - we explain who's eligible and whether there's a catch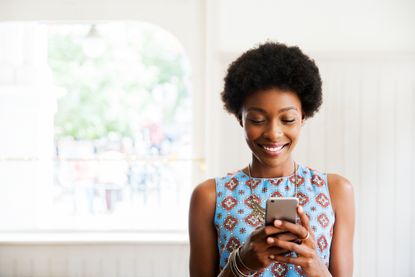 (Image credit: Getty images)
Look After My Bills Newsletter
Get the best money-saving tips, tricks and deals sent straight to your inbox every week. Make sense of your money in partnership with The Money Edit.
Thank you for signing up to The Money Edit. You will receive a verification email shortly.
There was a problem. Please refresh the page and try again.
Have you ever tried to buy something online, thought you'd be savvy by searching for a voucher code to get a discount on your order, and then discovered the code doesn't work?
Annoying, isn't it? Sometimes you can spend a while looking for discount codes online, and they turn out to be invalid, have expired, or are only for new customers.
The good news is there's a little-known guarantee scheme that will give you a £20 gift card, or send you a treat like flowers or cake, when you find a code that doesn't work.
We explain everything you need to know, from how it works and who's eligible, to applying for the gift card or treat. Plus, we reveal our own experience of using the code guarantee scheme when we discovered a faulty code recently.
How does the code guarantee work?
The "Codes Guarantee" is offered by VoucherCodes.co.uk, the UK's biggest voucher code website. It's actually been in place since the site launched in 2008, but many people have never heard of it. VoucherCodes tells The Money Edit that it is the only discount code website in the UK to offer any kind of guarantee for non-working codes.
The first thing to say about how it works is that you have to actually buy something online. You can't just spend your time searching for codes that don't work, abandon the online order when you find an invalid code, and claim the £20 gift card.
To be in with a chance of bagging the gift card, you obviously need to try and use a code from VoucherCodes (not one of its competitors).
Click the "Get Code" button to reveal the code then buy something that meets the terms of the offer. So, if it mentions the code is only for new customers, and you're a returning customer - nice try, but you don't meet the terms of the offer.
If the code doesn't work, email your online order confirmation or receipt to VoucherCodes. They then check whether the code is working, and if it isn't you'll be offered a £20 gift card that can be used at a range of brands, or a "treat" like a deluxe popcorn pack, pasta for two, or a bakery gift.
What's the catch?
There is a bit of small print with the scheme - and you will have to act fast to apply.
First, you must actually buy something and it must be online. In other words, it must be a voucher code that you enter into a box on the retailer's website at checkout. Codes used in-store or on the VoucherCodes mobile app aren't eligible.
Second, the online voucher code must be genuinely not working. VoucherCodes says: "If we test the code within one working day of you submitting a claim and find it to be working, we won't be able to approve your claim. Of course, we will provide you with a screenshot to show the code working if this is the case."
Third, your online order must meet the terms of the offer of the code. For example, some codes are only for specific products, or sometimes you have to meet a minimum spend.
Fourth, you must have a VoucherCodes account. This is free and easy to set up. If you are claiming on an NHS or "student exclusive" code, you need to have an NHS or student verified account.
And finally, you must tell VoucherCodes about the faulty code within 24 hours of making your purchase. So, don't delay: once you've noticed the code doesn't work and made your online purchase, as soon as you receive confirmation of your order, forward this straight over to VoucherCodes.
How do I claim?
Email your online order confirmation or receipt to claims@vouchercodes.co.uk within 24 hours of making your purchase. Within the email, include your full name and contact details, the name of the retailer or brand, and the product(s) ordered.
VoucherCodes will verify the claim within five working days, and if eligible contact you to find out whether you'd prefer a gift card or a treat.
Claims made after 24 hours from the point of purchase will not be accepted.
Note there is a cap on the number of claims you can make: a maximum of one every three months, and a maximum of four claims per year.
What sort of gift card or treat can I claim?
The £20 gift card can be used at a wide range of brands including Tesco, M&S, New Look, JustEat and Deliveroo.
Alternatively, you can select a gift such as letterbox flowers from Bloom & Wild, or baked goods from Barefoot Bakery.
"I tried to save 10% off new contact lenses - and got a £20 gift card instead"
Last Sunday evening I opened my laptop to order some new contact lenses from Vision Direct. I'd added the products to my "shopping basket" and clicked the button to check out.
As with many website checkouts, there was a box for a "promo code". I decided to search online for a discount code to see if I could save some money.
VoucherCodes had several codes, one offering 5% off, and the other offering 10% off. I tried the 10% off code first, and the discount was applied to the order. But when I went through to the final page, the discount had been removed.
I tried again and had the same problem. I then used the 5% off code, but the same thing happened.
It was quite infuriating. I needed to buy the contact lenses anyway - I've previously ordered from Vision Direct, and it's so much cheaper than buying them through your optician - so I pressed "Buy" and completed the order.
And then something caught my eye. On the VoucherCodes website it mentioned that if one of their codes doesn't work and the customer makes the purchase anyway, they could be eligible for a £20 gift card or a free treat.
I forwarded my order email to VoucherCodes before going to bed, and the next day I had an email back apologising for the disappointment and inconvenience the faulty code had caused, and offering me a £20 gift card or a gift to treat myself.
I chose the gift card. It has been deposited in my VoucherCodes account, and I must claim it within six months. It was all very easy and straightforward.
I'm feeling quite chuffed that I've got a £20 gift card instead of a couple of quid off my contact lenses, and will be looking out for more non-working voucher codes in future!
More ways to save cash
Look After My Bills Newsletter
Get the best money-saving tips, tricks and deals sent straight to your inbox every week. Make sense of your money in partnership with The Money Edit.
Ruth Emery is contributing editor at The Money Edit. Ruth is passionate about helping people feel more confident about their finances. She was previously editor of Times Money Mentor, and prior to that was deputy Money editor at The Sunday Times. A multi-award winning journalist, Ruth started her career on a pensions magazine at the FT Group, and has also worked at Money Observer and Money Advice Service. Outside of work, she is a mum to two young children, a magistrate and an NHS volunteer.