Vehicle tax and DVLA scam emails: how to stay safe from latest fraud attempt
How to spot fake vehicle tax emails posing as the DVLA and GOV.UK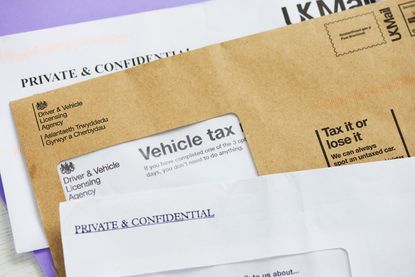 (Image credit: Peter Dazeley / Getty images)
Look After My Bills Newsletter
Get the best money-saving tips, tricks and deals sent straight to your inbox every week. Make sense of your money in partnership with The Money Edit.
Thank you for signing up to The Money Edit. You will receive a verification email shortly.
There was a problem. Please refresh the page and try again.
Your vehicle tax payment hasn't suddenly failed - it is a scam email designed to capture sensitive information via a fake website.
The DVLA has been battling fraudulent communications posing as the department for years: at the end of 2020 it released a number of examples of phishing emails after a 531% increase in reports of email scams.
But this type of scam remains persistent due to its simplicity - these straightforward text-based emails designed to mimic the style of a genuine DVLA communication could end up catching people out before they've spotted the signs that all is not as it seems.
What do recent fake DVLA/vehicle tax emails look like?
Whether it's phishing emails, texts or cold calls, scammers want to tell you just enough to make you panic and take action quickly.
In this first example, the subject line reads 'Your latest vehicle tax payment has failed' and provides a fake reference number alongside it.
The scammers have ensured that their 'name' is set to pose as GOV.UK - so when this email lands in your inbox you'll only see the supposed sender alongside the convincing subject line.
This may be enough to cause some people to feel they must take action quickly and make them miss the following key points:
The email address it's been sent from has nothing to do with GOV.UK or the DVLA.
The message simply refers to the recipient by whatever their email address happens to be - information the scammers clearly already possess which can be automated.
The URL given is not a genuine GOV.UK or DVLA website - it's been invented by the sender and designed to appear genuine.
This second example follows a similar pattern, but instead places the emphasis on your car 'no longer' being taxed, rather than payment failures in the subject line. Again, this is just another variation on wording with the goal being to cause panic.
The scammers are relying on you being in too much of a rush to check the communication thoroughly. Again, a link to a site that has nothing to do with GOV.UK/the DVLA has been designed to appear genuine.
Fortunately, in both these cases, the recipient's spam filter has done its job and sent both of these to the junk folder. But even then, the convincing sender and subject lines could make you look twice when searching through your emails.
I think I've fallen for a DVLA scam, what should I do?
Contact your bank immediately to let it know what's happened if you think you've given sensitive information to fraudsters, particularly card/banking details.
The bank should work with you to cancel your card and help get your money back.
What should I do with fake DVLA emails?
Fake emails purporting to be from any Government department, organisation or brand can be reported to the National Cyber Security Centre on report@phishing.gov.uk
The fake websites they link to can then be investigated and removed to help prevent anyone from falling victim.
How do I know if a DVLA email is genuine?
The DVLA states that it will never send emails that ask you to confirm your personal details or payment information.
You should only use the GOV.UK site when interacting with the DVLA online - double check this when you enter in order to be 100% sure you've been directed to the official site, which is as: https://www.gov.uk/vehicle-tax
You should also be wary of misleading third-party sites that charge extra fees in order to 'help' you apply for a driving licence or tax your vehicle. These are completely unnecessary and are charging for services the official GOV.UK site offers for free.
If you're ever unsure about any communication you've received, take a moment to separate yourself from it and contact the DVLA yourself via its official channels. If there are issues with your vehicle tax then you'll be able to resolve them away from an unsolicited email.
Look After My Bills Newsletter
Get the best money-saving tips, tricks and deals sent straight to your inbox every week. Make sense of your money in partnership with The Money Edit.
George is a freelance consumer journalist with a keen interest in scams and housing. He worked for the Consumers' Association for seven years where he was the editor of Which? Conversation - his work on exposing new scams saw him often quoted in the national press.
George has been at the forefront of the cladding and building safety crisis, campaigning for the rights of leaseholders and giving a voice to those caught up in the scandal - as a result he was nominated for Property Journalist of the Year in 2021 at the Property Press Awards.