UK inflation hits 41-year high of 11.1% ‒ what does it mean for your household income?
UK inflation has risen to the highest in the UK for 41 years. If you're a low-income household, you'll be affected more.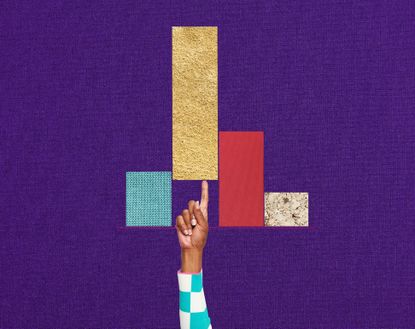 (Image credit: Getty images)
The UK inflation rate rose to 11.1% in October, the highest level since October 1981, new figures from the Office for National Statistics (ONS) show.
It means that the prices we pay are growing at almost the fastest rate seen in four decades. In simple terms, it means everyday goods costing £1 in October 2021 now cost more than £1.11.
The rising rate reflects the current cost of living crisis, with millions of households struggling with rising energy bills, food costs and petrol prices.
Food and non-alcoholic beverage prices rose by 16.2% in the year to October, up from 14.6% in September and 13.1% in August.
The ONS said gas prices have leaped nearly 130% higher over the past year, while electricity has risen by around 66%.
What's more, inflation is predicted to grow still further in the months ahead with the Bank of England warning inflation could top 13% this year.
Moreover, the lowest-income families are being hit the hardest. A household with an income of £15,000 a year will have a personal inflation rate of 9.9% while a household with an income of £50,000 a year will have a personal inflation rate of 8.1%, according to the ONS calculator. This takes into consideration average household spending.
Prime minister Rishi Sunak has described inflation as his number one priority and promised to do everything he can to tackle it: "People's number one anxiety at the moment is the rising cost of living, it's inflation… The chancellor rightly described it as insidious, it makes people poorer, that's what inflation does. And it's the enemy that we need to face down."
We look at what the change in inflation means for the money in your pocket.
What does high UK inflation mean for your household income?
The ONS inflation calculator allows you to see your own personal rate of inflation, whether you're a single-person household, a family of five or a couple with a dog.
Unlike today's rate of inflation of 11.1%, which is based on the national average changes in the cost of all items within an imaginary shopping basket of 720 goods and services, your personal rate of inflation reflects your personal spending habits.
The online calculator shows lower-income households are being hit the hardest by inflation. This is due to low-income households spending more of their income on energy and food – the goods and services where costs have sharply risen.
But, the ONS data reveals the poorest 10% of households endured a 12.5% rise in their living costs – more than the average of 11.1% – while the richest 10% experienced inflation of 9.6%.
How can you limit the effect of inflation?
Millions of us are already doing all we can to manage rising costs across the board. There is no silver bullet, unfortunately.
Right now, it's important to claim any help you're entitled to if you're struggling with household costs. A few pointers that may be helpful:
Use the ONS calculator to figure out your personal rate of inflation. It will show you where your budget is being hit the hardest and help you assess where to cut back. For example, if your food costs have gone up significantly (they will definitely be up) you could change supermarkets or start food planning.
DO speak to suppliers and lenders if you're struggling. This way you can avoid late payment fees and penalties and find a payment plan that suits your circumstances. Energy firms, for example, are legally required to do work with you if you're struggling. It can include giving you a payment break or providing access to hardship funds.
Energy firms' hardship funds include grants that don't have to be repaid and debt being written off up to a certain amount. You need to be an existing customer - with the exception of the British Gas Energy Trust which offers grants up to £1,500 to customers irrespective of their energy supplier.
Ensure you're applying for benefits that you are entitled to. Shockingly, £15bn goes unclaimed with child benefit, council tax support and marriage allowance having especially low take-up. Website Entitledto.co.uk can help you find out.
See if you can get a cheaper social tariff for your broadband. Over 4 million people are missing out and could be saving up to £250 a year.
If you're on a low income and need a loan consider approaching a credit union. These are not-for-profit organisations which provide an alternative to a traditional bank. They offer loans and crucial help to those in financially vulnerable circumstances who may struggle to get a loan from mainstream banks.
Look After My Bills Newsletter
Get the best money-saving tips, tricks and deals sent straight to your inbox every week. Make sense of your money in partnership with The Money Edit.
Katie is staff writer at The Money Edit. She was the former staff writer at The Times and The Sunday Times. Her experience includes writing about personal finance, culture, travel and interviews celebrities. Her investigative work on financial abuse resulted in a number of mortgage prisoners being set free - and a nomination for the Best Personal Finance Story of the Year in the Headlinemoney awards 2021.