The cost of a cup of tea rising: can these TikTok kettle boiling tricks save you money?
The cost of essentials that go into making a cup of tea increasing at a rapid rate. Can these TikTok tricks save you money?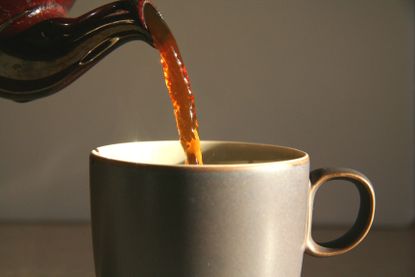 (Image credit: Getty images)
The humble cup of tea isn't immune from price rises, but plenty of TikTok stars think they have the tricks to cut the energy cost of boiling the kettle - we put them to the test.
The latest food inflation figures from the British Retail Consortium reveal the highest food inflation figures to date.
The cost of essentials that go into making a cup of tea - milk, sugar and tea bags - are increasing at a faster rate, up from a 10.6% annual increase in September to a 11.6% annual increase in October.
One of the UK's favourite tea bags, Tetley original tea bags, is 41p more expensive since this time last year and its green tea bags are up by 75p.
If the cost of living squeeze is hiking the price of a cup of tea, can you save on the cost of boiling a kettle? Especially as the cost of our winter energy bills has almost doubled in the past year.
Could there be surprisingly effective answers on popular social media site TikTok? #energycost has 4.6M views, #energysaving has 22.5M views and #costofliving has 841.1M views.
But do these money-saving hacks actually work? We put the top viral TikTok hacks to the experts to find out if they're worth it.
KETTLE BOILING TIKTOK HACKS - DO THEY WORK?
Boil a full kettle of water and put the remaining water in a thermos
The claim: This TikToker claims this one hack can save you more than £300 a year by boiling a full kettle once a day and putting the remainder of water in a thermos.
He goes on to say a full kettle gives you around 6 cups of tea a day which costs £1 per day. So if you made 6 cups of tea a day for a whole year, you would save £365.
What the experts say: According to Healthy Lunch (opens in new tab), a thermos can keep warm for at least 6 hours and after 12 hours it is lukewarm which could still be used for a cup of coffee. But they say how long a thermos stays hot depends on the thermos size and storage capacity.
This 1.2L Amazon thermos (opens in new tab) claims to keep contents hot for 24 hours and has a 4.8 out of 5 star rating, suggesting it does what it says on the tin.
Energy experts Uswitch (opens in new tab) have told The Money Edit it costs 7.8p to boil a full kettle of water (1.5L), based on an average 3kW kettle running for 45 seconds in line with the current 0.34p kWh.
They also said one big mug of tea (300ml of water) costs 1.56p to boil, so if you boiled the kettle 6 times in a day for 6 separate cups of tea, it would really only cost you 9.36p (1.56p x 6) and not £1.
The verdict: Whilst a thermos would keep a full kettle of water hot between 6 to 12 hours (depending on the model you own), you could make a small saving of 1.56p if you chose the thermos method, but it wouldn't make a big £365 saving like the TikToker said. It's also down to how many cups of tea or coffee you have per day.
Pour a mug full of water into the kettle as a measurement
The claim: TikToker 'Cost of living crisis tips' claims you can make a serious saving by filling a mug of water and pouring it into a kettle, to give you the exact measurement for a cup of tea.
What the experts say: Uswitch (opens in new tab) confirms that by only boiling the water you need could save you around £11 per year on your energy bills. Appliance retailer AO.com (opens in new tab) agrees with its own TikTok video (opens in new tab).
The verdict: The experts have given it the green light, so it's worth a try along with the other 6,000 viewers of the TikTok video.
Don't let the kettle reach boiling point, switch it off after it's half boiled to save energy
The claim: This TikToker claims that not letting the kettle boil to its full potential and by switching it off when it seems hot will save energy and costs.
What the experts say: There is no solid evidence to say stopping a kettle half way whilst boiling can help you save on energy costs.
But, a Which? (opens in new tab) study found the faster a kettle reaches boiling point, the less energy it uses, giving the example that a kettle which takes four or five minutes uses more energy than a kettle that takes 3 minutes to boil the same amount of water.
Which? does warn buyers to look at all kettle features before buying and not to base it solely on how fast it boils.
Artful Tea's brewing temperature guide (opens in new tab) also emphasises that for a good cup of tea, the water should come to a full boil.
The verdict: As there is no evidence of the saving that comes with switching the kettle off before it reaches boiling point, we don't suggest trying it. If you're someone that likes a strong brew, then it's worth bringing the kettle to a full boil for better flavour.
Avoid the kettle completely
AO's official TikTok account compares figures against using a kettle, hob and microwave to see which one comes out the cheapest when making a cup of tea.
To get a full breakdown, see how much it costs to boil a kettle and how much it costs to run a microwave.
Related articles
Vaishali graduated in journalism from Leeds University. She has gained experience writing local stories around Leeds and Leicester, which includes writing for a university publication and Leicester Mercury.
She has also done some marketing and copywriting for businesses.
When she is not writing about personal finance, Vaishali likes to travel and she's a foodie.