The money advice kids would give their parents
Do kids have good money advice? This is the financial education they would give the grown ups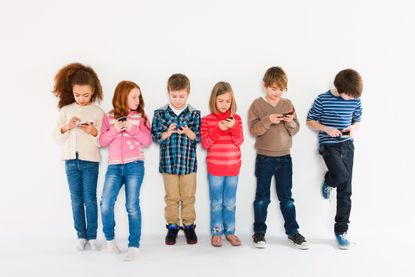 (Image credit: Getty)
Do children have good money advice? Financial education may be limited in the classroom with secondary school children learning it as part of maths and citizenship, but as we talk more about money, are the kids picking up more than we realise?
How should their parents spend their money? What is money good for? Where is the safest place to keep your cash? Is it important to be sensible with your money?
Today's kids arguably know more than previous generations, primarily learning from friends, family and social media. Bitesize videos on TikTok and forums are full of kids discussing financial matters – although there are concerns about the sites being policed properly and incorrect advice given.
So, what do children really know about money? Can they teach us adults a thing or two when it comes to our own finances? Kids normally have an answer for everything, and are often wiser than we think. They can also surprise us with their amusing responses too! Refreshingly, many of the kids we spoke to had a really good grasp of the idea of spending money on essentials, and saving up to buy things that give them pleasure, as well as an understanding of helping people less fortunate than them.
Here's a selection of comments from children across the UK, aged between 4 and 14.
Top money advice - keep your money safe
"The safest place to keep your money is in the bank, as there's a lot of people there, like guards, who will guard your money and keep it really safe. My advice to other Mummys and Daddys is to always keep your money safe, and always use it on things you really need. Never just spend it on silly things like loads of chocolate.
"My advice is that they should use their money to buy things like toothbrushes, clothes and birthday presents."
Lola, 7
Give money to charity
"When we go shopping, I like to give money to homeless people we see, because it makes them smile and helps them. But I get annoyed when my parents don't have cash and tell me it's all cashless. Homeless people can't take cashless payments, so we should all carry a little cash to help other people."
Shiven, 12
Money and financial freedom
"Money opens doors to new opportunities that you wouldn't otherwise have. I save my money, until it gets high enough to the point that I can spend it, say on clothes from Zara and things for my bedroom. It's important to be sensible with money because if you spend it on Bitcoin or gambled it away, you would be in debt, whereas you could have lived a comfortable life. My Mum and Dad should spend less on coffee and start being more careful, in case something happens to their jobs.
"My other advice is to invest some of your money, preferably somewhere that not many other people know about. A pension is a good idea too, for when you are old and retired – you can have a nice time without having to worry about money because you've already saved it. Also, don't click on links that don't relate to what you're doing and don't give away information about yourself to strangers."
Tallulah, 11
Saving for your goals
"We use money to buy food, and for buying the TV, and toys. The best place to keep your money is in your wallet and in your pocket. Money does not grow on trees. We get it from the bank. Mummy and Daddy need to be sensible with their money so they don't lose it, and so a thief doesn't get it. I want to save my money so I can buy a real bus. I like buses."
Wilfred, 4
Compare prices when shopping
"It's important to be sensible with our money because if you spend it on loads of things that are really expensive or if you aren't safe with your money then you could lose some of it and it's really important to have money to buy things. I keep my money in a piggy bank and envelope, but actually the safest place to keep your money is in a bank. Me and my brother should really have bank accounts.
"Giving money to charity is a great thing to do, but make sure you don't give too much, as you need money as well. My advice to my parents is to make sure they look at the prices of things they buy, and check there's not something else that's similar that they could buy for less. Compare prices, and also check for sales. After they've spent money on essentials, they can spend money on things they enjoy and make them happy, like clothes, decorating stuff, games and holidays."
Evie, 11
Stick to a budget
"We use money for buying things. It's good for buying a house. I use my pocket money and the money from the tooth fairy to buy toys. It's important to be sensible with your money, because otherwise it might break.
"Mummy and Daddy use their money to buy food; they should be careful not to spend all their money, otherwise it will run out. And then they won't be able to buy any more food. They should keep their money in their purse. It's the safest place for it."
Ava, 5
The earlier you talk to your #kids about money, the more they can understand its value. Our webinar will help you with brilliant guidance on having those conversations - join us: https://t.co/8wJK0uFDWA #parenting #FPWUK #education pic.twitter.com/PVNPXwgfSMOctober 7, 2021
See more
Save a small amount each month
"You should pay something into a savings account every month and forget about it. Then one day you'll suddenly realise you have a pile of cash. It will be like finding £5 in a pocket you didn't know you had – but better."
Alex, 13
"My advice to my Mum is: 'You shouldn't listen to me when I ask for stupid things. Like when we were in lockdown and you let me spend £200 on loads of skins for Fortnite. They were pretty pointless and now I don't even play the game anymore. If I had that £200 now, I could get all the things I actually need.'"
Callum, 14
"Money means you can buy things that please you, that caught your eye. Money also means you can buy things to give to other people. Normally my parents give me advice, but my advice to them is to spend money on important things, and then if you've got money left over, either save it for the next lot of important things, or buy things that you want, or your children want, or things that make you happy. Don't spend all your money at once!
"Money is important to pay your mortgage. You should have a bank account to store your money so no one steals it. I have a money box, but hopefully soon I'll have a bank account. People that don't have as much money as us, well, they do deserve money, so do give them money if you can."
Stan, 10
"I use my money to buy new teddies and fidget toys. If I don't have enough money, I save it. Saving it means not using it. It's good to save money. I keep my money in my purse or piggy bank. Mummy and Daddy should keep their money in the bank, because they have lots of money and it wouldn't fit in a piggy bank. If they kept it in a piggy bank, it would just break and explode!
"If my mum and dad won the lottery, they should buy me and my sister lots of toys. We should give money to people on their birthdays. And also give money to poor people."
Katherine, 8
Look After My Bills Newsletter
Get the best money-saving tips, tricks and deals sent straight to your inbox every week. Make sense of your money in partnership with The Money Edit.
Ruth Emery is contributing editor at The Money Edit. Ruth is passionate about helping people feel more confident about their finances. She was previously editor of Times Money Mentor, and prior to that was deputy Money editor at The Sunday Times. A multi-award winning journalist, Ruth started her career on a pensions magazine at the FT Group, and has also worked at Money Observer and Money Advice Service. Outside of work, she is a mum to two young children, a magistrate and an NHS volunteer.