TFL price rise 2022: When will London Tube and bus fares rise?
London transport prices to go up in March 2022. Here's what you need to know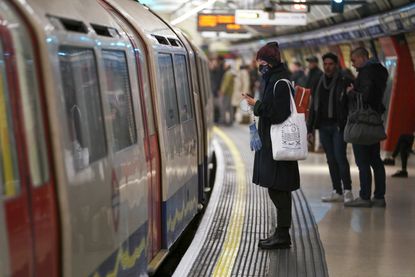 (Image credit: Getty images)
Commuters in the capital are to be hit with TFL's price rise as tube, bus and tram fares are set to increase by an average of almost 5% from March.
The rise is the biggest price hike in a decade and aims to bring in an extra £151 million to the transport network, at a time when the number of weekday Tube passengers is around 60% of pre-pandemic levels.
It's the latest blow in the cost of living crisis. National rail fares will go up by 3.8% in March with hikes in energy bills, council tax and national insurance from April.
We explain what you can expect to pay when using the London transport system.
TFL price rise 2022: How much will my fares rise?
From March, TFL price rises will vary across the network with bus fares seeing the biggest increase.
It means a tube journey in zone 1 will rise 10 pence and a tube journey across the rest of the network will rise up to 30 pence.
The current daily cap - the maximum you pay in a day when using the network - will rise from £7.40 to £7.70 for zones 1 and 2.
The zones 1 to 3 cap rises by the same amount to £9. The zones 1 to 4 cap rises from £10.60 to £11 while for zones 1 to 6 it will rise from £13.50 to £14.10.
Meanwhile the bus cap - the maximum amount you pay in one day to use London's buses - will rise from £4.65 to £4.95. A seven-day bus and tram pass will increase from £21.90 to £23.30 - a hefty increase of 6.4%.
The Emirates cable car fare will rise from £4 to £5 if you use an Oyster or debit card. If using cash, you'll pay £6. And there will be no more return tickets.
Other changes include a premium Heathrow Tube fare throughout the day and a premium on Crossrail journeys.
Why are TFL increasing their prices?
During the pandemic TFL had few passengers and its income collapsed. The government provided more than £4 billion in emergency funding - but with conditions. One of those conditions was that it had to raise fares.
These fare rises in March use a calculation of inflation plus 1%. Critics say fares have to go up as they have not gone up in line with inflation for the last five years.
Workers' return to the office has also not seen a return to normal for TFL's finances. Data from the transport network showed that on February 3 there were 4.6 million bus journeys, only 74% of pre-pandemic levels, and 2.43 million Tube journeys which represents just 59% of pre-March 2020 levels.
What other fare changes could we see at TFL?
TfL is required to become self-sufficient from April 2023, and is required to generate an extra £500m to £1bn a year in income. Sadiq Khan, the mayor of London, has been forced to come up with proposals. These include:
Age eligibility for the 60+ Oyster card increasing by six months each year, for the next 12 years
Withdrawing from the travelcard scheme, which is used by National Rail commuters to travel on the Tube and buses. passengers will have to switch to the pay-as-you-go system, using contactless bank cards or Oyster cards. Paper travelcards will be scrapped.
An Oyster card's deposit will increase from £5 to £7
All the proposals will be consulted upon before being introduced.
Katie is staff writer at The Money Edit. She was the former staff writer at The Times and The Sunday Times. Her experience includes writing about personal finance, culture, travel and interviews celebrities. Her investigative work on financial abuse resulted in a number of mortgage prisoners being set free - and a nomination for the Best Personal Finance Story of the Year in the Headlinemoney awards 2021.