Test and trace scam: how to spot the latest fake Covid 'trace alert' text
Here's how you can spot new 'latest variant' PCR test and trace scam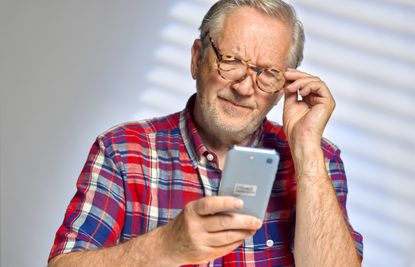 (Image credit: getty images)
Scammers are using Covid contact tracing as a means to trick people out of their cash with test and trace scam text messages.
Fake text messages about Covid, specifically the vaccine and Omicron, have been circulating for some time.
But, the new fake texts are taking a more general approach, simply telling the recipient 'you have been in contact with a confirmed case of the latest variant'.
How do Covid test and trace text scams work?
Much like the recent Apple Pay Wallet text scam, this fake SMS includes a link to a site allegedly selling PCR test kits.
But following the link is instead likely to take you through to a site in which fraudsters can collect your personal data, including bank details.
In the past sites like this have posed as the NHS and GOV.UK in attempts to deceive the victim into thinking they are interacting with a legitimate service.
I've received a fake SMS, what should I do?
If you've received a text message like this, do not follow the link. You will not be contacted regarding contact tracing in this way. In fact, contact tracing information was withdrawn by the Government in April 2022 and replaced with the latest guidance.
If you are experiencing symptoms of Covid-19 or believe you may have been in close contact with someone who has the virus, you should order a test kit from a legitimate retailer by visiting its official website.
As for the text itself, you can report a fake text message, known as a 'smishing scam,' by forwarding it to 7726 (spelling SPAM on the keyboard). You should then delete the text message, and feel free to warn friends and family.
What to do if you think you've fallen victim to a test and trace scam
You can report scams and get your money back. If you think you may have given your card details to fraudsters, let your bank know what's happened immediately by calling it on its official fraud number. The bank should then work with you to get your money back.
If you've handed over other sensitive information, such as passwords, change them as soon as possible, and ensure that two-factor authentication is switched on for any accounts where it's an option.
You can also report the entire incident to Action Fraud via its website or on 0300 123 2040.
Want more?
We've joined forces with our friends at Look After My Bills on a free money-saving tips email which you can sign up to below.
George is a freelance consumer journalist with a keen interest in scams and housing. He worked for the Consumers' Association for seven years where he was the editor of Which? Conversation - his work on exposing new scams saw him often quoted in the national press.
George has been at the forefront of the cladding and building safety crisis, campaigning for the rights of leaseholders and giving a voice to those caught up in the scandal - as a result he was nominated for Property Journalist of the Year in 2021 at the Property Press Awards.