Tesco scam email warning: how to spot the latest fraud attempt
A Tesco scam email using the supermarket's branding and promising £500 gift cards and other prizes is circulating online, but it has nothing to do with the store.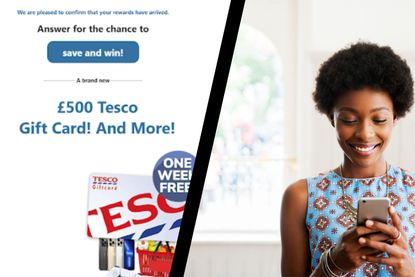 (Image credit: George Martin / Getty Images)
Look After My Bills Newsletter
Get the best money-saving tips, tricks and deals sent straight to your inbox every week. Make sense of your money in partnership with The Money Edit.
Thank you for signing up to The Money Edit. You will receive a verification email shortly.
There was a problem. Please refresh the page and try again.
A Tesco scam email promising your 'rewards have arrived' and offering you the chance to 'win' a £500 gift card is circulating online.
Whether it starts with a fake text message or an email, the latest scams are designed to tempt you into clicking through to websites that will then extract sensitive information - more often than not your bank card details.
Fraudsters can pose as any brand - such as delivery firms Evri and Royal Mail, online retailer Amazon or even the DVLA - including well-known supermarkets.
Similar emails posing as these stores have been around for a long time, but with the price of groceries rising amid the Cost of Living crisis some may end up being tempted by offers of £500 gift cards to spend at Tesco.
But if you do click through you'll be taken to sites that have nothing to do with the brand
Here we explain how the Tesco email scam works and how to spot it.
What the Tesco scam email looks like
The fake Tesco email tells the recipient that their 'rewards have arrived' and offers them the chance to 'win' a £500 gift card.
At first glance the branding images used in the email appear genuine, but it's vital that you take the time to carefully assess any communication you receive that has arrived out of the blue and offers you something for nothing.
On closer inspection you'll realise that despite the clean-looking graphics, the text of the email does not quite make sense. A professional email from Tesco would not be written in such a way, and certainly wouldn't attempt to send you to a site outside of its official domain.
If you're on a desktop computer you can quickly check the URL an email is attempting to send you to by hovering over the link (without clicking) and viewing the destination at the bottom of your browser.
A spokesperson for Tesco said: "We're aware of a scam email claiming the recipient has won a Tesco gift card. We will never send emails asking for personal or security information and emails offering prizes are potentially a scam."
"Our email scams page provides some helpful tips on how to spot and avoid scams online."
I responded to the Tesco Scam email, what should I do?
If you've entered sensitive information, such as your bank/card details, into a third-party site you were taken to via a suspicious email, you need to let your bank know what's happened via its official channels ASAP.
Your bank should work with you to cancel your card, block any pending payments (if required) and refund the money you've lost.
You should also then keep an eye out for any follow-up scams that could occur if you've given contact details, such as your email address or phone number, away to fraudsters. Treat any contact you receive out of the blue with caution.
How can I report fake emails?
Fake emails and phishing websites can be reported to the National Cyber Security Centre on report@phishing.gov.uk - action can then be taken to remove these websites before anyone else falls victim.
If you're going to warn friends and family about a fake email, send them a screenshot - never forward the email on directly.
Tesco has its own dedicated page to spotting phishing scams.
Fake emails impersonating Tesco can also be reported to the supermarket by forwarding them to phishing@uk.tesco.com
Related articles
Look After My Bills Newsletter
Get the best money-saving tips, tricks and deals sent straight to your inbox every week. Make sense of your money in partnership with The Money Edit.
George is a freelance consumer journalist with a keen interest in scams and housing. He worked for the Consumers' Association for seven years where he was the editor of Which? Conversation - his work on exposing new scams saw him often quoted in the national press.
George has been at the forefront of the cladding and building safety crisis, campaigning for the rights of leaseholders and giving a voice to those caught up in the scandal - as a result he was nominated for Property Journalist of the Year in 2021 at the Property Press Awards.