Over 1 million people on tax credits to get first cost of living payment from 2 September
A £326 payment will be made directly into customers' bank accounts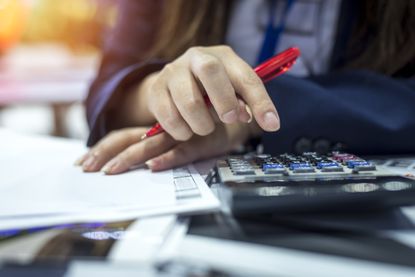 (Image credit: Getty images)
Around 1.1 million people who claim tax credits will receive their first cost of living payment, worth £326, from Friday 2 September.
The money will be paid automatically into customers' bank accounts between 2 and 7 September, according to HM Revenue & Customs.
You must be claiming child tax credit or working tax credit - or both - to be eligible.
A second payment of £324 will be made at some point in the winter.
Those on benefits like Universal Credit or Pension Credit should have already received their first cost of living payment back in July.
Chancellor Nadhim Zahawi said: "I know people are really concerned by rising prices so I'm glad that over a million more low earners will shortly receive their first cost of living payment. We are also preparing options for further support so the new prime minister can hit the ground running."
Inflation recently hit 10.1%, and is expected to reach 13% in the coming months, putting huge pressure on household budgets.
Who is eligible for the £326 payment?
Most benefits claimants should have received their first cost of living payment in July.
If you only receive child tax credit and/or working tax credit, the government will make the payment this month. You must have received a tax credit payment, or an annual award of at least £26, for any day between 26 April and 25 May 2022 to be eligible.
If you believe you are entitled to the payment but do not receive it, wait until 16 September before contacting HMRC. You can contact them online or by calling 0345 300 3900.
Those receiving benefits who believe they were eligible for the payment in July but didn't receive it should check this article for some handy advice on what to do.
How will I receive the payment?
You do not need to apply for the £324 payment, as HMRC will make the payment automatically into the bank account where you receive your tax credits.
If you recently closed the account that your tax credits are paid into, but didn't tell HMRC, it will try and pay the money into the old account, meaning the payment will be rejected. HMRC will then send a letter to the customer, letting them know that it needs new bank details. So make sure your bank details and address are up-to-date.
In terms of keeping an eye out for the payment in your account, there will be a specific identifier when the first payment arrives. The payment reference will be: 'CL'; followed by the customer's National Insurance number (of two letters, six numbers, one letter); followed by '0001AX'.
For example, if the National Insurance number is AB123456J, the payment reference would appear as 'CLAB123456J0001AX'.
For joint claimants, where one claimant receives working tax credit and the other claimant receives child tax credit, payments will be made into the same bank account as the child tax credit.
When will I get the second payment?
The latest payments to those on tax credits mean that more than 8 million eligible households in receipt of a means-tested benefit will have received the first of two automatic cost of living payments of £326.
The second means-tested payment of £324 will be issued later this year – from the autumn for benefits claimants, and from the winter for tax credit-only customers - making a total of £650.
What other government support is available?
As well as the cost of living payments, other government support includes:
A range of businesses including Asda, Iceland and Amazon are also offering discounts and special offers under the government's Help for Households scheme.
Beware of scammers targeting cost of living payments. If someone contacts you about a cost of living payment saying they are from HMRC, it could be a scam. Remember that you don't need to apply for the payments, and HMRC will never ask for your bank details by text message or email.
We have lots of tips on how to spot a scam - and how to report one - in this article.
Look After My Bills Newsletter
Get the best money-saving tips, tricks and deals sent straight to your inbox every week. Make sense of your money in partnership with The Money Edit.
Ruth Emery is contributing editor at The Money Edit. Ruth is passionate about helping people feel more confident about their finances. She was previously editor of Times Money Mentor, and prior to that was deputy Money editor at The Sunday Times. A multi-award winning journalist, Ruth started her career on a pensions magazine at the FT Group, and has also worked at Money Observer and Money Advice Service. Outside of work, she is a mum to two young children, a magistrate and an NHS volunteer.