How to talk about money with friends and family
We look at how to talk about money to friends and family and look after your financial wellbeing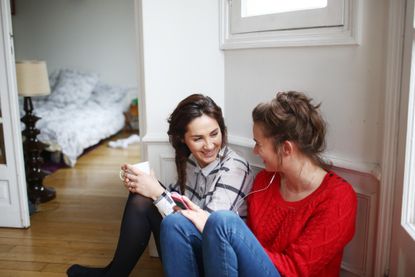 (Image credit: Getty Images)
We don't talk about money as often as we should, but opening up the conversation can help improve our financial wellbeing.
Research from Lloyds Bank found that although 57% of Brits cared about their financial wellbeing - ahead of physical, intellectual or social wellbeing - one in four people did not feel comfortable looking at their finances on a regular basis..
Not only are we uncomfortable with that, we're also shying away from talking about finances with friends, partners and even our children.
To help you get started with conversations around money, here's what you need to know.
Talk about money with your partner
It's obvious, but talking about money with your partner is important, especially if you have joint finances, like a bank account or mortgage, and children.
There is no one size fits all for how you should manage money as a couple but setting time aside and talking about it in a stress-free setting, for example over pizza and a beer, will help - especially if you have different attitudes towards finance.
If you have different attitudes to saving, spending and investing, try to understand why. This will mean being open-minded and empathetic.
If one partner has experienced redundancy or a drop in income, be kind. Conversations about money can be stressful so a loss of earnings can make them more stressful and potentially embarrassing for that partner.
Questions to ask each other regularly include: Do our financial decisions make sense for our present and our future? Have we put safety nets such as life insurance and a will in place should the worst happen? Are we saving for our children in the optimal way?
Why not make a date once a month to sit down and talk about your finances? This is an opportunity to discuss any concerns as well your goals.
Talking about money with your children
Almost a third of parents (31%) do not talk to their children openly about money, according to research from MoneyHelper.
It's no wonder: from a young age we are taught it's inappropriate to talk about how much we earn, vulgar to talk about how much we spent on something - unless it was bought in a sale - and normal to roll our eyes at the mention of pensions.
"Parents often start talking to their children about money when they are in their late teens and about to move out," says Stewart Perry, head of responsible business at investment platform Quilter. "The reality is that what children learn when they are young will shape their behaviour as an adult. It's critical to talk about money with them as early as possible."
For toddlers who enjoy playing with a toy post office or a kitchen that can be turned into a pretend cafe, games involving plastic coins and banknotes to pay for goods and services can be a good starting point. Pre-schoolers can also be shown real money and have coins explained.
Eventually you can take role play at home out into the big world. Young children will feel grown up and learn responsibility if they have a purse with real coins in it that they can then use to buy sweets from a real shop.
As a child gets older money management can be taught via regular pocket money, birthday money, paid chores at home and part-time work. Questions that should be asked: where will you be putting the money? (A savings account? Premium bonds?) Do you want or need that thing you want to buy? (To show how delayed gratification comes from passing on sweets or a magazine to save for a bigger, more expensive item). These help them understand the choices that adults make about money.
As a teen, it's helpful for them to hear everyday family conversations about money. This could include the cost of upcoming driving lessons, shopping around for energy costs or discussing how money in a child trust fund or junior ISA will be spent on further education or a first car. Games like Monopoly and Pay Day can be pulled out once in a while. Eventually topics like investing and tax can be raised.
Talk about money with your family
Talking about money with parents, siblings and in-laws can also be important. Questions to ask include: Have you discussed your plans for your wealth when you pass away? Do you have lasting power of attorney in case you become mentally or physically incapacitated? Can you identify fraudulent websites and scams?
It's a morbid subject but talking about plans for inheritance will mean clarity and less stress in the long run. Rosie Hooper, chartered financial planner at Quilter says: "What is likely to be an already emotional period will be made that bit easier by having had an open conversation about your finances and making sure that things are not left confused or contested in a long, drawn-out affair."
On top of this, if there was a sudden illness in the family then it would be beneficial to have already had those conversations about estate planning and money in general so that a Lasting Power of Attorney (LPA) would manage your affairs if you were to become unable to yourself. An LPA is a legal document that allows you to appoint one or more people - known as attorneys - to make decisions on your behalf if you lack mental capacity due to an accident or illness and consequently cannot make your own decisions.
Bringing up a conversation about scams and fraudulent websites is especially helpful for older relatives who can be particularly vulnerable. Almost 5 million people aged 65 and over in the UK believe they have been targeted by scammers, according to Age UK.
This conversation might be best brought up in person over tea and cake rather than over the phone. This way you can show a relative how to protect email by enabling multi-factor authentication, how to check a website is secure when entering payment information (for example, does the address start with 'https'?), how to identify fraudulent impersonations of official company websites, adverts or emails via misspellings of words or deceptive URLs.
If an older relative is sensitive to being shown how to use their tech you can point them in the direction of help from their bank. For example, at Barclays staff known as Digital Eagles provide free Tea and Teach virtual sessions for older people who want to learn more about technology and being online. Nationwide offers demonstrations of its banking app as well as tips on online safety and how to avoid scams through its Tea & Tech scheme. Similarly, HSBC@HOME is a programme that helps customers become digitally confident with online banking.
Talk money with friends
We often talk about everything - the ins and outs of work, relationships, marriages, break-ups - with our friends, except money.
It's important to feel able to talk about money with friends, especially amid a dramatic rise in energy bills, high inflation and the withdrawal of furlough and other pandemic support - but do tread carefully as you don't want to accidentally offend or judge.
If you have a friend who consistently adds extra cocktails or an extra bottle of wine to a shared bill, suggests weekends away you can't afford, stick to practicalities. For example, you could say: I'm really trying to save/cut back at the moment/this year and I want to be able to hang out obviously but hate having to say no to things - can we organise more budget-friendly things for now?
Do have some ideas for the budget-friendly social life you have in mind. Do suggest things in a positive way, highlight the place you will see or the newness of the particular experience.
Research from RCI Bank shows that half of people who are open about their money feel less stressed, more in control and better educated about the latest financial tools and resources.
But by keeping schtum about money, we end up inadvertently making poorer financial decisions and unnecessarily causing ourselves anxiety.
Look After My Bills Newsletter
Get the best money-saving tips, tricks and deals sent straight to your inbox every week. Make sense of your money in partnership with The Money Edit.
Katie is staff writer at The Money Edit. She was the former staff writer at The Times and The Sunday Times. Her experience includes writing about personal finance, culture, travel and interviews celebrities. Her investigative work on financial abuse resulted in a number of mortgage prisoners being set free - and a nomination for the Best Personal Finance Story of the Year in the Headlinemoney awards 2021.