Support network for mothers sees 500% rise in referrals due to cost-of-living: where you can find help
A local support network for mothers in Stoke-on-Trent has found itself overwhelmed with requests for help. Now is the time to access all available help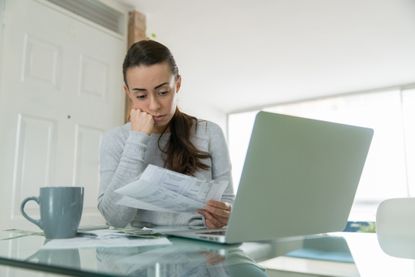 (Image credit: Getty images)
Look After My Bills Newsletter
Get the best money-saving tips, tricks and deals sent straight to your inbox every week. Make sense of your money in partnership with The Money Edit.
Thank you for signing up to The Money Edit. You will receive a verification email shortly.
There was a problem. Please refresh the page and try again.
The founder of a support network for mothers has said it is bracing itself for its busiest winter as it reported a 500% rise in the number of referrals to its service, many of whom are from people "at the end of their rope".
The Facebook group Women of Stoke, which gained more than 2,000 members in its first month when it launched in January this year and originally aimed to help women in Stoke-on-Trent make personal and professional connections, now has around 11,500 members and helps families access food parcels and clothing donations.
"In our busiest week around six months ago, we had 134 women seeking help from us and we've gone up to at least 500 people per week that need support and we can't do all of that", said charity director and founder of the group Laura Carter.
She added: "We have worked with people like the Trussell Trust, but if we can't get a food parcel to them, we will find somebody that can because turning people away is just unthinkable."
It comes amid new research that shows working women are just 14 days away from the breadline. The study by Legal & General reveals that working women could only survive two weeks on average if they lost their income while men would be able to meet household costs for twice as long.
We explain ways you could still be saving or getting help.
1. Don't cancel your direct debit or refuse to pay your energy bill
Paying by direct debit works out around 7% cheaper on average than if you were to pay any other way.
The campaign Don't Pay UK is also suggesting you cancel your direct debit. Doing so has potentially serious consequences: your credit score could be damaged, you could be put on a prepayment meter, late payment fees and debt collection fees will be added, you could get a county court judgement - these things affect your ability to borrow which you may need to do in the future.
2. Ask for help from your energy supplier - even if you think your situation is not that bad
Many people don't ask for help from their energy supplier because they think others have it worse but DO speak to your energy supplier if you're struggling - your supplier HAS TO work with you to agree on a payment plan that suits your circumstances. This can include giving you a payment break or providing access to hardship funds.
Before you call, get together a rough overview of your income and outgoings, what you are left with and any worries about losing your job or a source of income - your energy firm can ask you for this info so they can figure out how they can help you.
3. Apply to energy firms' hardship funds
In some cases energy firms' hardship funds include grants that don't have to be repaid and debt being written off up to a certain amount. You need to be an existing customer - with the exception of the British Gas Energy Trust which offers grants up to £1,500 to customers irrespective of their energy supplier.
4. Get on the Priority Services Register
This Priority Services Register is for pensioners, anyone pregnant or who has young children, those who are disabled, have long term medical conditions or communications needs. Being on this register means your supplier has to offer you an affordable payment plan and can give out emergency top-up credit for prepay meters. Call your supplier to be put on the register.
5. Ensure you're claiming benefits you're entitled to
Shockingly, £15bn goes unclaimed with child benefit, council tax support and marriage allowance having especially low take-up. Website Entitledto.co.uk can help you find out.
6. There may still be ways to reduce your outgoings
For example, over 4 million people are missing out on getting a cheaper 'social' tariff for their broadband and saving up to £250 a year - check if you're on a low income. Netflix has launched its 'Basic with Ads' streaming plan for £4.99 a month - 30% cheaper than its cheapest ad-free option. Facebook groups like Women of Stoke and organisations like The Library of Things let you borrow (rather than buy!) useful products such as drills and camping equipment from as little as £1 a day.
7. Consider a credit union if you need a loan
Credit unions are not-for-profit organisations which provide an alternative to a traditional bank. They offer a handful of products, including loans and sometimes even mortgages and can offer crucial help to those in financially vulnerable circumstances who may struggle to get ordinary products from mainstream banks.
8. Continue to cut your energy usage
Continue to cut your energy usage as and when you can because energy prices are predicted to stay high in 2023 and 2024.
Look After My Bills Newsletter
Get the best money-saving tips, tricks and deals sent straight to your inbox every week. Make sense of your money in partnership with The Money Edit.
Katie is staff writer at The Money Edit. She was the former staff writer at The Times and The Sunday Times. Her experience includes writing about personal finance, culture, travel and interviews celebrities. Her investigative work on financial abuse resulted in a number of mortgage prisoners being set free - and a nomination for the Best Personal Finance Story of the Year in the Headlinemoney awards 2021.