Supermarket food costs soar - what does it mean for your shopping basket
The prices of some budget food items have risen more than 15%, with household staple pasta showing the biggest rise of all at 50%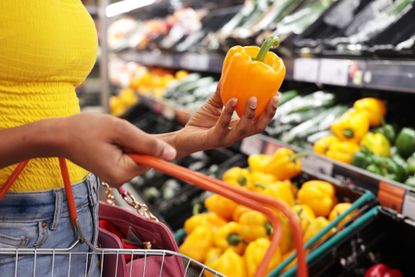 (Image credit: Getty images)
Households are now dealing with disproportionately high price rises for certain budget food items including pasta, crisps and bread, according to new data from the government.
The Office of National Statistics (ONS) produced experimental data for the first time that shows prices for some everyday low-cost food items have increased at a much faster rate than inflation of 9%, in the 12 months to April 2022.
The price of pasta rose the most with an increase of 50% from a year ago - this is more than five times the rate of inflation.
Meanwhile, there were also above-average-inflation-price-rises for other household staples such as crisps (up 17%), bread (16%) and rice (15%). There were other rises for meat-eaters: minced beef (up 16%) and chicken breast (up almost 9%).
The ONS pulled together the new data after the food campaigner Jack Monroe claimed the poorest households would struggle more due to bigger increases in the price of budget brand items. The research was done by tracking the price of the lowest-cost products available online from seven big-name supermarkets - Asda, Iceland, Morrisons, Tesco, Sainsbury's, the Co-op and Waitrose.
However, despite these individually shocking rises, the ONS research showed the overall inflation rate for a shopping basket of 30 everyday items was around 6% - this is around the same as the 6.7% average inflation rate for food in the last year.
Monroe said the figures backed up her claims about value brands in supermarkets:
The @ONSfocus @ONS have released new data today tracking the price rises of the lowest-cost grocery items over the last year, and - backing up my own research and evidence from January - the hikes in the value brands and basics have been much higher than average inflation stats..May 30, 2022
See more
Meanwhile, some staple items showed a fall in price such as potatoes (down by 14%), cheese (7%), pizza (4%), and sausages (3%).
How the price of low-cost food items has changed between April 2021 and April 2022
Swipe to scroll horizontally
| | |
| --- | --- |
| Pasta | up 50% |
| Crisps | up 17% |
| Bread | up 16% |
| Minced beef | up 16% |
| Rice | up 15% |
| Sausages | down 3% |
| Chips | down 3% |
| Pizza | down 4% |
| Cheese | down 7% |
| Potatoes | down 14% |
Sarah Coles, senior personal finance analyst at Hargreaves Lansdown says: "The overall figure [of 6%] disguises massive differences in the figures. Of the 30 items counted, six of them got cheaper over the year, while five of them saw inflation of 15% or more. Some of the fastest rises were among carbohydrate staples like pasta that are incredibly difficult to manage without."
In response, Sainsbury's has announced it will invest more than £500m into lower pricing by March 2023 as part of a long-term plan focused on value, focusing on essential items, such as milk, eggs, meat, fish, fruit and vegetables, and key household products.
Meanwhile, Tesco launched its Better Baskets scheme with items having logos on them to help customers spend less and includes over 200 of their cheaper Aldi Price Match items and Low Everyday Prices budget food range.
The Money Edit has tips on how to save money when food shopping, such as using food waste apps, tracking down hard-to-find coupons and timing your visit to the supermarket.
Myron Jobson, senior personal finance analyst at interactive investor, says it's important to remember that every shopping basket is different. "We all have our own inflation number, and it is worth keeping tabs on your spending habits to get a better idea of the goods and services that are eating most into your budget, and where you could cut back as the cost of living continues to surge. Look at what makes sense for you – not an arbitrary measurement from anyone else."
Rising inflation means the price of everything is soaring. We also have other ideas to cut your bills as inflation rises.
Additional reporting by PA
Look After My Bills Newsletter
Get the best money-saving tips, tricks and deals sent straight to your inbox every week. Make sense of your money in partnership with The Money Edit.
Katie is staff writer at The Money Edit. She was the former staff writer at The Times and The Sunday Times. Her experience includes writing about personal finance, culture, travel and interviews celebrities. Her investigative work on financial abuse resulted in a number of mortgage prisoners being set free - and a nomination for the Best Personal Finance Story of the Year in the Headlinemoney awards 2021.