Royal Mail's price rise sees a first class stamp rise from 85p to 95p
Stamp prices have risen by up to 12% - here's how to beat the increase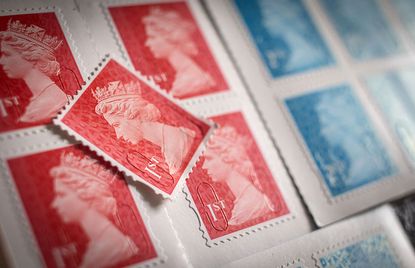 (Image credit: Getty images)
Look After My Bills Newsletter
Get the best money-saving tips, tricks and deals sent straight to your inbox every week. Make sense of your money in partnership with The Money Edit.
Thank you for signing up to The Money Edit. You will receive a verification email shortly.
There was a problem. Please refresh the page and try again.
Stamp prices haven risen by up to 12% meaning a first class stamp has jumped from 85p to 95p. Amid rising living costs, increasing tax and scarily high inflation it's yet another way the cost of living will squeeze households.
Customers will also pay more for second class stamps, as they've risen by 2p to 68p.
Royal Mail has explained the price increase is down to rising inflation and the fact that fewer people send letters than ever before: since 2005, there are 60% fewer letters being posted.
If you have managed to buy stamps before April 3 you can still beat the price increase until January 2023 - we explain how.
How to avoid Royal Mail's stamp increase right now
If you stocked up on stamps marked '1st' or '2nd' before April 4 you can avoid the price rise, they will be valid until the end of January 2023 - so take care to use them sparingly over the rest of the year as we still have 10 months to go.
In 2023, Royal Mail is moving to a new barcode system, which will exclude the use of current stamps.
From 31 January 2023, customers won't be able to use the style of stamps featuring the Queen's head that we are so accustomed to.
Instead, there will be a new style of stamp with a barcode. This stamp will be the only type allowed - and there will be a charge if you try to use the old style stamp as it will be the equivalent of having no postage.
There are two exceptions to this: old Christmas stamps (following a partial U-turn according to MoneySavingExpert) and collectable stamps such as those in the Doctor Who series will still be allowed after January 31, 2023.
What can I do with old stamps?
If you end up with old-style 1st and 2nd class stamps (where you paid 85p and 66p respectively) and realise you won't be able to use them before the deadline of January 31, 2023, all is not lost.
Royal Mail is rolling out a free 'Swap Out' scheme which will allow you to exchange stamps with '1st' and '2nd' class markings with new barcoded stamps.
From March 31 you'll be able to get a 'Swap Out' form, fill it in and send it and your unused stamps to the postal service and in return you will receive barcoded stamps.
You can get a 'Swap Out' form by:
printing one off the Royal Mail website
contacting the Customer Experience service that will post one out to you
picking one up from your local Delivery Offices' Customer Service Point
There will be a freepost address on the form so it won't cost you anything to swap old stamps.
Note that you won't be able to swap your non-barcoded stamps at a Post Office branch.
The scheme will end on March 31, 2023 meaning you have a full year to ensure you won't lose out.
Look After My Bills Newsletter
Get the best money-saving tips, tricks and deals sent straight to your inbox every week. Make sense of your money in partnership with The Money Edit.
Katie is staff writer at The Money Edit. She was the former staff writer at The Times and The Sunday Times. Her experience includes writing about personal finance, culture, travel and interviews celebrities. Her investigative work on financial abuse resulted in a number of mortgage prisoners being set free - and a nomination for the Best Personal Finance Story of the Year in the Headlinemoney awards 2021.