How to set up a lasting power of attorney
New rules will make it easier to set up a lasting power of attorney online. See our guide on how to set one up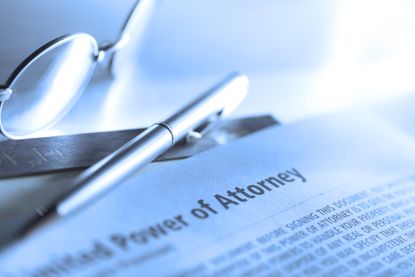 (Image credit: Getty images)
Look After My Bills Newsletter
Get the best money-saving tips, tricks and deals sent straight to your inbox every week. Make sense of your money in partnership with The Money Edit.
Thank you for signing up to The Money Edit. You will receive a verification email shortly.
There was a problem. Please refresh the page and try again.
As well as making a will, setting up a lasting power of attorney is just as important when making a financial plan for your future. We look at how to set one up.
Creating a lasting power of attorney (LPA) is set to become simpler and easier, under government plans to modernise the process, which will allow people to make one completely online.
An LPA is a legal document that nominates someone to make decisions for you in the future if you're not able to make them yourself. For example, if you lack the mental capacity due to a serious brain injury or dementia.
Making and registering an LPA currently requires paper forms to be witnessed and signed, and then posted off to the Office of the Public Guardian.
However, the government is proposing to make the process digital, which would speed it up and make it more accessible for millions of people.
The plans include new identification checks which would require official documents or information such as a driving licence, passport or government gateway account as part of a strengthened verification process.
Justice Minister Tom Pursglove said: "A lasting power of attorney provides comfort and reassurance to millions of people that decisions will be made in their best interests should they lose capacity.
"Our reforms will make the system easier to access, simpler and even more secure from fraud. This forms part of our plans to harness technology across government and provide better services to the public."
The number of registered LPAs has increased drastically in recent years to more than six million, but the process of making one retains many paper-based features that are more than 30 years old.
While changes to creating an LPA are due soon, it's important not to delay registering one. Experts say making the document is an essential piece of life admin, which provides peace of mind to loved ones.
We explain how to set one up, who can be an attorney, and the costs involved.
What is a lasting power of attorney?
A lasting power of attorney (LPA) allows someone you trust to make decisions on your behalf if you lack the mental capacity. You can nominate more than one person to be your attorney.
There are two main types of LPA: health and welfare (this relates to medical care, moving to a care home, and daily routines like washing and dressing), and property and financial affairs (this covers things like managing a bank account, paying bills, and selling your home).
You can choose to make one type or both.
Who can set up an LPA?
To set up a lasting power of attorney, you must be 18 or over and have mental capacity. You don't need to live in the UK or be a British citizen to register one.
The average age of someone registering an LPA is 74.5 years old; the majority of people are over 65.
How do I choose an attorney?
Deciding who should be your attorney is a big decision. They will be responsible for your medical care and/or your finances if you were to become incapacitated, and they will have to make some important choices.
In terms of what the law says, an attorney must be 18 or over. For a property and financial affairs LPA, the person cannot be bankrupt or the subject of a debt relief order.
Apart from that, you should choose someone who knows you well, someone you trust and is reliable. You may want to reflect on how well the person manages their own finances, and makes decisions about their wellbeing.
Bear in mind that the LPA may not be required until some time in the future, so a younger person may be appropriate.
Abigail Bird, head of legacy at the law firm Laurus, highlights some other questions that people should ask when choosing their attorney(s):
How many attorneys do I want to appoint?
Are they aware of my wishes and preferences?
Do they have the appropriate skills set?
Do they have sufficient time to dedicate to the role?
Where do my attorneys live? (the attorney role is usually very hands-on)
Do I want to appoint replacement attorneys? (when you make your LPA you can nominate replacements if at some point the original attorney cannot act on your behalf anymore)
Do I want my attorneys to act jointly in every matter, or jointly and severally? (the latter means attorneys can make decisions on their own or with other attorneys)
Do I want to also appoint a professional attorney?
You can ask a professional, such as an accountant or solicitor, to be your attorney. However, make sure you understand what fees will be charged for this service.
It's a good idea to discuss the role with the person - or people - you want to select, to ensure they fully understand the role and what would be required of them.
How do I make an LPA?
You can make an LPA online or using paper forms. To do it electronically, you will need to create an online account. You can save the forms as you go, and fix any mistakes. Once you've completed them, you need to print them out and sign them.
If you prefer to use paper forms, you can download the forms from gov.uk. Contact the Office of the Public Guardian (0300 456 0300) if you don't have a computer or printer.
Pay close attention to who needs to sign the forms. As well as yourself, the attorney(s), witnesses plus a 'certificate provider' need to add their signatures.
The certificate provider confirms you're making the LPA by choice and you understand what you're doing. They must be someone you know well, or a professional such as a doctor or solicitor.
Everyone must sign the same original document. They cannot currently use digital signatures - although this could change in the future under the government's plans to modernise the process.
Once all the paperwork is in order, you need to register the LPA. Your attorney can also register it for you. To do this, post the original LPA form to the Office of the Public Guardian (OPG), along with the fee.
How much does it cost?
It currently costs £82 to register each LPA.This means it costs £164 to register a property and financial affairs LPA and a health and welfare LPA.
However, you may be able to get a reduction or exemption. If you're on a low income, you could receive a 50% discount, and if you're receiving certain benefits, such as Income Support, you won't have to pay anything at all.
You can pay by debit card, credit card or cheque.
How long does it take to register an LPA?
The OPG service is experiencing delays due to Covid. It can take up to 20 weeks to register an application, and that's if there are no mistakes on the form.
To speed things up, the government advises:
Using the online service to make the LPA and paying the application fee by card rather than cheque.
Giving email addresses for the donor and attorney(s), which makes it quicker for the OPG to contact you.
Double checking the forms before sending them and reading the guidance on how to make LPAs.
Making sure you signed the LPA in the right order, sent all the pages (even those you didn't fill in), and sent the original document.
Do I need a solicitor to make an LPA?
Although it may seem like a complicated process - with lots of pages of paper and requiring numerous signatures - making an LPA is not that difficult.
There is plenty of guidance online, plus an OPG helpline if you get stuck.
If you'd prefer to use a solicitor, check what fees are charged for this service.
How do I make changes to my LPA?
If you make a mistake on your form, the OPG may let you correct it and apply again within three months. It will charge a fee of £41.
If you want to remove one of your attorneys, you need to send the OPG a written statement called a 'partial deed of revocation'. If you want to add another attorney, you'll need to end your LPA and make a new one.
To alter an attorney's details, such as a change of address or name, you must notify the OPG and provide supporting documents. If one of your attorneys dies, you must also inform the OPG.
Don't be tempted to make changes to the LPA yourself, as it could become invalid.
How can I end my LPA?
As long as you have the mental capacity to make the decision, it is possible to end an LPA.
You need to send the Office of the Public Guardian the original LPA plus a statement called a 'deed of revocation'
What are the government's plans to modernise the LPA process?
LPAs were introduced 14 years ago, and the process around creating the document has not been updated since. The government, along with many professionals, believe it is time to modernise the process.
One of the main reforms proposed is to remove the paper-based features of LPAs. In 2019-20, the OPG received 19 million sheets of paper in the form of hard-copy LPAs.
The government will naturally need to consider how this could impact people that are unfamiliar or unable to use digital platforms.
Lisa Conway-Hughes, a chartered financial planner at Westminster Wealth Management, notes: "The reforms really are needed – anything that can be done to make it easy to apply and cost-effective will help to break down the barriers that put people off."
Look After My Bills Newsletter
Get the best money-saving tips, tricks and deals sent straight to your inbox every week. Make sense of your money in partnership with The Money Edit.
Ruth Emery is contributing editor at The Money Edit. Ruth is passionate about helping people feel more confident about their finances. She was previously editor of Times Money Mentor, and prior to that was deputy Money editor at The Sunday Times. A multi-award winning journalist, Ruth started her career on a pensions magazine at the FT Group, and has also worked at Money Observer and Money Advice Service. Outside of work, she is a mum to two young children, a magistrate and an NHS volunteer.