Self-assessment customers face 27-minute wait to speak to HMRC about tax returns
About 3.4 million people have yet to file their tax return. With the 31 January deadline looming, we outline the best ways to get in touch with HMRC if you have a query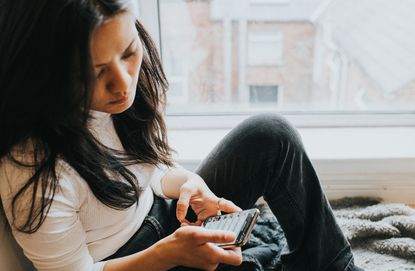 (Image credit: Getty images)
People calling HM Revenue & Customs' self-assessment helpline with queries about their tax returns have faced a 27-minute average waiting time so far this month.
The tax authority warned that customers "may have to wait longer than usual for their call to be picked up, or at exceptionally busy times they may have to call back".
There is less than a week to go before the tax return deadline. Millions of people will be rushing to file their self-assessment returns before midnight on Tuesday, 31 January.
While nearly 8.7 million taxpayers have already filed their return, some 3.4 million people still need to submit theirs.
Those who miss the deadline face an initial £100 penalty, followed by further potential fines.
Why does it take so long to speak to HMRC?
In December, the average waiting time was 28 minutes. So far in January, the average wait has been slightly shorter, at 27 minutes.
HMRC (opens in new tab) revealed this data in a letter to a group of MPs on the Treasury Committee.
It said the self-assessment helpline is exceptionally busy each January, and staff are redeployed to help HMRC focus on the highest-priority self-assessment calls.
HMRC chief executive Jim Harra said: "Despite our helplines being busy, all callers who need to speak to an adviser can do so but they may have to wait longer than usual for their call to be picked up, or at exceptionally busy times they may have to call back.
"Our customers have told us they prefer not to receive a busy tone when call wait times are long but rather they prefer to be able to choose to wait to speak to an adviser.
"Therefore, we do not routinely restrict the time that callers can choose to wait."
He added: "However, at exceptionally busy times, when it is apparent a caller is not going to be able to speak to an adviser within a reasonable wait time, we may tell them to call back and disconnect the call."
In the two weeks ending January 8, call volumes on the self-assessment helpline were 9% higher than the equivalent fortnight last year and the average call handling time was 17 minutes, the letter said.
The average waiting time a year earlier was 12 minutes, the letter added.
Last year, the number of customers contacting HMRC was spread over a longer time period, because the 31 January deadline was pushed back to 28 February (opens in new tab) due to the impacts of the coronavirus pandemic.
How can I contact HMRC about my tax return?
According to HMRC, the quickest and easiest way for customers to manage their tax affairs and get answers to their queries is online, via the HMRC mobile app (opens in new tab) or their online personal tax account.
It says customers can pay their tax bill in around 60 seconds via the free and secure HMRC app, while the app can also provide useful information for those yet to complete their tax return including their National Insurance number, unique taxpayer reference and any PAYE information. About 65,000 people have paid their self-assessment tax bill for 2021-22 via the HMRC app.
HMRC estimates that 65% of calls to the self-assessment helpline during the two weeks ending 8 January related to matters that customers could have resolved online.
Myrtle Lloyd, director general for customer services at HMRC, said: "There's no need for customers to call us, they can save time and search 'Self Assessment' on gov.uk for a wealth of information and resources to help them complete their tax return."
You could also try asking HMRC's digital assistant (opens in new tab), a computer chatbot that can answer simple questions. If the digital assistant can't help you, you can ask to transfer to a webchat with an HMRC adviser if they're available.
To contact HMRC by phone, call 0300 200 3310 (textphone: 0300 200 3319; outside UK: +44 161 931 9070). The call centre is open 8am to 6pm Monday to Friday. It is closed on weekends and bank holidays.
Commenting on the average 27-wait time to speak to HMRC, Treasury Committee chairwoman Harriett Baldwin said: "As the self-assessment deadline approaches at the end of the month, taxpayers will note the advice about checking HMRC's website first.
"However, it is important that people can reach the taxman if there are unanswered questions, and we will continue to seek reassurance that the service can respond to peaks in demand without crashing."
If you haven't filed your tax return yet, don't panic. Our comprehensive tax return guide runs through everything you need to know.
Additional reporting: PA
More on tax returns
Ruth Emery is contributing editor at The Money Edit. Ruth is passionate about helping people feel more confident about their finances. She was previously editor of Times Money Mentor, and prior to that was deputy Money editor at The Sunday Times. A multi-award winning journalist, Ruth started her career on a pensions magazine at the FT Group, and has also worked at Money Observer and Money Advice Service. Outside of work, she is a mum to two young children, a magistrate and an NHS volunteer.