Food prices due to rise by £533 in next 12 months - here's how to save money on your food shopping
The average food shop is set to go up by over £500 over the next year. We look at ways you can cut the cost of your supermarket bill.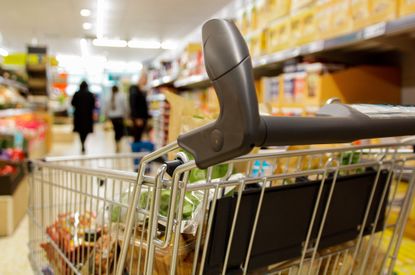 (Image credit: getty images)
Food prices have soared at their fastest rate since 2008, with shop price inflation now at 5.1% - up from 4.4% in July, according to the British Retail Consortium and the NielsenIQ index.
The ongoing war between Ukraine and Russia continues to pile pressure on food prices and inflation rates.
There has been a 10.5% annual increase in price on fresh food, which has risen from 8% along with dairy products like margarine and milk.
For you, this means that even if you don't buy anything extra, just sticking the same items in your supermarket trolley each week could bump up your bill by more than £10 each week.
The knock on effect is that the average household will now have to fork out around over £500 more a year at the supermarket.
Mike Watkins, head of retailer and business insight at NielsenIQ (opens in new tab), said: "Inflation continues to accelerate and shoppers are already cautious about how much they spend on groceries, with a fall in volume sales at supermarkets in recent months.
"We can expect this level of food inflation to be with us for at least another six months but hopefully some of the input cost pressures in the supply chain will eventually start to ease.
"However, with further falls in disposable incomes coming this autumn as energy costs rocket again, retail spend will come under pressure in the all-important final quarter of the year."
WHAT SUPERMARKETS ARE DOING TO HELP CUSTOMERS BATTLE RISING PRICES
Some retailers have taken action to help households cut costs, such as Asda launching a 'Just Essentials' line and Morrisons cutting the price of some everyday goods.
Iceland (opens in new tab) has announced it's dishing out £30 vouchers for cash-strapped pensioner households who are reliant on their state pension or benefits. Vouchers are available on a first come first served basis until 16 September by calling a special number which is 0800 098 7877.
It's also offering small interest free loans where shoppers can borrow up to £100 on a pre-loaded cash card.
If you're looking to slash the costs of your weekly shop further, here are our top tips to help you reduce your shopping bill.
SAVE MONEY ON FOOD SHOPPING: GO TO THE CHEAPEST SUPERMARKET
Switching supermarkets to find a cheaper one is a no-brainer and the place to start. Savings can really stack up over the course of a year.
Discount supermarkets like Aldi (opens in new tab) and Lidl (opens in new tab) are known for budget prices, and top quality food.
Aldi was the cheapest place to shop in July compared with all the other supermarkets, according to Which? research (opens in new tab).
This was based on the daily prices of a basket of 47 items including basics like eggs, apples and bread.
According to Which? a basket costs £74.23 at Aldi, just £1.38 more at Lidl, while Asda was the cheapest of the 'big four' supermarkets at £83.22 but the same basket of shopping cost over £25 more at Waitrose, which came out as the most expensive supermarket.
Top tip: take a look at the Trolley app (opens in new tab) to compare the cheapest supermarket for your food shopping.
SWITCH TO SUPERMARKET OWN BRANDS TO SAVE MONEY ON FOOD COSTS
Switching over to supermarket own brands is an easy way to save and can knock pounds off your bills if you swap down a brand on everything you buy.
For example, if you always buy branded baked beans, swap for the supermarket own version, and if you already buy this, then hunt for its 'value' or 'basic' version.
The savings can really add up. For example, if you buy Heinz (opens in new tab) baked beans, this can cost you £1.20 (415g). Switch to Tesco (opens in new tab) own brand and it will cost you 40p or just 22p if you opt for its value Stockwell brand. This can mean a saving of £1 a tin.
And if you buy pasta, the Napolina (opens in new tab) brand would cost £1.30 for 500g, but Tesco's own brand would cost 85p. Switch to the value brand (Hearty Food & Co), it would be just 32p for the same amount.
You may be pleasantly surprised to find out own brands often fare well in taste tests. There's bound to be some items you like or don't notice the difference - especially with staples like tinned tomatoes, flour or spaghetti.
GET A SUPERMARKET LOYALTY CARD
If you want to save money get a supermarket loyalty card – all the big stores offer them but some can be better value than others.
If you're a regular Lidl (opens in new tab) shopper and use the Lidl Plus app – then spending £100 banks a £2 saving on your shopping; that's double the equivalent value with Tesco's Clubcard. If you shop there regularly and spend £50 a week, you should reach the £200 monthly limit, which means £10 off plus new discounts of around 15 – 20% of selected items every Thursday along with free bonus food items.
With the Iceland Bonus card you get a £1 boost for every £20 you load on the card. And if you put £100 on the card by 31 August you get a £15 bonus in November.
SHOP LATER IN THE DAY TO SAVE MONEY ON FOOD
Shopping later in the day can boost your chances of snapping up items with those yellow 'reduced' stickers that pop up on fresh food with a short shelf life.
Discounts often start from around midday, and can go up throughout the day, to around 75% during the evening. Supermarkets may start their 'discounting' at different times of day, but if you shop in the same one regularly, you'll probably get to know when this is.
In most cases they have special 'reduced' aisles. The key thing is to snap up the bargains, and if you don't need them that day, pop them in the freezer.
BUY SUPERMARKET LEFTOVERS
Food waste apps like Too Good To Go (opens in new tab) and Karma (opens in new tab) mean you can make big savings on leftover food from supermarkets including Morrisons (opens in new tab), Co-op (opens in new tab), Nisa (opens in new tab) and Spar (opens in new tab), as well as cafes, bakeries and restaurants.
Download the free apps to see what's available locally. Too Good To Go doesn't allow you to be too fussy with its 'mystery bag' style offer, though you may get some idea upfront what's in it. Meanwhile, rather than getting a surprise selection, Karma users can see exactly which meals are available to buy at each eaterie.
Prices start from just over £2 in some cases, and as a general rule you'll usually get three times the amount of food for the price you pay, so once again stick it in the freezer if you can't use it all.
BUY OUT OF DATE FOOD (SAFELY)
We're not suggesting you eat anything beyond its 'Use By' date, which is there for safety, but when it comes to the 'Best Before' date, this is an indication of optimum quality.
With warehouses like Approved Foods, you can buy items nearing their 'best before' date including biscuits, tinned food, jams, spreads and snacks and breakfast cereals (opens in new tab) at knockdown prices.
You get free delivery over £55 otherwise you pay from £3.
MAKE A SHOPPING LIST TO SPEND LESS AT THE SUPERMARKET
Again, this isn't rocket science, but checking your cupboards and making a list before you hit the supermarket aisles, whether the virtual or bricks and mortar version, can save costly impulse buys.
Take a look at the Kitche (opens in new tab) app for a helping hand to keep track of what you have in your store-cupboard and fridge. The app, which is free, aims to help you reduce food waste and save money by making sure you eat what you buy with reminders and receipes if you're not sure what to make.
CHECK BUY-ONE-GET-ONE-FREE DEALS CAREFULLY
Snapping up a 'buy one get one free' deal or '3 for 2' can be good value if you're buying things you really want. Just be sure it is something you can pop in the freezer or stock up on, such as toiletries and cleaning products like toothpaste or toilet roll.
However it's a false economy if you splash out and spend more just to get the 'freebie' - so make sure it is something you will use and the saving is worthwhile.
FIND SUPERMARKET COUPONS
Coupons are not as common as they used to be, but you may still find them in supermarket magazines, giving you money off specific products.
You can also get some money back on your shopping or grab some items for free using apps such as Shopmium (opens in new tab) or CheckoutSmart (opens in new tab).
When you buy something featured, you will have to upload your receipt and the app will then give you cashback - paid directly into your bank account.
Make sure you upload your receipt or online delivery note before the offer expires and be sure to keep your receipt until you get your cashback incase there is an issue.
And of course, remember, the savings are only a saving if it is something you intended to buy regardless of the cashback offer.
GET HELP FROM THE EXPERTS
BBC Good Food's budget recipe section (opens in new tab) shows you can eat well for less, while Cooking on a Bootstrap (opens in new tab) explains how to cook ultra-low-cost meals, for example peach and chickpea curry for 22p a portion, ham, pea and mint casserole for 30p a portion and carrot, cumin and kidney bean burgers at 10p each. Goodto also has budget recipes under £1 a head (opens in new tab).
TAKE YOUR OWN BAGS
We all know supermarkets charge for bags in a bid to cut down on plastic and help save the environment. If you don't take your own – you can pay at least 30p for each bag for life at Tesco and if you want one of its larger shopper style reusable (opens in new tab) bags – these can be as much as £1.25.
Additional reporting by the Press Association
Want more?
We've joined forces with our friends at Look After My Bills (opens in new tab) on a free money-saving tips email which you can sign up to below.
Sue Hayward is a personal finance and consumer journalist, broadcaster and author who regularly chats on TV and Radio on ways to get more power for your pound. Sue's written for a wide range of publications including the Guardian, i Paper, Good Housekeeping, Lovemoney and My Weekly. Cats, cheese and travel are Sue's passions away from her desk!
With contributions from