How to save money at Christmas: Top tips to help your cash go further this holiday season
How to save money at Christmas and still have fun on a budget - top tips from The Money Edit team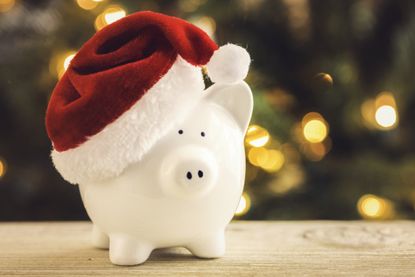 (Image credit: Getty Images)
We'll all be looking to save money at Christmas this year as households continue to feel the pinch on their finances due to the rising cost of living.
Two fifths of us admit we feel worried and anxious obout how much we may spend this festive season, according to research from Barclays (opens in new tab).
The bank found that we're expecting to spend around £1,000 for the big day, with 71% saying there is pressure to make up for last year.
From food, to new outfits and presents - there are ways to save money this Christmas and still have all the fun.
To help you make the most of your cash this year, The Money Edit team have shared their top tips and how they will save money this holiday season.
'Save money at Christmas by making the most of your loyalty' - Kalpana Fitzpatrick
If I shop somewhere regularly, I always collect loyalty points - and come December, they are great for cutting costs for food shopping and gifts. I usually save my Boots, Nectar and Morrisons More points for December and love it when I get to the till and find that the points pay for a large part of the purchase.
I use the Wallet (opens in new tab) app on my iPhone to store all the cards so I never have to worry about carrying all the loyalty cards with me. You can also use the Stocard (opens in new tab) app to store all your loyalty cards digitally. If you have loyalty cards, it's worth checking in to see what you have accumulated.
Kalpana (opens in new tab) is editor of The Money Edit
'Secret Santa is a game-changer' - Ruth Emery
A few years ago, my family's Christmas spending was getting out of control, not to mention the headache and stress of choosing 15 individual presents - and that's just my immediate family.
My younger brother controversially suggested doing a Secret Santa instead. I was reluctant, surely Secret Santa is what you do with your colleagues, or something for kids to do at school?
But, it really has been the best change ever. We do our own version of Not-So-Secret Santa, which involves buying gifts for two people, not 15, and we have a budget of £30 per gift. It's done on a spreadsheet so we can all see who is buying for who.
Ruth (opens in new tab)is a contributing editor at The Money Edit
'Be creative when it comes to gifts' - Georgie Frost
I love being creative, I have since I was a little girl. There isn't a family member who doesn't own a Georgie Frost original scarf or painting, gifted to them on Christmas. It doesn't matter if you aren't the greatest artist, baker or sewer, it really is the thought that counts and it can be a lot cheaper, plus knitting is really therapeutic. Photos in frames and baked goods nicely wrapped are also cheap and personal, classic gifts. When I make my Christmas cake, I always make 2 or 3 at the same time, as these make lovely gifts.
I also love to make Christmas decorations. There is so much that you can do with a few trips to the woods, some ribbon, coloured paper and oranges. There are so many tips and inspirational videos and pictures online."
Georgie (opens in new tab) is a contributing editor at The Money Edit
'Take advantage of special offers ahead of Christmas' -Katie Binns
I try to buy as much as I can in advance if it is on special offer, such as prosecco. I know I will be drinking plenty of it at home, taking it to friends' Christmas parties and gatherings and pulling out at the last minute to give as a gift to someone like the neighbour. I basically keep my eyes peeled for special offers from October onwards.
SEE MORE: BLACK FRIDAY SHOPPING TIPS (opens in new tab)
The other thing I do to counter my big spending in December is to ask for books, book vouchers, Neals Yard remedy vouchers for Christmas so that I have some comforts to keep me entertained and cushioned in January when I have to inevitably cut back and have a quiet month - a low-spend January."
Katie (opens in new tab) is the personal finance writer for The Money Edit
Kalpana is the Editor of The Money Edit.
She's an award-winning journalist and author with extensive experience in financial journalism. Her work includes writing for a number of media outlets, including national papers and well-known women's lifestyle and luxury titles, where she was finance editor for Cosmopolitan, Good Housekeeping, Red and Prima.
She is the author of Invest Now: The Simple Guide to Boosting Your Finances (opens in new tab) - out December 2022.
She started her career at the Financial Times group, covering pensions and investments.
As a money expert, Kalpana is a regular guest on TV and radio; appearances include BBC One's Morning Live, ITV's Eat Well, Save Well, Sky News and more.
She was also the resident money expert for the BBC Money 101 podcast and co-author of the e-careers personal finance course.
A well-known money and consumer journalist, Kalpana also often speaks at events.
She is passionate about helping people be better with their money, save more and be smarter spenders.
Follow her on Twitter and Instagram @KalpanaFitz.