Royal Mail extends deadline to use up non-barcoded stamps to July 2023
Customers must use up 1st and 2nd stamps by 31 July next year before they become invalid for postage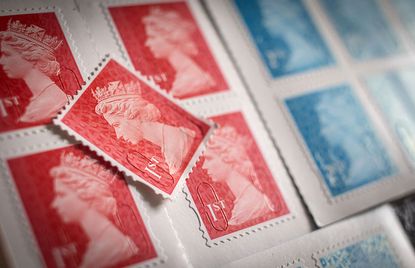 (Image credit: Matt Cardy / Getty images)
Customers now have until 31 July to use up any non-barcoded 1st and 2nd class stamps before they become worthless, after Royal Mail extended the deadline by six months.
The deadline affects "everyday" stamps featuring the late Queen's profile. Themed, commemorative and Christmas stamps that don't have a barcode can still be used after 31 July.
The previous cut-off was 31 January 2023, but Royal Mail said it recognised that customers needed more time to use up their remaining non-barcoded stamps.
Customers are being urged to check their wallets and drawers for non-barcoded stamps and use them in the coming months. However, if that isn't possible, they can be swapped for barcoded stamps of the same value, free of charge.
David Gold, director of external affairs and policy at Royal Mail, said: "Many of us have stamps kept in drawers and wallets, or in a tray on a desk or tucked away on the mantelpiece.
"With Christmas approaching, now is the perfect time to use them up."
Here, we explain why the stamps are being phased out and how to swap them after the deadline.
Which Royal Mail stamps are being withdrawn?
The stamps that are becoming invalid at the end of July 2023 are known as "definitive" or "everyday" stamps. Usually sold in books of six or 12, the 1st and 2nd class stamps feature the profile of the late Queen Elizabeth.
They normally have "1st", "2nd" or a price on them. They do not feature any other picture, and do not have a barcode.
Themed stamps - such as Royal Marines stamps and those with Aardman animated characters (like Wallace and Gromit), which were released last month by Royal Mail - as well as Christmas stamps are not affected and remain valid for use.
Why are they being withdrawn?
Royal Mail is withdrawing the non-barcoded stamps as it switches its focus onto stamps with barcodes, which it says makes deliveries more efficient and improves security.
Barcoded stamps were first trialled in March 2021. Royal Mail then announced in February 2022 that it would add unique barcodes to all its definitive postage stamps and Christmas special stamps.
The barcodes also allow customers to watch videos and send birthday messages. People can currently watch and share two videos by scanning stamps in the Royal Mail app (opens in new tab). The videos feature Shaun the Sheep - one is a generic animation while the other is a 'Happy Birthday' message. More videos will be released in the coming months.
Thomas Slide, director of media and technology research at the market research company Mintel (opens in new tab), said in the future friends and relatives could attach a digital video to a letter, and charities would be able to send postcards with a link to find out more information or donate.
He added: "In an increasingly digital world, a physical letter can really stand out, but enabling that letter to link seamlessly to a digital message will offer the best of both worlds."
The call to use up existing stamps is not connected to the change of monarch. Royal Mail says further details on stamps featuring King Charles will be made after consultation with the Royal Household.
How do I swap the stamps?
Anyone unable to use their non-barcoded everyday stamps by 31 July will be able to exchange them for newer barcoded ones free of charge.
To swap the stamps, customers need to complete a Stamp Swap Out form and send it to Royal Mail along with their non-barcoded stamps.
Forms and freepost envelopes can be picked up from the Post Office. Previously Royal Mail said that forms would not be available at the Post Office, however following a U-turn they now will be available there, as Royal Mail says it wants to make things easier for customers.
If you have a printer, you can also print the Stamp Swap Out form (opens in new tab) out at home.
If you have more than £200 worth of stamps, print out the Bulk Stamp Swap Out form (opens in new tab) instead.
Alternatively, you can request a Stamp Swap Out form to be posted to you by completing an online form (opens in new tab), call Royal Mail's customer experience team on 03457 740740 to request one, or pick up the form at your local delivery office.
Stamps that are not being withdrawn, such as Christmas stamps, should not be sent in to be exchanged.
Royal Mail aims to process Swap Out applications within seven working days, although this could take longer when there are high volumes of requests.
There is currently no end date for when the older stamps can be swapped.
What happens if I use a non-barcoded everyday stamp after 31 July?
Items that are posted with non-barcoded everyday stamps after 31 July 2023 will be treated as if there is insufficient postage. This means the item will be subject to a surcharge, which the recipient will be asked to pay.
The surcharge for a letter is £1.50, while for a small parcel it's £3.50.
Beware of Royal Mail scams: find out the top scams to avoid in 2022 and watch out for Royal Mail strikes dates.
Related articles
Ruth Emery is contributing editor at The Money Edit. Ruth is passionate about helping people feel more confident about their finances. She was previously editor of Times Money Mentor, and prior to that was deputy Money editor at The Sunday Times. A multi-award winning journalist, Ruth started her career on a pensions magazine at the FT Group, and has also worked at Money Observer and Money Advice Service. Outside of work, she is a mum to two young children, a magistrate and an NHS volunteer.