Romance scams warnings: more than £88 million lost in last year - how to protect yourself
The average loss experienced by dating fraud victims has risen sharply. We explain how to protect yourself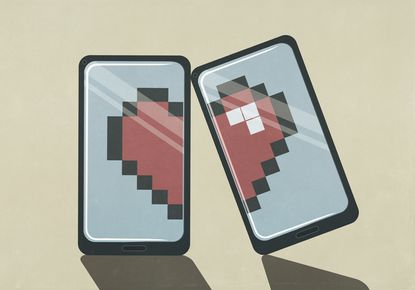 (Image credit: Getty images)
Look After My Bills Newsletter
Get the best money-saving tips, tricks and deals sent straight to your inbox every week. Make sense of your money in partnership with The Money Edit.
Thank you for signing up to The Money Edit. You will receive a verification email shortly.
There was a problem. Please refresh the page and try again.
More than £88 million was lost to romance scams last year, with about 8,000 reports received by Action Fraud.
Separately, the latest scams data from Nationwide building society reveals that the average loss per case has increased by 150%, from £4,720 in 2021 to £11,796 in 2022.
While romance fraud is often thought of as something that affects older people, this is starting to change.
According to Nationwide, of the total number of romance scams reported last year, 63% were reported by those aged 45 and over, while 28% were reported by those aged 34 or under.
In contrast, 74% of scams were reported by those aged 45 and over in 2011, while only 15% were reported by those aged 34 or under.
And while there's a fairly even split between men and women when it comes to romance scam victims, it's women who are more likely to suffer a large financial loss.
Last year, the average loss per case for men was £9,057, compared to £14,803 for women, according to Nationwide.
As Valentine's Day approaches, we look at the common types of romance scams, how to avoid becoming a romance fraud victim and how to stay safe when using dating apps.
Romance scams warning
What are romance scams?
Romance scams often involve fraudsters building online relationships based on a false sense of trust and the promise of a relationship. This could start on a dating website, dating app, via email or on social media.
After laying the foundations, the criminal will request money, often using an emotional backstory in order to manipulate their victim.
It could also be done by promising high returns on investment opportunities. Last November, a high-value serial romance fraudster was found guilty of duping four female victims out of just over £324,000 in an investment scam.
According to research by cybersecurity company NordVPN, one in eight Brits (12%) who have tried internet dating have been targeted by romance or phishing scams.
Jim Winters, director of economic crime at Nationwide Building Society, said: "Criminals can be very convincing in getting someone looking for love or feeling lonely to give them their trust, personal details and ultimately their money, even when they haven't physically met each other."
Romance scams warning signs
Here are some red flags and warning signs to look out for:
Real photo or too good to be true? Romance scammers will often provide photos that have been stolen from professional websites, or from another person's social media profiles.
Attentive or controlling? The scammer may constantly contact you, and try to get you to communicate with them off of the original dating site you met on, by suggesting you move to a more private method, such as email, phone or instant messaging.
Encouraging secrecy? Romance scammers know that winning over a victim can be tough. They may encourage you to keep the relationship secret as they know your friends and family will likely see straight through the scam.
Besotted or obsessive? They are likely to fall in love with you very quickly and declare strong feelings for you after a few conversations. They will work hard to get you to match their feelings. (This will sound familiar if you've ever watched The Tinder Swindler.)
Emotional blackmail? Romance scams involve a lot of manipulation. Any doubts about the legitimacy of the relationship are turned against you, and you're made to feel bad for questioning it.
Generic or endearing? Scammers often use scripts and are in contact with more than one victim at a time. In order to keep all their plates spinning at the same time, they may avoid using your name and instead use terms of endearment like honey, babe or angel that can be used with multiple people.
Any flaws in the story? Their profile on the internet dating website or social media page may include spelling and grammar mistakes and not be consistent with what they tell you.
Available or remote? Many scammers repeatedly avoid meeting in person and have a variety of reasons as to why they can't meet up, such as working abroad and being unable to travel. They may also refuse to show themselves over a video call, claiming, for example, that their camera isn't working.
Financially stable or in crisis? At some point they will introduce a crisis that means you need to help them financially, such as needing help with medical fees, an ill relative, paying for materials or tools for their business, travel expenses, or to avoid persecution.
How to protect yourself from romance scams
Cybersecurity firm VPNOverview gives these tips on how to protect yourself whilst using dating apps:
Don't trust internet strangers; this should be your default attitude, particularly if they've reached out to you.
Use a trusted dating website. Random messages sent via WhatsApp or Facebook Messenger are rarely anything other than a scam.
Be wary of sudden and numerous questions. Don't give away lots of personal information over the internet. It could be used to facilitate identity theft or crack your passwords.
If you're reasonably sure you're speaking to somebody legitimate, consider chatting on a video call. People can use fake pictures, but deep fakes are a long way from being realistic, especially on live video.
Don't keep possible relationships a secret from your friends and family, especially if encouraged to do so by the other person.
Never send money to one of these contacts. If asked for money, it's almost certainly a scam. Strong relationships aren't built on new romantic interests asking you for financial help right from the start.
Don't accept money that they may ask you to transfer elsewhere. You could be used as a "money mule" for money laundering purposes, and you might face legal consequences.
Don't accept or send parcels on behalf of somebody you don't know. Again, you could become an accessory to the crime.
If your relationship starts to become serious, it's okay to look up the person a bit more. Are they on other social network websites? Can you confirm what they've told you about where they work or live or what their life circumstances are?
Nationwide also suggests doing a reverse image search on their photos, as scammers invariably reuse images of other people they find online.
Two more pieces of advice: talk about your relationship with friends and family you trust. They may spot something suspicious.
And if your "loved one" asks for money, always walk away.
More on scams
Look After My Bills Newsletter
Get the best money-saving tips, tricks and deals sent straight to your inbox every week. Make sense of your money in partnership with The Money Edit.
Ruth Emery is contributing editor at The Money Edit. Ruth is passionate about helping people feel more confident about their finances. She was previously editor of Times Money Mentor, and prior to that was deputy Money editor at The Sunday Times. A multi-award winning journalist, Ruth started her career on a pensions magazine at the FT Group, and has also worked at Money Observer and Money Advice Service. Outside of work, she is a mum to two young children, a magistrate and an NHS volunteer.