Prime Minister Rishi Sunak: what does he mean for your money?
Rishi Sunak has become the third Prime Minister of 2022, and warned of difficult times ahead. What is his appointment likely to mean for your bank balance?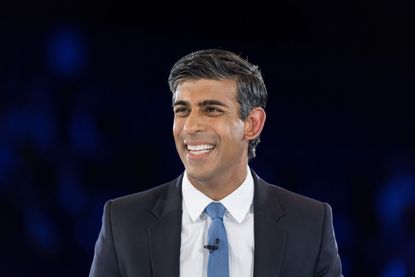 (Image credit: Anadolu Agency / Getty images)
Rishi Sunak has now taken office as Prime Minister, having been the only candidate to garner enough support from fellow Conservative MPs to succeed Liz Truss.
Speaking outside 10 Downing Street, the new Prime Minister promised to "fix" some of the mistakes of the previous administration, which had resulted in economic turmoil and the collapse in the value of the pound.
He added: "I will place economic stability and confidence at the heart of this government's agenda. This will mean difficult decisions to come."
The change garnered a positive reaction in the financial markets, with the value of the pound rising against the US dollar, while government borrowing costs dropped.
But what are those difficult decisions ahead? And what will his new Cabinet mean for our finances?
Will the Halloween fiscal statement happen?
One of the first big questions that has emerged is over the fiscal statement, which was due to be given by Jeremy Hunt, the Chancellor of the Exchequer, on 31st October.
This statement ‒ effectively another mini Budget ‒ is supposed to outline how the government plans to fill the hole in public finances, which has been exacerbated by the recent crisis.
It was originally due to be presented on 23rd November, but was then brought forward because of the dire reaction to the last mini Budget, given by the previous Chancellor, Kwasi Kwarteng.
But, it has now been put back until 17th November.
Taxes: what can we expect?
There had been debate around whether Sunak would retain Jeremy Hunt as Chancellor. Hunt ‒ a previous contender for the leadership of the Conservative Party, and with it Prime Minister ‒ has been in the role for less than two weeks, having been brought in to shore things up after Kwarteng's sacking.
However, Hunt has been retained in the role, and commented afterwards that "protecting the vulnerable - and people's jobs, mortgages and bills - will be at the front of our minds as we work to restore stability, confidence and long-term growth".
Hunt has previously warned of "eye-wateringly difficult" decisions he will have to make, likely around tax and public spending.
While Sunak was Chancellor, he introduced a 1.25% increase to National Insurance, though this was undone by Liz Truss almost as soon as she became Prime Minister. It seems unlikely that he will return to that as a way of raising money, meaning other taxes may be under the microscope.
Though Sunak pledged to cut the basic rate of Income Tax from 20% to 16% during the initial leadership campaign over the summer, this may now be out of the question.
There has been speculation that one way for the government to bring in more money will be through the freezing of the various tax bands and thresholds. As a result, as incomes go up, more people will move into higher tax bands, delivering increased receipts to the Treasury.
Pensions: will the state pension triple lock go ahead?
In his speech at Downing Street, Sunak emphasised his intention to see through the 2019 manifesto on which the Conservative Party was elected.
But will that include the state pension triple lock? The mechanism guarantees that the state pension will increase each year in line with the highest of the following three measurements: the rate of inflation, the rate of wage growth, or 2.5%.
With inflation currently above 10%, that would mean a significant increase to the state pension and therefore costs for the government. While Truss had said the triple lock was safe, and its retention was part of that manifesto, can Sunak afford to do so? Though, given the potential backlash to amending the triple lock, can he afford not to?
Benefits: will claimants get a boost?
One issue that had caused fractions between Liz Truss and her backbenchers was over how benefits will increase.
Liz Truss was considering a rise of 6% but many MPs want it increased in line with inflation, meaning a rise of 10.1%.
The current standard allowance for single claimants over the age of 25 is £334.91 a month. A rise of 10.1% means payments would increase by £33.82 a month to £368.73.
While Mr Sunak needs to make savings, it's open to debate whether he will want to battle with backbenchers over this one.
It means he will likely choose to increase Universal Credit and other benefits by around 10.1% from April 2023.
Mortgage rates: what to expect?
The last government's mini Budget was so poorly received by the markets, it led to chaos in the mortgage market. The expectation of significant increases to the bank base rate resulting in mortgage lenders withdrawing their product ranges, and repricing them at far higher rates.
It meant that the typical interest rate on a two-year fixed rate mortgage moved from around 4.5% to above 6% within a couple of days. That hike translates into significant increases to the size of your monthly mortgage repayments, particularly if you are just coming to the end of a low fixed rate.
However, it's notable that since Truss resigned and it became likely that Sunak would be her successor, expectations of base rate increases have moderated. That may mean that further increases to mortgage rates will be more limited than might otherwise have been the case.
Look After My Bills Newsletter
Get the best money-saving tips, tricks and deals sent straight to your inbox every week. Make sense of your money in partnership with The Money Edit.
Katie is staff writer at The Money Edit. She was the former staff writer at The Times and The Sunday Times. Her experience includes writing about personal finance, culture, travel and interviews celebrities. Her investigative work on financial abuse resulted in a number of mortgage prisoners being set free - and a nomination for the Best Personal Finance Story of the Year in the Headlinemoney awards 2021.