Revealed: Airline exchange rate rip-off hikes flight costs by up to 11%
We reveal the airlines using a poor exchange rate when customers pay for certain flights in sterling, and why there's now a campaign to stamp out the practice. Plus we explain how to avoid getting stung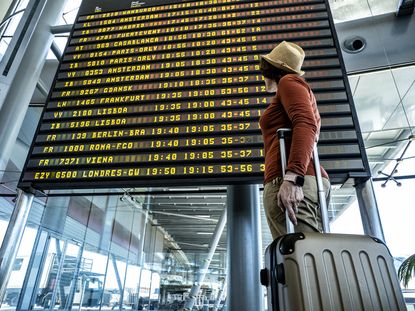 (Image credit: Getty images)
Holidaymakers face an airline exchange rate rip-off when booking flights from abroad to the UK, with exclusive research showing passengers could be charged a markup of up to 11% when selecting to pay in pounds.
EasyJet, Ryanair, Wizz Air and Jet2 are some of the airlines we discovered that use a poor exchange rate to convert flight prices into a different currency, effectively charging customers extra money.
Ryanair calls its exchange rate "dynamic currency" and automatically switches the currency into pounds when a passenger is booking a flight from abroad to the UK. The customer has to manually opt out of this - otherwise, the currency markup is around 6.5%.
But, research by Wise, the money transfer firm, for The Money Edit has found that seven other airlines are also using inflated exchange rates, with some charging a markup of more than 10%. This can equate to being overcharged by £20 or £30 or more, depending on the flight price and number of passengers. For a family of four, the extra charge could easily be more than £100.
Wise has now launched a campaign lobbying the government to put an end to this sneaky practice.
Nilan Peiris, chief product officer at Wise, said: "Dynamic currency conversion is a deeply unfair practice. At a time when budgets are stretched, people looking to relax on holiday, visit family or explore a new place are being ripped off by airlines charging sky-high markups.
"Airlines should clearly show all costs and mark-ups to the exchange rate upfront to customers. Otherwise, customers are losing hefty sums to hidden fees."
James Daley, founder of the consumer group Fairer Finance, also dislikes the practice, arguing there should be a full ban on dynamic currency conversion, "or at the very least mandatory full disclosure of the markup".
Peiris has this advice for passengers: "When booking, make sure you read the small print and pay in the local currency, which could help you make some serious savings."
Airline exchange rate rip-off revealed
When might I be caught by a poor exchange rate while booking a flight?
If you're booking a flight from abroad to the UK, airlines will often show the price in the currency of the airport you're departing from. So, if you're buying a flight from France or Greece, for example, back to the UK, the fare is shown in euros. If it's from Budapest, with say Wizz Air, the price is shown in Hungarian forint.
We previously revealed that Ryanair automatically switches the currency into pounds at the end of the booking process and isn't upfront about the fact it creams off commission from the exchange rate. Wise calculates the markup to be about 6.5% on the price of a flight.
If you un-tick a box on the Ryanair website you can continue to pay for your flight in foreign currency and avoid the markup.
But, we discovered that other airlines are also profiting from this practice.
EasyJet, Wizz Air, Jet2 and Qantas charge a premium when converting a foreign currency into pounds. The markup seems to range from 4% to 11.5% depending on the airline and the particular flight.
But, the key difference with these airlines is that, unlike Ryanair, they do not automatically flip the currency into pounds. Instead, passengers can select to change the currency into pounds.
And many UK customers might do this because paying in sterling feels more familiar, and perhaps safer.
People's instincts are often to pay in pounds, because then they immediately know exactly how much they're paying for their flights, rather than waiting to see how much is taken out of their bank account.
As Peiris puts it: "We tend to feel safer paying in the currency we know, but in this case, this comes at an extra price."
Which airlines charge a markup?
The research by Wise found that Wizz Air and Jet2 charge some of the biggest exchange rate markups. For example, a flight from Budapest to London Gatwick costing 57,980 forint converted into £144.08 when British pounds were selected in the "change currency" drop-down menu. The actual value at the mid-market rate (also known as the interbank rate) was £129.14. This means a £14.94 premium was charged, representing an 11.57% markup.
Meanwhile, a flight from Malaga to London with Jet2 cost €241.55, which the airline converted into £234.87. Again, this was higher than the mid-market rate, which was £212.44. This indicates a markup of 10.56%.
Over at easyJet, the markup appears to be more modest. Wise checked several one-way flights from Berlin Brandenburg and when the passenger opted to change the flight from euros to pounds, a premium of about 4.5% was added.
Qantas seems to add a markup of around 5.5% when passengers book flights from Australian cities to London and opt to pay in pounds. With flights to Australia sometimes costing as much as £2,000, passengers could easily be paying an extra £100 or more due to the inflated exchange rate.
Peiris said: "When booking flights, airlines will sometimes show the price in a different currency to pounds, particularly if you're booking a flight from overseas back to the UK. If you opt to pay in pounds, the airline may charge you extra through an inflated exchange rate.
"Make sure you always pay in the local currency, so you can avoid the conversion fee."
According to Wise, Turkish Airlines, Emirates and Lufthansa also charge a markup if you manually change the currency, but it is much lower than some of their competitors. On average, Turkish Airlines charges a premium of about 1%, Emirates charges 1.5% and Lufthansa charges 3.1%.
Note that the exact markup depends on the flight selected.
Are there any airlines that don't charge a markup?
British Airways, KLM, TUI and Virgin Atlantic don't seem to allow customers to change currency, meaning they don't charge a markup.
According to Wise, BA does not have the option to switch currencies and does not automatically switch currencies, while TUI only shows prices in pounds, regardless of the destination.
What should I do when booking a flight from abroad to the UK?
The important point is to make sure you don't select "change currency" during the booking process, therefore keeping the price in the local currency and avoiding an inflated exchange rate.
If you're booking with Ryanair, watch out for a flight priced in a foreign currency suddenly changing into pounds just as you're about to pay. You need to look for a box saying "More information", click on it, and then un-tick the box to opt out of "Dynamic Currency".
Jo Rhodes, deputy editor of Which? Travel, said: "While paying in pounds may feel more familiar, it's always advisable to pay in the currency the flight is originally shown in to avoid paying an unnecessary premium."
Martyn James, a consumer champion, told The Money Edit that overcharging passengers via an inflated exchange rate was "deeply unfair" and needed to be "scrutinised" by the regulator.
According to James Daley at Fairer Finance, dynamic currency conversion has been tripping up consumers for years. This sort of markup also catches out holidaymakers when they're abroad and they get asked whether they want to pay in pounds or the local currency. (Always choose the local currency!).
Daley said that wherever firms are using dynamic currency conversion, they need to be crystal-clear with customers about the extra they are paying.
In addition to avoiding the airline's currency conversion, you can also keep your costs down by using a debit or credit card that doesn't charge a fee for processing a foreign transaction.
Check out our round-up of the best travel credit cards, which include Barclaycard Rewards (fee-free and 0.25% cashback) and Halifax Clarity (fee-free).
The top travel debit cards include Chase (zero fees on spending or cash withdrawals plus 1% cashback), Starling Bank and Virgin Money (no fees on either card for spending or ATM withdrawals).
What do the airlines say?
The Money Edit asked the airlines charging the biggest mark-ups for comment.
EasyJet said: "If a customer chooses to alter the currency they wish to pay in, the fare is adjusted in order to take into account fluctuations in foreign exchange rates."
Ryanair said: "All Ryanair's fees are charged in the currency of the departure airport regardless of the nationality of our customers. We do not alter our fares or fees to reflect exchange rate movements."
Wizz Air and Jet2 did not respond.
More on this
Look After My Bills Newsletter
Get the best money-saving tips, tricks and deals sent straight to your inbox every week. Make sense of your money in partnership with The Money Edit.
Ruth Emery is contributing editor at The Money Edit. Ruth is passionate about helping people feel more confident about their finances. She was previously editor of Times Money Mentor, and prior to that was deputy Money editor at The Sunday Times. A multi-award winning journalist, Ruth started her career on a pensions magazine at the FT Group, and has also worked at Money Observer and Money Advice Service. Outside of work, she is a mum to two young children, a magistrate and an NHS volunteer.