Return train tickets to be scrapped - could it mean more expensive train travel?
Return train tickets will be replaced by a new system called "single-leg pricing - but could it cost us more to travel?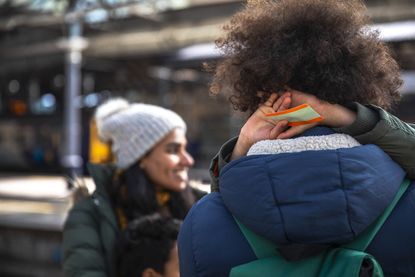 (Image credit: Getty images)
Return train tickets are to be scrapped across the UK's rail network and replaced with new digital ticketing, with an announcement about the reforms expected soon.
Return tickets, which offer a discount rate, will be replaced by a new system called "single-leg pricing", according to The Telegraph (opens in new tab).
It means that the price of two singles will be the same as the current return ticket.
Train travellers will no longer be able to buy a return ticket and will have to buy two single tickets to make a return journey.
It will offer hope to travellers who last year saw rail fares hit record highs.
Return train tickets to be scrapped
The government is yet to publish details about how the new system will work, when it will start or what it will mean for ticket prices. We'll update this article as soon as we know more.
Travel expert Mark Smith welcomed the announcement, tweeting it will be good news for train travellers.
"This makes it much easier to sell rail travel online and through ticket machines and using modern 'touch in, touch out' contactless systems," he explained.
"Websites will be able to show a simple choice of (for example) £90 full-flex, £40 semi-flex or £20 train-specific advance-purchase for your outward journey & a completely separate choice of £90 full-flex, £40 semi-flex or £20 train-specific advance-purchase for the way back," he explained.
"You'll be able to save money by mixing and matching a cheap Advance fare out with an Off-Peak back, to be flexible with your return. At present, as soon as you need an Off-Peak for the way back, you may as well pay the extra £1 and buy an Off-Peak return."
He elaborated: "Single-leg ticketing also means people making 'open-jaw' and circular journeys won't be penalised - at present they need to buy two singles which can cost almost as much as TWO returns!"
Though he admitted he didn't know if it meant people could end up paying more:
The idea was piloted by London North East Railway (LNER) (opens in new tab) in 2020, as revealed by managing director David Horne:
The shake-up to the ticketing system is part of plans for "Great British Railways" (GBR), a new public body that will bring together the operation of trains and tracks, timetables and ticketing under the same roof.
Transport secretary Mark Harper is expected to announce the better use of technology, a new pricing strategy and the simplifying of the ticket system including the potential use of smartcards similar to London's Oyster Card system.
The news comes amid months of train strikes that have affected travellers and failed talks.
Read More
Katie is staff writer at The Money Edit. She was the former staff writer at The Times and The Sunday Times. Her experience includes writing about personal finance, culture, travel and interviews celebrities. Her investigative work on financial abuse resulted in a number of mortgage prisoners being set free - and a nomination for the Best Personal Finance Story of the Year in the Headlinemoney awards 2021.