How to report scams and get your money back after being scammed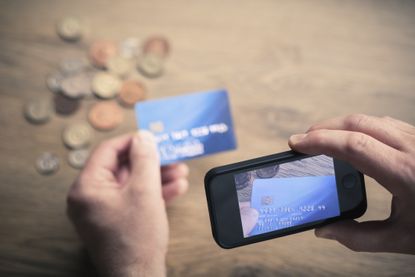 (Image credit: Getty images)
Increasingly, we are inundated with warnings of potential scams, but more and more of our money is ending up in the hands of fraudsters - it's essential you are reporting scams and know how to get your money back if you are scammed.
In 2021, more than £1.3bn was stolen in online fraud alone, with reports of some scams 40% higher following the pandemic.
In light of the rising cost of living crisis, being sure you're safe from scams is more important than ever and there are a few helpful steps to keep your money, data and private information secure.
But scammers will always find a way to get away with fraud – whether it's cold calling or using smart tech - so knowing what you can do to claim your money back is vital to make sure your money stays in your hands.
Five essential steps if you've been scammed
Do not panic! Being quick and decisive in protecting your accounts is important, but ensuring that you are thorough in reporting the scam and securing your accounts or details is vital.
Change any passwords that may have fallen into fraudsters' hands
If you have provided scammers with banking information, such as card numbers, expiry dates or secure passwords, then contact your bank or card company as soon as possible.
Register with Cifas, meaning that companies will verify your identity when taking out financial products
Check bank statements, online accounts and virtual wallets to see if any unauthorised transactions have been made
How can you claim money back after being scammed?
Thankfully, there are steps you can take to get your money if you are a victim of a scam, but they vary in effectiveness and are dependent on how the scammer stole your money.
Scammed by authorised push payment (bank transfer)
An authorised push payment (APP) is when a scammer has convinced you to transfer money from your bank account to one operated by the scammer.
The actual method of the scam can vary widely – but the important part is that a bank transfer has taken place.
If you've been caught out by this method, then contact your bank as soon as possible.
Inform them of what happened, including the details of the account your money was sent to.
The bank can then try and recover the funds on your behalf.
Most banks are signed up to a code - called the CRM code - which means it must reimburse scam victims even if it is not to blame - as long as the victim hasn't been grossly negligent, which is a high bar.
Scammed by debit card
You can contact your bank and ask for your money back through the chargeback scheme. It is not a legal requirement for banks to be a part of the scheme, but many banks subscribe to 'Scheme Rules', which encourage banks to use the chargeback scheme.
It applies to all transactions less than £100
There are no guarantees that it will be successful
Scammed by credit card
Under section 75 of the Consumer Credit Act, you have a good deal of protection if your credit card is involved in a scam, but it depends on what kind of fraud has taken place
If you paid for goods and services but the seller does not provide what has been paid for, then your credit card provider will be able to help [ under section 75.
Section 75 protections apply to items or services that cost above £100 but less than £30,000
Scammed out of cash
There are very few protections available if you've been scammed out of your cash, and the same is true for money wire payment services such as Western Union.
The best course of action is to report it to a relevant body such as the police or Trading Standards.
Other groups such as Citizen's Advice will also be able to provide support and will be keen to hear about your experience to make sure that others are safe from the risk.
How to report a scam
The procedure for reporting a scam is dependent on the kind of fraud that's taken place.
If you have lost money through a scam related to a credit or debit card, or you have sent money through a bank transfer, then tell your bank or card provider as soon as possible. They are best placed to help you claim back your money and put forward measures to identify the fraudster.
More broadly, scams should be reported to Action Fraud, particularly any crimes related to cybercrime. Action Fraud gathers information on current scams and passes it on to the National Fraud Intelligence Bureau.
Reports to Action Fraud can be made by calling 0300 123 2040.
You can also report scams to the police by calling 101, even if the scammers were not successful in getting your money.
A few other useful services:
Text scams can be reported to your mobile phone provider by forwarding it to 7726
Scam emails can be reported to your internet service provider.
If you believe a potential scam email has come from a legitimate company, then report it to them. They will verify if it is genuine.
Fraudulent material sent via the post can be returned to Royal Mail at: Freepost Scam Mail, PO Box 797, Exeter EX1 9UN.
The Mailing Preference Service (MPS) will remove your name and address from mailing lists. Register by calling 0845 703 4599 or visit mpsonline.org.uk (opens in new tab)
Call 159 (opens in new tab) a free service many banks are signed up to. It's a secure number which will put you through directly to your bank. A bit like ringing 999 in an emergency.
What support is available if you have been scammed?
You can call Victim Support for free on 08 08 16 89 111. They are available 24 hours a day, 365 days a year.
The Samaritans are also available if you're having a hard time – whether it's because of a scam or not. Call for free on 116 123.
Elderly people are particularly vulnerable to fraudsters, and Age UK can provide confidential advice about scams. They are available between 8 am and 7 pm every day of the year. Call for free on 0800 6781602
Tom Higgins is a journalist covering all aspects of the financial world, from investing and sustainability to pensions and personal finance. He graduated from Goldsmiths, University of London in June 2020 and has since written online and in print for the Financial Times group, New Statesman media group, numerous trade magazines, and has worked with Bloomberg on social media projects. He has a deep interest in environmentalism, social change, and data-driven storytelling. He can be found tweeting at @tomhuwhig.