Can you make more than £4,000 renting out your driveway?
Making an extra £4,000 renting out your driveway is a huge income boost, but how possible is it really?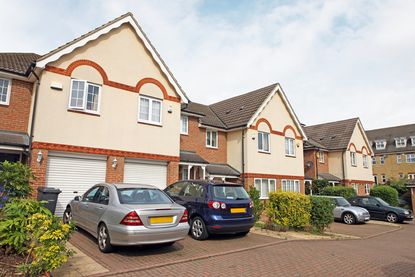 (Image credit: Getty images)
If you live within good proximity of an airport, shopping centre or even the city centre, it's worth checking how much you could earn by renting out your driveway as parking websites claim top listers earn more than £4,000.
The rising cost of living means people are on the hunt to make more money on the side to help get by, from apps that pay you to walk to selling pre-loved goods on eBay.
We tell you how you could earn £4,000 by renting out your driveway, things you need to consider and the best websites to list your driveway on.
Can you really make £4,000 by renting out your driveway?
Renting out your driveway could give you more than £4,000 in your pocket, but there's a lot that goes into it and it won't be the case for everyone.
Your Parking Space (opens in new tab) lets you earn a maximum of £400 per month, so if you were to maximise your earnings every month, you would make £4,800 per year. Just Park (opens in new tab) is more specific about it and says its 'top listers' earn over £4,000 per year, so it's not the case for everyone.
But if you're thinking about making ore than £4,000 per year from renting out your driveway, it will mean your listing will need to earn around £333 per month, around £84 per week.
It is possible, but location is a huge factor that affects how much you can potentially earn per hour or per day. Where you are and what is nearby matters.
For example, a driveway in central London will be lot more expensive than someone listing in suburban Leeds or Manchester.
You also need to consider what's around you and if there is a demand for 'parking spots' in your area. Other things to think about are how long will you rent the space for and how often, as they can influence how much you earn.
We've picked out three locations in different parts of the UK to roughly show you how driveway pricing can vary depending on the city and what it's near.
The costs have been searched based on a one-week stay on Your Parking Space (opens in new tab), and prices could vary when you check their live map. Also, the prices taken are parking spaces that are closest to the destination at the time of search.
Swipe to scroll horizontally
| Location | Near an airport | Near a shopping centre |
| --- | --- | --- |
| London | £125 | £33.25 |
| Birmingham | £90 | £35 |
| Manchester | £84 | £21 |
As you can see prices can vary massively. You would expect London to be the most expensive but at the time of search, parking spaces near Bullring shopping centre in Birmingham were slightly more expensive than near Brent Cross shopping centre in London.
So when pricing yourself, first check what other people are charging and if you're just starting off, try competitive pricing. Your Parking Space (opens in new tab) says drivers on their platform book parking spaces based on location, price and user reviews.
Another good tip is to check how much NCP car parks charge nearby and undercut them slightly to create a demand for your parking space.
Popular websites to list your driveway
If you want to see if there is a demand for parking spaces near where you live, these are popular websites to list your driveway on, plus listing you driveway is free .
Just Park
JustPark is one of the most popular and known listing websites for driveways. You can list for free but they do take a commission once you rent. You can download the JustPark app on Apple Store or Google Play. They also take care of contracts and your earnings get transferred to your bank account or PayPal account, even if the driver doesn't turn up.
Fees- JustPark (opens in new tab) takes a 3% commission on every booking and for long-term or rolling monthly bookings that last over two months, you pay a 20% commission.
Your Parking Space
Another top lister for driveways (opens in new tab) which doesn't charge for listings and takes no commissions. The way it makes money is it adds 20% on top of the price you charge. For example, if you charge £50 for a parking space, the actual charge to drivers would be £60, and they take the £10 so you aren't out of pocket.
Fees- no fee
Park on my drive
More on the basic side compared to the other listing websites. It is free to list but there is a yearly fee to pay. The lister provides a rental agreement and has a pre-payment system once you get a booking to make the process easier.
Fees- Park On My Drive (opens in new tab) charges £20 per year, but only once someone rents out your driveway first. So, if you don't get a booking and decide to cancel, there's no charge.
Other things to consider when renting out your driveway
There are a few things you need to ask yourself before renting out your driveway.
Do your earnings get taxed? Because renting your driveway is classified as 'trading' anything you earn up to £1,000 does not get taxed according to HMRC (opens in new tab). But 'trading' could incorporate any other income boosting activity you're doing, like selling online or renting out a room to a lodger and once you make more than £1,000 in total it does need to be declared and you will need to complete a self-assessment tax return.
Do I need to get planning permission? As long as it doesn't disrupt neighbours or cause a nuisance, the government says you do NOT need planning permission to rent out your driveway.
Does renting out your driveway affect your home insurance? The answer could be different for every individual, so it's always worth asking your insurer. Some insurers might find renting out your driveway a 'commercial agreement' so if something were to happen to the car or the driver, you might not get liability cover.
Does it affect your mortgage terms? Similarly, there is nothing to say it does or doesn't, so your best bet is to notify your lender in case it does have an impact on your mortgage terms.
Vaishali graduated in journalism from Leeds University. She has gained experience writing local stories around Leeds and Leicester, which includes writing for a university publication and Leicester Mercury.
She has also done some marketing and copywriting for businesses.
When she is not writing about personal finance, Vaishali likes to travel and she's a foodie.