Rent increase: cost of living crisis is pushing rent to 'unaffordable' levels - what can renters do?
Experts sound the rent increase warning. Here we explain why rents are going up and what you can do in the face of rent hikes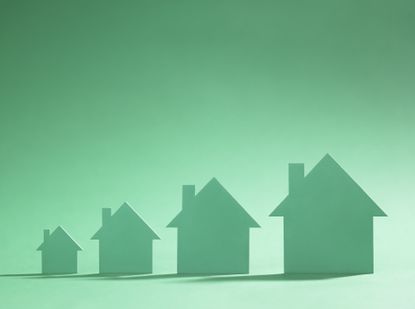 (Image credit: Getty images)
The cost of renting is predicted to increase even further in the UK as landlords feel the pressure of the cost of living crisis. What can renters do about the rent hikes?
The average asking price for rent in August 2022 was £1,143, which is a 8.5% rise from rent costs this time last year, according to the Homelet Rental Index Data (opens in new tab).
Zoopla (opens in new tab) has also said rent prices are increasing at its fastest rate in 13 years.
Estate Agency Hamptons (opens in new tab) expects rising rental prices to outperform rising house prices over the next four years, to the point where renting for many will become unaffordable.
They forecast rents to rise by 5% annually in 2023 and 2024 before a slight slowdown in 2025.
Here we explain why rent is increasing and what renters can do about it.
WHY ARE RENT PRICES INCREASING?
As renters, you may not see the direct impact on rent prices but landlords are very much feeling it.
The cost of living crisis has resulted in landlords bearing the high energy costs and increasing interest rates on mortgages.
These costs are being passed onto tenants, making it near to impossible to afford renting prices.
A report by Estate Agents Hamptons (opens in new tab) said: "Lower rental yields in London will make it harder for landlords to absorb rising costs than their counterparts in the North."
There is also no doubt that this is making it harder for first time buyers, or any buyers for that matter to enter the property market.
This is resulting in demand for rented properties to be higher than supply, making it a contributing factor to the high prices.
"The supply of rental homes in the capital looks set to shrink further, pushing up rents," Hamptons (opens in new tab) added.
Propertymark (opens in new tab) found this is causing renters to stay put in their current homes, as 75% of letting agents saw an increase in tenants renewing their contracts in the last 12 months.
WHAT CAN YOU DO IF YOUR RENT IS BECOMING UNAFFORDABLE?
If you are already renting, staying where you are may be your best bet even if your rent has risen slightly. Research by Zoopla (opens in new tab)suggests that landlords are more likely to charge higher prices to new renters compared to existing ones. If you're a good tenant, that's a bonus.
If you don't agree to a higher rent amount, your landlord can't change it unless they give you a legal rent increase notice, called a section 13 notice.
Housing Charity Shelter (opens in new tab) says it's a good idea to try and negotiate with your landlord. For example, it says you could:
explain your financial situation, especially if you cannot get more local housing allowance
offer a lower increase that you can afford
show the higher amount is above market rent
You can even use a budget tool to show what rent you can afford.
If you and your landlord can't agree you can ask a tribunal to decide for you - it's free to apply. Citizens Advice (opens in new tab) can help you challenge a rent increase.
If you are flexible to relocate, then consider renting in a city that is cheaper. Right now, the most affordable cities to rent in according to The Week (opens in new tab) are Stoke-on-trent at an average £489, Bradford at an average £537 and Sunderland at an average of £568.
The Government has announced a proposed rent cap on social housing (opens in new tab) to protect tenants from rising costs. They are considering 3%, 5% and 7%. This will be in addition to the £150 council tax rebate and £400 energy bill rebate. Keep your eyes peeled on this to see if you are eligible.
Get free advice. There are bodies ready to offer free advice to you on your living situation such as Citizens Advice (opens in new tab), Shelter (opens in new tab) and StepChange (opens in new tab).
Vaishali graduated in journalism from Leeds University. She has gained experience writing local stories around Leeds and Leicester, which includes writing for a university publication and Leicester Mercury.
She has also done some marketing and copywriting for businesses.
When she is not writing about personal finance, Vaishali likes to travel and she's a foodie.