Rent increases: cost of living crisis is pushing rent to 'unaffordable' levels - what can renters do?
Rents are rocketing, and tenants are competing for a shrinking number of rental properties. We explain how to deal with rent hikes and outline your rights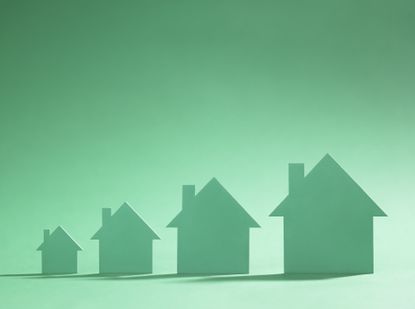 (Image credit: Getty images)
Look After My Bills Newsletter
Get the best money-saving tips, tricks and deals sent straight to your inbox every week. Make sense of your money in partnership with The Money Edit.
Thank you for signing up to The Money Edit. You will receive a verification email shortly.
There was a problem. Please refresh the page and try again.
The cost of renting is predicted to increase even further in the UK as landlords feel the pressure of the cost of living crisis. What can renters do about the rent hikes?
With house prices in a period of turbulence, renters too are facing uncertainty as rising rates and competition push up rental prices.
According to Zoopla, rent prices are increasing at their fastest rate in 13 years. The average rent for new lets in the UK has increased by 11.1% in the past 12 months, way outpacing the 6.7% growth in earnings.
And there are worries that surging prices could make renting unaffordable. Estate agent Hamptons expects rising rental prices to outperform rising house prices over the next four years, to the point where renting for many will become unaffordable.
It forecasts rents to rise by 5% annually in 2023 and 2024, before a slight slowdown in 2025.
Here we explain why rents are increasing and what renters can do about it.
Rising rent prices
The cost of living crisis has resulted in some landlords dealing with high energy costs and increasing interest rates on mortgages.
These costs are being passed onto tenants, making it more and more difficult for people to meet the cost.
The number of new landlords has also decreased, with prospective property investors put off by the economic backdrop and shifting regulations.
This, combined with a shortage in housing more generally, is leading to rent increases across the country.
Demand for rental properties is currently at a five-month high, according to the Royal Institution of Chartered Surveyors (Rics), while the number of new landlords slumped 21% in March.
Rics says the supply and demand imbalance will drive up rents across the country by an average of 4%, with all regions of the UK set to see a rise over the coming year.
The rental market remains "hugely constrained by the lack of stock," says Simon Rubinsohn, Rics chief economist, resulting in a "striking" impact on rent levels.
The average rental prices paid by UK tenants rose by 4.7% in the year leading up to February 2023, according to data from the Office for National Statistics.
Separate data from Rightmove echoes this. For the last quarter of 2022, the national average asking rents outside London hit a record of £1,172 per calendar month, taking average rent increases for newly listed properties to 9.7% for the entire year:
London also reached a new record asking rent of £2,480 per month, and inner London rents surpassed £3,000 for the first time.
Rightmove says the number of properties to rent is down by 38% compared with pre-pandemic 2019, while the number of people enquiring about a property to rent is 53% higher.
Tenants in social housing also face spiralling costs. This month, rents rose by 7% after housing associations implemented the CPI inflation hike.
As such, it is clear that all types of renters are facing a significant squeeze.
Why are rents rising?
Driving this trend are a number of factors. Those taking out buy-to-let (BTL) mortgages have faced the same steepening rates as those looking to purchase a property for themselves. The average BTL mortgage is 5.64%, according to Moneyfacts, 2.3 points higher than a year ago.
Changes to capital gains tax have also spurred rent rises, with the tax-free annual allowance cut from £12,300 to £6,000, and eventually slashed to £3,000 from April next year. This gave rise to a number of landlords selling properties, removing them from the available pool of rental homes available.
As such, the shifting tax and regulatory environment is impacting "the viability of many landlords operating in the sector," Rics' Rubinsohn adds.
These rising costs have deterred many renters from leaving their homes, opting instead to stay put to avoid sudden price rises.
Indeed, Propertymark found that 75% of letting agents saw an increase in tenants renewing their contracts in the past 12 months.
What can you do if your rent is becoming unaffordable?
If you are already renting, staying where you are may be your best bet even if your rent has risen slightly. Research by Zoopla suggests that landlords are more likely to charge higher prices to new renters compared to existing ones. If you're a good tenant, that's a bonus.
If you don't agree to a higher rent amount, your landlord can't change it unless they give you a legal rent increase notice, called a section 13 notice.
Housing charity Shelter says it's a good idea to try and negotiate with your landlord. For example, it says you could:
explain your financial situation, especially if you cannot get more local housing allowance
offer a lower increase that you can afford
show that the higher amount is above market rent
You can even use a budget tool (such as the Budget Planner from MoneyHelper) to show what rent you can afford.
If you and your landlord can't agree you can ask a tribunal to decide for you - it's free to apply. Citizens Advice can also help you challenge a rent increase.
Perhaps now may be the time to consider moving further afield. Zoopla says the cheapest rents in the UK can be found in the North East, with tenants spending an average of £631 a month on rent.
Northern Ireland and Scotland also offer more affordable rental rates, with average rents of £688 and £712 respectively.
But you can expect to pay twice as much to rent in London (£1,978) than you will in the North, Midlands, Wales, Scotland or Northern Ireland.
Rents across the south are expensive compared to other regions, with the South East, South West and East of England all registering average rents of more than £1,000 a month.
Read next
Look After My Bills Newsletter
Get the best money-saving tips, tricks and deals sent straight to your inbox every week. Make sense of your money in partnership with The Money Edit.
Tom Higgins is a journalist covering all aspects of the financial world, from investing and sustainability to pensions and personal finance. He graduated from Goldsmiths, University of London in June 2020 and has since written online and in print for the Financial Times group, New Statesman media group, numerous trade magazines, and has worked with Bloomberg on social media projects. He has a deep interest in environmentalism, social change, and data-driven storytelling. He can be found tweeting at @tomhuwhig.