Rare coins: is the change in your pocket worth hundreds?
If you have one of the rare coins sought by collectors, then you could sell it for many times its face value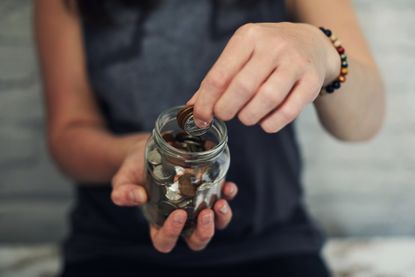 (Image credit: Getty images)
Is the change in your pocket worth a small fortune? It's a question we should all be asking, given the sums that rare coins have been selling for lately.
Over recent weeks, a handful of rare 50ps have sold on eBay, fetching the owners upwards of £130 each. It's an important reminder that the change in your wallet may be far more valuable than it appears, if it's of particular interest to a collector.
Rebecca Morgan, head of collector services at the Royal Mint, says: "A coin is ultimately worth what the collector is willing to pay for it, but there are certain factors you should consider before committing to a price."
As a result, it's a good idea to not only go through your coins in order to see whether you have one of these highly sought after coins, but also to keep an eye out any time you shop with cash, in case the change you receive is worth far more than you think.
The Kew Gardens 50p that's worth hundreds
The coin in question is the Kew Gardens 50p from 2009. It was produced in order to commemorate Kew Gardens itself, the royal botanic gardens located in West London.
Only 210,000 of the coins were ever minted and issued into circulation, which makes them pretty rare. What's more, the numbers in circulation dropped still further when collectors started snapping them up.
The coin features an image of the Chinese Pagoda found within the gardens, intertwined with a plant. A newer, commemorative version of the coin was released in 2019 but be warned ‒ it's not anywhere near as valuable.
The 2009 Kew Gardens 50p has popped up on the auction site eBay a fair bit of late, and bidding from collectors has driven the price up to far more than its face value. In the last week, more than a dozen of the coins have been sold for upwards of £100 through successful eBay auctions, with prices ranging from £130 to as much as £249.99.
Not bad for a 50p coin that might be sitting in your wallet right now, without you realising it.
What makes a coin valuable?
Obviously, the vast majority of the coins in our purses and wallets are worth no more than face value. So what is it about certain coins that boost their attraction to coin collectors, and with it the price that they may be willing to pay you for your coin?
Rebecca Morgan says that important features include "the condition of the coin, its design, mintage figure and what it's made of".
Let's start with the mintage figure, which essentially means how many of that particular coin was produced. Coins with an unusually low mintage, meaning relatively few were made, are going to be more appealing to collectors due to their scarcity. And this can push up their apparent value.
You can check the mintage of a coin on the Royal Mint website, so that you get a better grasp of just how scarce a particular coin may be.
The design of a coin will be hugely important to its appeal to collectors too. If there is something that makes the coin stand out from the rest, such as special coins issued to make particular events or anniversaries, then it may be more desirable.
The condition of the coin is also crucial here. Rare coins that are in excellent condition are more likely to win favour from collectors, and therefore a larger selling price. However, if the coin is in poor condition then even if it is rare it may not attract much interest from collectors.
As Morgan puts it: "The closer to 'Mint Condition' ‒ the condition it was in when it came off the production line at the Royal Mint ‒ the higher value it could be."
The valuable coins to look out for
So which other coins might be sitting in your wallet and purse but are worth far more than face value?
The coin website Change Checker (opens in new tab) publishes a regular 'scarcity index' for ordinary coins, to give people an idea of which coins are the rarest and may therefore garner the biggest prices should you look to sell them on.
The higher the score, the more scarce the coin is.
The Kew Gardens 50p, perhaps unsurprisingly, scores the maximum 100, with the rest of the top five made up of Olympic-themed 50p coins released in advance of the 2012 London Olympic Games. They are the Triathlon, Football, Wrestling and Judo coins, each of which feature an image of that particular sport on the reverse.
All of these coins have sold for upwards of £10 on eBay this month.
Among 10ps, the most sought-after is the Robin coin from 2018 and 2019. In total less than 290,000 were issued into circulation, and because of that scarcity it scores a full 100 from Change Checker.
And among £2 coins there's another athletics theme, with the Commonwealth Games coins from 2002 scoring highly. The Northern Ireland edition gets the full 100 score, followed by scores of 84 and 82 respectively for the Scotland and England editions. The Northern Ireland coin has sold for as much as £40 in the last month on eBay.
How can I sell valuable coins?
It's one thing to discover that you have a valuable coin like the 2009 Kew Gardens 50p in your possession. But how do you go about selling it for the best possible price?
As we have highlighted, eBay can be a useful place to start ‒ there are plenty of potential collectors that use the auction site, in the hope of snapping up a rare coin at a good price.
Maximising your sale price on eBay comes down to the quality of your listing. First and foremost, it's crucial that you not only get all of the key details about your coin into your listing heading, but that you spell it correctly too.
Spelling mistakes mean it will be harder for possible buyers to find your listing, impacting the price you eventually get. It's also useful to include good quality photographs so that buyers know exactly what they are bidding for.
While it's possible to fetch a significant profit through an auction site, there is always the danger that your coin won't sell, meaning you've effectively wasted your time.
An alternative option may be to make use of a coin dealer. As the name suggests, these firms will pay you for those rare coins you've stumbled upon. All you have to do is share the details of the coin in your possession, and you'll be provided with a quote. If you're happy, you can then arrange to send the coin to the business and pocket the cash.
While this may be a more straightforward process, this will never be the biggest possible earner ‒ these dealers will want to sell the coin for a profit themselves.
Finally, the Royal Mint usually operates a coin buying service of its own, though it is currently suspended while it works through a backlog of cases.
John Fitzsimons has been writing about finance since 2007, and is a former editor of Mortgage Solutions and loveMONEY. Since going freelance in 2016 he has written for publications including The Sunday Times, The Mirror, The Sun, The Daily Mail and Forbes, and is committed to helping readers make more informed decisions about their money.