When are the train strikes? How to get a refund if your train is cancelled
More train strikes are announced for December and January. We tell you what your rights are if you cannot travel and want your money back, and if you aren't able to make it to a big event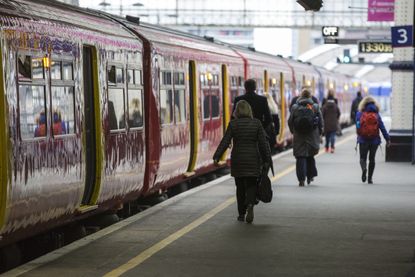 (Image credit: Getty images)
Train strikes put a damper over the Christmas and new year period as strikes are scheduled in December and January, causing more travel chaos. Here's what you need to know
Members from the Rail Maritime Transport (RMT) (opens in new tab) will strike in December and January at least five times, over 48-hour periods.
The strikes are due to a long dispute over jobs, pay and working conditions which was on route to getting resolved, but is now back in full force.
Train lines have suggested that people should avoid travel on these days if possible because severe delays and cancellations are expected.
An RMT statement (opens in new tab) said: "Despite every effort made by our negotiators, it is clear that that the government is directly interfering with our attempts to reach a settlement.
"The union suspended previous strike action in good faith to allow for intensive negotiations to resolve the dispute.
"Yet, Network Rail has failed to make an improved offer on jobs, pay and conditions for our members during the last two weeks of talks."
We tell you when the train strikes are taking place if you can get a refund and what to do if you have to get to a big event which you booked in advance, but are unable to get there.
Train strikes and refunds
When and where are the train strikes?
Here's what we know about all the planned train strikes throughout December and January.
RMT train strikes are going to take place on the following dates, each being over 48 hours:
13 and 14 December
16 and 17 December
24 December (from 6 pm) to 27 December (until 7 am)
3 and 4 January
6 and 7 January
The walkout includes members of the RMT working for Network Rail, 14 train operating companies and signalling staff which means small services will not run at all, and the bigger lines will have severely limited services.
That's over 40,000 members striking. The strikes can also cause some disruption in the hours before and after the given times.
These are the train lines affected by the planned strikes:
LNER
Northern trains
Avanti West Coast
London Overground
Southeastern
CrossCountry
Chiltern Railways
Hull Trains
Greater Anglia
GTR (including Gatwick Express)
London Underground
West Midlands Trains (including London Northwestern Railway)
Great Western Railway
Transpennine Express
Can I get a refund due to the rail strikes?
According to National Rail (opens in new tab), here's what you can do with your ticket if your train is cancelled due to industrial action.
If your service has been cancelled, delayed or rescheduled, you will be entitled to a change or refund from the original retailer of your ticket. You should not have to pay the usual admin fee (up to £10) if you are seeking a refund because of the strike action.
You can also use your ticket with another train company or an alternative route if it is available.
Martyn James, a consumer rights expert, says: "When strikes happen, some train operators may allow you to use your ticket on their services instead. Or there may be rail replacement or emergency services offered instead. Looking at the T&Cs on some train websites, they say they will only pay out if you can't travel or are delayed when taking these alternative services. I don't think that's particularly fair – so get in touch with the train operator before you choose not to travel to find out your refund rights."
It's also important to note that you can claim a refund for a season or flexi-season ticket should you be unable to travel.
James says: "The way this is calculated is pro-rata and is rather complex, but again, you can start the process through the train operator website."
How do I apply for a refund via Delay Repay?
Applying for a refund via Delay Repay varies slightly from operator to operator.
Generally speaking, you contact the train company online or by post with a photo of your ticket, season ticket or receipt plus the date and time of the train you wanted to catch. You have to do this for each journey affected by the strike.
Google 'Delay Repay' and the name of your train company to get contact details.
For season ticket holders, it appears the rules have been changed to be more generous: a one-off arrangement will allow them to claim Delay Repay refund if they choose not to travel on all three strike days - whether their train is cancelled or not.
Rail companies use a percentage of what season ticket holders paid for their pass to calculate a refund. So if you have an annual season ticket, you get 1/464th of the price back for every 'single journey' that needs to be refunded. If you have a monthly season ticket it's 1/40th of the price while if you have a weekly season ticket it's 1/10th.
If you're a season ticket holder you'll get your refund in your bank account while if you bought an advance ticket you'll get an e-voucher to use against the cost of a future rail ticket.
There is a general time limit of 28 days for applying for a refund.
What happens if I miss a big event because of the train strikes?
Unfortunately, if you are unable to make any big event you had booked, you are unlikely to get your money back.
"You may be able to get a refund if you purchased added insurance when buying your ticket, but often, claiming on these is very difficult as they have so many conditions to meet before you qualify for a refund," says James.
Instead, you can gift your ticket or sell it. Some ticket providers offer resale services, but if your tickets don't sell, then you miss out.
"It's also worth noting that if you booked a hotel and you can no longer get to the event, you should be able to cancel it if there was a 48-hour cancellation policy. So, check your emails to see what you signed up for."
Can I get a refund for additional costs incurred because of the rail strike?
You won't be able to claim a refund for any additional costs you may face such as having to pay for a taxi as part of your overall trip or a night in a hotel if you're unable to get home. National Rail has stated that it won't cover these additional costs.
Vaishali graduated in journalism from Leeds University. She has gained experience writing local stories around Leeds and Leicester, which includes writing for a university publication and Leicester Mercury.
She has also done some marketing and copywriting for businesses.
When she is not writing about personal finance, Vaishali likes to travel and she's a foodie.