Rail strikes: how to get a refund if your train is cancelled
The biggest industrial action since 1989 will impact thousands of people planning to journey by rail. We look at how you can get your money back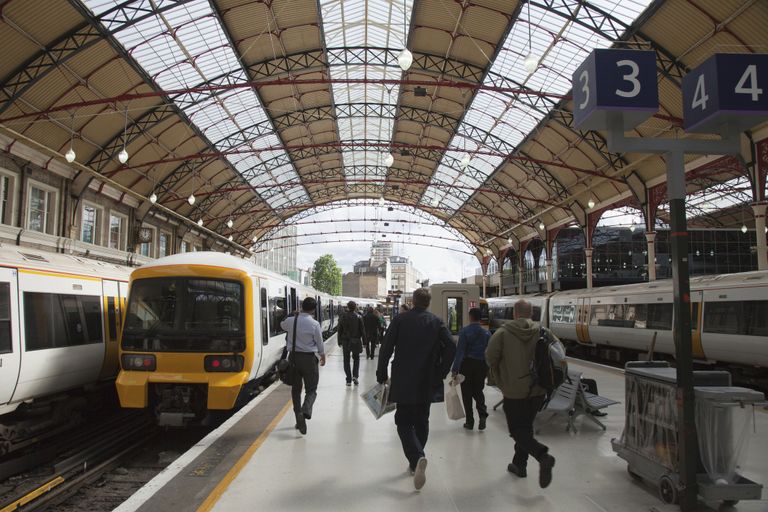 (Image credit: getty images)
Contributions from
If your train journey is cancelled due to the rail strikes, you may be able to get your money back. We look at who will be affected and what your rights are as the great rail strike of 2022 starts.
If you travel to work by rail or have booked tickets for a planned journey, then later this month you may be caught up in the biggest rail strike to take place since the late 1980s.
Over 40,000 railway workers, who are members of the RMT trade union, have voted to walk out on 21, 23 and 25 June.
The row centres on pay freezes and plans to cut thousands of jobs, which the union argues will make the railways unsafe.
In a separate dispute over pensions and prospective job losses, members of the union who work on the London Underground have also voted in favour of a strike on 21 June. However, in this article, we are talking about refunds in relation to your rail tickets.
Mick Lynch, general secretary of the RMT, suggested that rail companies were making "at least £500m a year in profits" which meant it was "unacceptable for railway workers to either lose their jobs or face another year of a pay freeze" given the high level of inflation.
The strikes will inevitably have a big impact on everyone who relies on the railway network to get around, whether that's for work or perhaps for a holiday. Here's everything you need to know about your rights and getting your money back if you can no longer travel.
Which rail operators will be affected by the strike?
In total, staff from more than a dozen rail operators will be walking out as part of the industrial action. As a result, if you plan to travel with any of these firms at all during that week, your services are likely to be impacted.
The rail operators are:
Avanti West Coast
C2c
Chiltern Railways
Cross Country Trains
East Midlands Railway
Greater Anglia
Great Western Railway
LNER
London Underground
Northern Trains
South Eastern
South Western Railway
TransPennine Express
West Midlands Trains
However, it's worth noting that these operators will still be attempting to run some sort of service on these days, even with lower staff numbers.
National Rail will be updating the industrial action page (opens in new tab) on its website soon to detail which services are running.
Can I get a refund because of the rail strikes?
According to National Rail, if your service has been cancelled, delayed or rescheduled "you may be entitled to a fee-free change or refund" from the original retailer of your ticket via Delay Repay.
The crucial word here is 'may', since the various rail providers all have their own rules covering how to go about receiving a refund. For example, the length of a delay that has to take place before a refund is paid varies between providers ‒ with Greater Anglia, you qualify for at least a partial refund once the train is delayed by 15 minutes, but with Cross Country Trains the delay must be at least 30 minutes.
As Martyn James, of the complaints website Resolver, points out train operators have "a few caveats" in place which may impact your chances of getting a refund.
He explains: "When strikes happen, some train operators may allow you to use your ticket on their services instead. Or there may be rail replacement or emergency services offered instead. Looking at the T&Cs on some train websites, they say they will only pay out if you can't travel or are delayed when taking these alternative services. I don't think that's particularly fair – so get in touch with the train operator before you choose not to travel to find out your refund rights."
It's also important to note that you can claim a refund for season or flexi-season tickets should you be unable to travel.
James says: "The way this is calculated is pro-rata and is rather complex, but again, you can start the process through the train operator website. They can charge an admin fee of up to £10 though."
How do I apply for a refund via Delay Repay?
Applying for a refund via Delay Repay varies slightly operator to operator.
Generally speaking you contact the train company online or by post with a photo of your ticket, season ticket or receipt plus the date and time of the train you wanted to catch. You have to do this for each journey affected by the strike.
Google 'Delay Repay' and the name of your train company to get contact details.
For season ticket holders, it appears the rules have been changed to be more generous: a one-off arrangement will allow them to claim Delay Repay refund if they choose not to travel on all three strike days - whether their train is cancelled or not.
Rail companies use a percentage of what season ticket holders paid for their pass to calculate a refund. So if you have an annual season ticket, you get 1/464th of the price back for every 'single journey' that needs to be refunded. If you have a monthly season ticket it's 1/40th of the price while if you have a weekly season ticket it's 1/10th.
If you're a season ticket holder you'll get your refund in your bank account while if you bought an advance ticket you'll get an e-voucher to use against the cost of a future rail ticket.
There is a general time limit of 28 days for applying for a refund.
It's likely we'll see many more people than usual applying to Delay Repay so there may be delays to some refunds. We will keep you updated as soon as we know more on this.
Can I travel on a different day because of the rail strikes?
If you've already bought your ticket for a journey during that week in June, then you may be able to use it to travel the day before or up to two days after the strike action has concluded.
Again though, this will vary by train provider so you will need to check with your own operator to establish just how flexible your ticket is due to the strikes.
Can I get a refund for additional costs incurred because of the rail strike?
You won't be able to claim a refund for any additional costs you may face such as having to pay for a taxi as part of your overall trip or a night in a hotel if you're unable to get home. National Rail has stated that it won't cover these additional costs.
While it's true that some train services will still be running on the 21, 23 and 25 June, there is likely to be substantial disruption. Even on the days when there is no direct industrial action, it's likely that train services will be impacted.
National Rail said passengers should check that their planned services are still running before they travel, and look for alternatives if the journey is likely to be affected. It also encourages travellers to only buy anytime and off-peak tickets "once they know their train is running".
John Fitzsimons has been writing about finance since 2007, and is a former editor of Mortgage Solutions and loveMONEY. Since going freelance in 2016 he has written for publications including The Sunday Times, The Mirror, The Sun, The Daily Mail and Forbes, and is committed to helping readers make more informed decisions about their money.
With contributions from