Queen's speech 2022: how it affects you
New bills will help strengthen the economy, but no immediate plans to help with the cost of living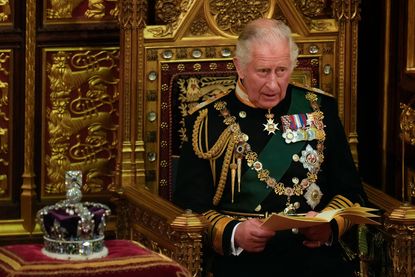 (Image credit: getty images)
Hopes of getting some urgent help with the cost of living crisis in today's Queen's speech were dashed, with little mention of financial support amid rising energy and food costs.
Delivered by the Prince of Wales, the Queen's speech sets out the government's agenda for the next parliamentary year.
In his opening line, Prince Charles said the government's priority "is to grow and strengthen the economy and help ease the cost of living for families", yet of the 38 bills announced, there was nothing to alleviate households' soaring everyday expenses right now or to address the concern that inflation could hit a 40-year high later in 2022 at 10%.
Myron Jobson, senior personal finance analyst at investment platform interactive investor, says: "The cost-of-living crisis was addressed off the bat, but the measures listed included few new announcements to help people with the biggest fall in living standards in generations. It seems that after two years of Covid support measures, households have now largely been left to go it alone."
But there was some news on protection for scam victims and access to cash. Here's everything you need to know.
Help for scam victims
Under what is known as The Financial Services and Markets Bill, banks will be required to reimburse authorised push payment (APP) scam losses, totalling hundreds of millions of pounds each year. This could help ensure that more people who are tricked into transferring money to a fraudster are reimbursed.
There has been an explosion of such cases in recent years, with scammers often posing as officials working for banks, the police or HM Revenue and Customs (HMRC) to dupe their victims.
Laura Suter, head of personal finance at AJ Bell, says "The Government clearly doesn't think the banking industry's voluntary system for reimbursing fraud victims is doing enough, as this new bill will pave the way for the Payment Systems Regulator to force banks to compensate victims, with a mandatory reimbursement for anyone who is tricked into transferring their money to a fraudster.
However, it doesn't mean every scam victim will definitely get their money back. "The regulator will come up with its own criteria for who can be reimbursed and who will be left to stomach their losses themselves," explains Suter. "What's certain to happen is that banks will beef up their checks and processes when anyone makes an online transfer if they are going to be the ones footing the bill for more of the fraud."
Protection of access to cash
Under the same Financial Services and Markets Bill, there will be new laws to improve easy access to cash.
It means the continued availability of withdrawal and deposit facilities across the UK will be guaranteed, so that people, particularly those in vulnerable groups, can still access cash. The move is set to benefit around 5.4 million adults who are thought to rely on cash to a very great or great extent in their daily lives, but have been affected by ATM or branch closures.
Tenants' rights strengthened
The Levelling Up and Regeneration Bill will abolish section 21 orders in England and Wales, which enable landlords to throw out their tenants with eight-weeks' notice without explanation.

Paul Wootton, Director of The Landlord Works, said: "Delivering the Government's commitment to abolish section 21 is a long-awaited and positive step forward. We believe this reform announced will help improve private renting and ensure that people living in rented properties have a home they feel they can call their own.
Rising inflation
The government has been tasked with supporting the Bank of England's target to return inflation to 2%. It is currently at a staggering 7% and expected to hit 10% later this year, which will see more pressure on the cost of living.
No detail was provided on any new plan to tackle rising inflation.
Energy
An Energy Security Bill aims to transition to cheaper and greener energy while aiming to minimise fluctuating bills, including by extending the price cap beyond 2023.
The bill will build on the success of the COP26 climate summit in Glasgow last year. At the summit, countries across the world set ambitious targets to lower carbon emissions.
He also said how the government will aim to "promote competition, strengthen consumer rights and protect households" with draft legislation.
Economy
The Levelling Up and Regeneration Bill will also drive local growth and regenerate towns and cities across England. The bill is wide-ranging, but will, for example, grant new powers to bring empty premises back into use.
Prince Charles said: "This will be underpinned by a responsible approach to the public finances, reducing debt while reforming and cutting taxes."
Workers' rights
New laws will deter companies repeating P&O's mass firing of staff by giving ports powers to refuse access to ferries not paying the UK minimum wage.
Look After My Bills Newsletter
Get the best money-saving tips, tricks and deals sent straight to your inbox every week. Make sense of your money in partnership with The Money Edit.
Katie is staff writer at The Money Edit. She was the former staff writer at The Times and The Sunday Times. Her experience includes writing about personal finance, culture, travel and interviews celebrities. Her investigative work on financial abuse resulted in a number of mortgage prisoners being set free - and a nomination for the Best Personal Finance Story of the Year in the Headlinemoney awards 2021.