Prescriptions: how to save money on your medicines and beat the price hikes
Prescription prices will go up in April. Act now to save money on your medicines and beat the hike.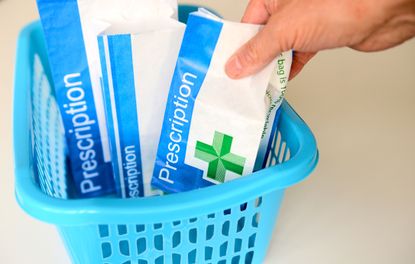 (Image credit: Getty images)
If you pay for your prescriptions, then there is a risk you may be paying too much. But with high inflation, which has seen energy prices (opens in new tab) and food costs remain high (opens in new tab), saving on your medicine could make a big difference to the cash in your pocket.
With the cost of living crisis in full effect, the cost of prescriptions will go up by 3% from 1 April- we tell you how this will affect you and how to beat the hikes.
Research from MoneySavingExpert (opens in new tab) suggests that more than a million people overpaid for their prescriptions in the year to April 2022, missing out on savings of up to £40.
The study, based on figures from the NHS Business Services Authority, found that around 1.064 million people paid for at least 12 prescriptions over the financial year, with people purchasing an average of 16 items.
But, with prices going up this April, now is the time to take a closer look at how you pay and whether you can save cash by purchasing an annual subscription.
Currently, each item on a prescription costs £9.35 - but for those who get their medicines regularly, an annual payment could be cheaper.
What's more, even if you don't buy prescriptions so frequently, you could still get your hands on the medication required for free.
We run through exactly who pays for prescriptions, and how to cut the cost of prescriptions.
How much will prescriptions cost from 1 April?
The government has announced there will be a 3% rise in the cost of NHS prescriptions from 1 April 2023. Here's how much you will be paying.
Swipe to scroll horizontally
| Type of prescription | Current cost | Cost from 1 April | Rise |
| --- | --- | --- | --- |
| Single prescription | £9.35 | £9.65 | 30p |
| Three-month prepayment certificate | £30.25 | £31.25 | £1 |
| 12-month prepayment certificate | £108.10 | £111.60 | £3.50 |
But this rise might not affect you if you are eligible for free NHS prescriptions.
Who gets free NHS prescriptions?
It's worth pointing out at the outset that there are different rules in place for prescriptions based on where you live in the UK. In Scotland, Wales and Northern Ireland, prescriptions are free of charge ‒ you only have to pay for them if you live in England.
You can get a free prescription if you fall into one of the following groups:
Aged 60 or older
Aged under 16
Aged 16 to 18 and in full-time education
Are pregnant or had a baby in the last 12 months and have a maternity exemption certificate
Have a specific medical condition and have a medical exemption certificate (MedEx)
Have a continuing physical disability that stops you from going out without help from another person and have a medical exemption certificate (MedEx)
Have a war pension certificate and the prescription is for an accepted disability
Are a hospital inpatient
You or your partner receive ‒ or you're under the age of 20 and the dependent of someone receiving ‒ income support, income-based Jobseeker's Allowance, income-related Employment and Support Allowance, Pension Credit Guarantee Credit or Universal Credit
To double-check if you need to pay for your prescription, use the NHS eligibility checker (opens in new tab).
Free prescriptions for pregnant women
If you are pregnant or had a baby in the last 12 months, you can get free prescriptions if you have a valid maternity exemption certificate.
You also get free dental care on top.
You should apply for this certificate as soon as you know you're expecting to take advantage of the free period. Your doctor or midwife does it for you and once you are registered, you will get either a digital certificate if you have an email or a paper one via the post.
The certificate is valid for 12 months from your due date (or when you give birth).
If you are in need of medicine before you get your certificate, let the pharmacist know you are waiting for your certificate - but do not avoid getting your medicine because of it.
Can I get a free prescription if I have low income?
If you have a low income, you will need to apply for an HC2 certificate to get financial help with prescription costs.
To get the certificate, you need to complete the HC1 (opens in new tab) form, which is available from Jobcentre Plus offices or most NHS hospitals. You might also be able to get an HC1 form from your doctor, dentist, or optician or by calling 0300 123 0849.
A certificate is usually valid for between six months and five years, depending on your circumstances.
Who can get a Medical Exemption Certificate?
If you have certain long-term medical conditions, you could get free prescriptions with a medical exemption (MedEx) certificate. You will need to ask your GP for an FP92A form (opens in new tab), which the doctor must also sign. The MedEx is valid for five years.
How to get cheaper prescriptions
A simple way to cut the cost of prescriptions, if you regularly pay for your medicine, is to make use of a prescription prepayment certificate, also known as a 'season ticket'.
The certificate means that, in return for a set price, you can get as many prescriptions as you need over a specified period.
You can get a three-month prescription prepayment certificate for £30.25, or opt for an annual certificate, which will set you back £108.10. If you don't fancy paying for the annual certificate in one go, you can instead pay for it in 10 instalments by direct debit.
With a single prescription costing £9.35, the cost of 12 prescriptions would cost £112.20, so if you get more than 12 prescriptions a year, then this could really slash the costs.
Prescription prepayment certificates (opens in new tab) can be purchased online, at your local pharmacy, or over the phone by calling 0300 330 1341.
What's more, if you have paid for prescriptions while waiting for your certificate to turn up, then you can get the money back by filling in an NHS FP57 refund form. You should be able to pick one up at your local pharmacy.
John Fitzsimons has been writing about finance since 2007, and is a former editor of Mortgage Solutions and loveMONEY. Since going freelance in 2016 he has written for publications including The Sunday Times, The Mirror, The Sun, The Daily Mail and Forbes, and is committed to helping readers make more informed decisions about their money.
With contributions from