42% of people 'expect to be financially worse-off in next three months'
Households say they are worried about their finances deteriorating over the coming months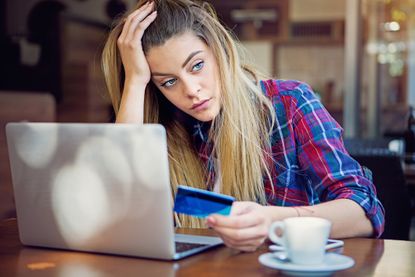 (Image credit: getty images)
Look After My Bills Newsletter
Get the best money-saving tips, tricks and deals sent straight to your inbox every week. Make sense of your money in partnership with The Money Edit.
Thank you for signing up to The Money Edit. You will receive a verification email shortly.
There was a problem. Please refresh the page and try again.
More than two-fifths (42%) of people predict their finances will worsen over the next three months, according to research from insurer LV=.
It said the findings are the most downbeat since June 2020, when its quarterly survey first began.
A similar proportion (44%) of the 4,000 people surveyed across the UK in March said their finances had already deteriorated over the previous three months, even as households attempt to find ways to cut back on bills.
More than half (58%) of people said their total monthly outgoings have increased in the past few months on the back of rising inflation and the energy crisis. According to the latest figures from the Office for National Statistics, the consumer prices index (CPI) measurement of inflation hit 7% in March, up from 6.2% in February. That's the highest inflation level recorded in 30 years.
And the big driver in that inflation rise was the increase in petrol and diesel costs, showing that the energy crisis is not limited to the way we heat our homes but also how we power our vehicles.
Households abandoning savings
The LV= study found that the situation is causing significant numbers to pull back on the money they set aside each month, with almost a quarter (23%) of respondents saying they are now saving less.
Building up a savings safety net is only likely to become more difficult in future as a result of the various changes to our money which kicked in earlier this month, such as the increase to National Insurance contributions and the hike to the energy price cap.
Given that financial wellbeing is already at its lowest point in two years, further price rises will see even more households stretched.
Older people more exposed to price rises
The economic difficulties being felt don't impact everyone equally, with some groups more exposed. For example, pensioners were found to be particularly likely to say their spending has increased.
Nearly two-thirds (65%) of retirees said the amounts they were spending at the supermarket had risen over the past three months, while almost half (46%) expected their finances to worsen in the quarter ahead.
While the state pension increased by 3.1% in April, along with other benefits, that rate of growth remains significantly behind inflation. And things could get even worse, with inflation predicted to hit a 40-year high of 8.7% in the fourth quarter of 2022, according to the Office for Budget Responsibility (OBR).
Clive Bolton, managing director of protection, savings and retirement at LV= said: "The results of the latest LV= wealth and wellbeing monitor highlight how the finances of millions of people are being squeezed by the large rise in the cost of living. The indices for savings, financial outlook and outgoings are the worst recorded since we started surveying consumers two years ago.
"Consumer sentiment had been steadily improving between spring and early autumn 2021 as the success of the vaccine programme, fall in death rates and easing of lockdown restrictions allowed life to begin to return to normal.
"However, the sharp rise in the cost of living has caused confidence to fall dramatically," he said.
Rising energy prices are becoming a significant problem for many people, particularly those who are retired.
Almost half of all adults struggled to pay their energy bills even before the energy cap was raised, leading many to seek help with household bills.
Additional reporting from the Press Association
What are the options for older people?
Bolton continued: "Rising inflation and poor returns from cash present a dilemma for people in retirement.
"They might have to draw down their savings more quickly than they would want or switch some of their savings into higher-risk assets.
"These can offer the prospect of keeping pace with inflation but can be hit hard if investment markets fall.
"As always with retirement planning, consulting a financial adviser about your retirement plans is a good way to understand your retirement options, and how you might ensure your retirement income keeps pace with inflation," he said.
Look After My Bills Newsletter
Get the best money-saving tips, tricks and deals sent straight to your inbox every week. Make sense of your money in partnership with The Money Edit.
Tom Higgins is a journalist covering all aspects of the financial world, from investing and sustainability to pensions and personal finance. He graduated from Goldsmiths, University of London in June 2020 and has since written online and in print for the Financial Times group, New Statesman media group, numerous trade magazines, and has worked with Bloomberg on social media projects. He has a deep interest in environmentalism, social change, and data-driven storytelling. He can be found tweeting at @tomhuwhig.