Check Pension Credit eligibility NOW to unlock an extra cost of living payment on top of the £300 one for pensioners
Find out if you're eligible for Pension Credit to get the extra cost of living help payment - which includes £300 for pensioners plus a further £650 for those on Pension Credit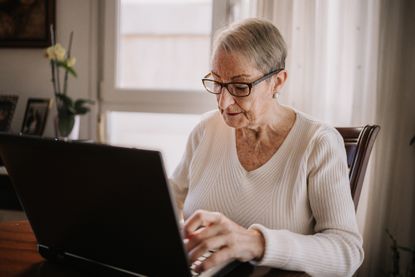 (Image credit: Getty images)
Around 850,000 pensioners entitled to Pension Credit are not claiming it. Now is the time to find out if you're eligible to unlock some of the extra £650 cost of living help payment, alongside the £300 promised to pensioners, in the government's £15bn cost of living help package.
Chancellor Rishi Sunak name-checked Pension Credit in his speech last week when he unveiled his latest cost of living support package, which includes a £400 energy rebate alongside other payments to the most vulnerable, totalling £1,500.
He went on to announce a one-off 'pensioner cost of living payment' of £300, which will be paid to more than 8 million pensioner households who receive the Winter Fuel Payment.
However, those who claim Pension Credit will also be eligible for the £650 payment that the government is paying to low-income households in receipt of means-tested benefits.
So, by claiming Pension Credit pensioners are in line to receive a total of £950 to help them through the cost of living crisis, rather than just the £300 pensioner payment.
Sunak said pensioners were disproportionately affected by the cost of living crisis, because they typically use more energy, adding: "We estimate many people who are eligible for Pension Credit are not currently claiming it… which means there will be many vulnerable pensioners not receiving means-tested benefits."
In fact, the latest estimates from the Department of Work and Pensions (DWP) show there are a staggering 850,000 pensioner households missing out on Pension Credit.
The benefit is separate from the state pension, and paid to people of state pension age on low incomes, even if they have savings or a private pension..
An estimated £1.7 billion of Pension Credit remains unclaimed - around £1,900 per year for each household.
Pensioners receiving Pension Credit can enjoy a top-up in their income plus access to other benefits, such as cold weather payments and help with NHS costs.
We explain what Pensions Credit is, who can claim, how much it's worth - and how acting fast and claiming it now could help you get part of the £650 means-tested cost of living payment.
Why aren't people claiming Pension Credit?
Put simply, pensioners are missing out on this top-up payment to their pensions because they do not know the extra financial help is there.
The government knows there is a problem with the take-up of Pension Credit, so much so that even the chancellor admitted it while unveiling his £15 billion cost of living support package.
The take-up rate has started to improve in recent years. In 2018-19, 920,000 pensioner households were entitled to, but not receiving, Pension Credit. A year later, the figure had fallen to 850,000.
However, this is still a huge number of people who are missing out on hundreds, if not thousands, of pounds that could really boost their income in retirement - and make a real difference at a time of soaring food, fuel and energy costs.
Stephen Lowe, group communications director at retirement specialist Just Group, said: "Pension Credit is designed to top up the incomes of the poorest pensioners but a third of those entitled to it – about 850,000 families – are failing to claim.
"The human story to this is the hundreds of thousands of people who are struggling to make ends meet who may not realise financial help is available or do not know how to navigate the system."
In a bid to raise awareness, the DWP joined forces with Age UK, former Strictly Come Dancing judge Len Goodman, celebrity chef Rustie Lee and the BBC last year to encourage people to check their eligibility and make a claim.
Some pensioners may simply be unaware that Pension Credit exists, while of those that do, they may think they aren't entitled to it because they own their own home or have some savings. Others may not feel comfortable taking money from the government.
But, Pension Credit isn't just a top-up payment; it is also a gateway to receiving other benefits. For example, Pension Credit recipients will receive the £650 cost of living payment, as well as the £300 pensioner payment..
Jon Greer, head of retirement policy at the wealth manager Quilter, said: "The message is clear: if you don't claim the credit, you won't get the help. The government needs to look at how they can publicise Pension Credit effectively to qualifying pensioners."
What is Pension Credit?
Pension Credit is a payment that helps with living costs if you're over state pension age and on a low income.
There are two parts: guarantee credit and savings credit. Guarantee credit tops up your pension income to a certain level, and is available to those on low incomes. Savings credit is only available to those who reached state pension age before 6 April 2016 and had some money saved for retirement, for example in a personal or workplace pension.
Even if you're only entitled to a small amount of money, it's worth claiming as it will help you qualify for other benefits, as well as providing extra income.
If you get pension credit, you can get the following help:
Support for mortgage interest if you own the property you live in
Housing benefit if you rent the property you live in
Council tax reduction
A free TV licence if you're 75 or over
Help with NHS dental treatment, glasses and transport costs for hospital appointments
Cold weather payments
Warm home discount
Christmas bonus
£650 cost of living payment
Can I claim Pension Credit now and get the £650 cost of living payment?
If you did not know you were eligible for Pension Credit and do not yet claim it, make a claim as soon as possible to get some of the extra payments promised to those on means-tested benefits as part of the cost of living help package.
More than 8 million low-income households on means-tested benefits such as Universal Credit, Tax Credits, Pension Credit will receive a £650 payment.
It will be paid in two tax-free instalments, in July and in the autumn. To be eligible for the first one, claimants will need to be in receipt of one of the benefits, or have started a claim which is later successful, as of 25 May 2022.
This means if you haven't already begun a claim for Pension Credit, you won't receive the first payment.
However, you could potentially receive the second payment. The government says it will provide further guidance about the second instalment at a later date.
If you think you may be entitled to Pension Credit, the key thing is to make a claim as quickly as possible. That way, you'll receive the income from Pension Credit faster, and you stand a better chance of meeting the criteria for the second cost of living payment.
How much is pension credit worth?
Pension credit tops up a pensioner's weekly income to £182.60 if single (or £9,495 a year). For those with a partner, the joint weekly income is topped up to £278.70 (£14,492 a year). This is the guarantee credit part of pension credit.
For those with a severe disability, guarantee credit is boosted by an extra £69.40 a week. You must get one of the following benefits to be eligible: attendance allowance, the middle or highest rate from the care component of disability living allowance, the daily living component of personal independence payment, or armed forces independence payment.
If you care for another adult, you could get an extra £38.85 a week, provided you get carer's allowance (or you've claimed carer's allowance but are not being paid because you already receive another benefit paying a higher amount).
For those responsible for a child or young person, you could get an extra £56.35 a week. The child or young person must normally live with you and be 19 or younger. If the child or young person is disabled, you may get a further payment.
The final top-up within guarantee credit is to help with housing costs. An extra payment may be made to cover ground rent if your property is a leasehold, or service charges.
The savings credit part of pension credit is worth up to £14.48 a week if you're single, or up to £16.20 a week if you have a partner.
Who can claim pension credit?
You must live in England, Scotland or Wales and have reached state pension age (currently 66) to be eligible for pension credit.
When you apply for guarantee credit, your income is calculated; if you have a partner, your income will be calculated together.
The DWP defines income as your state pension and other pensions (even if they've been deferred), earnings from a job or self-employment, and most benefits, such as carer's allowance. However, not all benefits are counted as income. Attendance allowance, child benefit, disability living allowance, personal independence payment, winter fuel allowance, housing benefit, council tax reduction and Christmas bonus are excluded.
Your savings and investments are also taken into account. This can include shares and any property you own (apart from the home you live in). If you have £10,000 or less, this will not affect your pension credit application.
If you have more than £10,000, every £500 over £10,000 counts as £1 income a week. For example, if you have £12,000 in savings, this counts as £4 income a week.
If your weekly income is below £182.60 then guarantee credit will top you up to that amount.
If you're claiming as a couple and your income is below £278.70 it will be topped up to that level.
The rules around who can claim savings credit are different. It's only available if you reached state pension age before 6 April 2016, and you have some money in savings or a pension.
You must have a weekly income of at least £153.70 a week if you're single or £244.12 a week if you're claiming as a couple.
The eligibility criteria can seem incredibly complicated, and is probably one of the reasons so many pensioners don't bother claiming. Use the government's pension credit calculator (opens in new tab) to work out if you're eligible and how much you'll get. Unfortunately, to make matters even more complex, not everyone can use the calculator, for example if you or your partner own more than one property or are self-employed. If that's the case, call the helpline on 0800 99 1234 or 0800 731 0469.
How to claim pension credit
You can apply for pension credit online (opens in new tab), by phone or by post. If you haven't reached state pension age yet, you can send in your application up to four months before this date.
If you have reached state pension age, your application can be backdated by three months only, meaning you could get up to three months' pension credit in your first payment.
You'll need your National Insurance number when you apply, plus details of your income, savings and investments. If you have a partner, you'll need the same information about them too.
If you have claimed in the past and were unsuccessful, you can claim again in the future. For example, a change in your circumstances could make you suddenly eligible for pension credit.
Ruth Emery is contributing editor at The Money Edit. Ruth is passionate about helping people feel more confident about their finances. She was previously editor of Times Money Mentor, and prior to that was deputy Money editor at The Sunday Times. A multi-award winning journalist, Ruth started her career on a pensions magazine at the FT Group, and has also worked at Money Observer and Money Advice Service. Outside of work, she is a mum to two young children, a magistrate and an NHS volunteer.