Pension planning – Georgie Frost: 'Why I prioritise my pension'
Why pension planning for income in life after work matters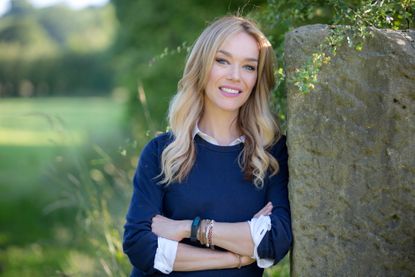 (Image credit: Georgie Frost)
Pension planning is one of those things that is easy to put off, but the ongoing failure to fix the broken social care system should remind us all of the importance of preparing for the future.
Georgie Frost, a financial journalist at Times Money Mentor, explains how an expected turn of events made her reassess her priorities and in particular, plan for life after work and her pension.
Pension planning for living longer
If life is a lottery, so too is death. By that, I mean the manner in which you leave this world as much as the age. Hopefully, like my beloved grandfather, you will live to the ripe old age of 99 happily in your own home, needing no extra care and completing the newspaper crossword every Saturday until it's simply your time to go. A life richly lived in rude health, even to the end.
But life does not always go in the way you expect. I for one am not so certain that I will be as fortunate as my grandad.
I certainly carry my grandfather's genes and I believed that I also possessed his robust physique. Alas, I was disavowed of that belief in 2008 when a spinal injury revealed evidence of years of degeneration and an operation followed.
At the age of 26, for some months, I needed the care of my wonderful mum to wash and clothe me. In that time I got a premature taste of what many, 50 or 60 years my senior, experienced. The aftertaste remains.
It would be five years before I could take on a full-time job. In terms of my financial future, this break was an enormous blow, being so early on in my career. I had no savings to fall back on, no income protection insurance, and would have had no idea how to navigate the benefits system even if my pig-headed pride had allowed me to try. It did not.
Instead, I had the love of my family - and my credit card. I got into debt.
Getting out of debt and planning for a pension
A spine that was crumbling and causing me chronic pain meant that my working life would likely be shorter than most and I would need care in my later years. While I hope that is not the case, getting to my mid-50s or 60s with no way to support myself financially was not a risk I was willing to take. And besides, who knows what sort of state pension awaits me - if one does at all.
In my new job, I was enrolled again at the age of 32 in a company pension, but I knew the auto-enrolment minimum contributions wouldn't be nearly enough. I had perhaps a couple of thousand pounds in retirement savings to my name at that point. I was effectively starting from scratch in pension terms.
As it is, my genetics had already placed me on the financial backfoot - I'm a woman. According to official figures, women earn about 16% less than men and that is translating into the gender pension gap. We, women, have to work an average of 54.5 years to reach the same level of pension savings that a man can reach in 40 years, according to equity release lender more2life. Meanwhile, L&G looked at its customers' pensions and found that the average pot held by a woman at retirement was less than half that of a man. I had work to do.
The key - as a friendly colleague told me - is to just get started. So after some research, that is what I did. A low-cost SIPP [self-invested personal pension] with a reputable firm is a good option to consider if you are just starting out.
Paying into a personal pension
I opened up my new personal pension and set up a direct debit for money to leave my account just after payday each month - so I wouldn't notice. As my roles changed and my pay increased, I made sure to up my personal and workplace contributions. Fast-forward to the onset of the pandemic and I had five pension pots, including a current workplace pension, with a not insignificant sum of money now invested.
After careful research and consideration, I felt it made sense for me to consolidate my pensions. I was keen to put my money to good use investing in ethical funds. I could also see exactly how much I had in one place and what I need to do to get to where I want to be. Getting on track with your pension is essential if you want to achieve your retirement goals. Consolidating your pensions isn't for everyone, so get advice if you are unsure.
A pension calculator can help you work out how much extra you need to save a month to reach your retirement target. A very general rule is to take the age at which you start saving and half it to give you the percentage of your income that you should be looking to save each month. As I started properly at 32, I should be contributing a minimum of 16% - I have always aimed for more.
What you save now will be the difference between having a comfortable retirement and barely getting by. If you aren't confident, then speak to a financial adviser who could help you make the best choices for your future.
Making use of the Lifetime ISA allowance
In 2017, I also opened a Lifetime ISA, which allows you to save up to £4,000 a year with a government bonus of £1,000, to be spent on the deposit for a house or your retirement. When I am ready, which will be sooner rather than later, I will use my LISA to buy a house, but for now renting works for me.
A number of family members have questioned my decision to prioritise saving for a pension over buying a house. For many, an Englishwoman's house truly is her castle. One relative in her late 50s has no pension but decided to invest in property instead and has a number of buy-to-lets. And that is her choice. I opted for the magic of compound interest instead.
The reality is that there is no one right answer but what is right for you, your personal circumstances and to a degree your personality. The decisions we make about money aren't motivated by economics alone - if they were, it's likely we'd all be a lot richer (retail therapy is a thing!). Our experiences and emotions shape us and our choices. Having been cared for in my twenties has made the care I am likely to receive in my old age much more real to me. I want to have the most comfortable future I possibly can, whenever I retire.
If life is indeed a lottery, like any lottery there are ways of increasing your chance of success. I choose to prioritise my pension now, while I can, because I want to win, like my grandfather, by leading the fullest life I can, even if health-wise, I lose.
Georgie Frost is a financial journalist who is part of the Times Money Mentor scheme and the host of the This is Money podcast.
Related articles
Look After My Bills Newsletter
Get the best money-saving tips, tricks and deals sent straight to your inbox every week. Make sense of your money in partnership with The Money Edit.
Georgie is a multi award-winning financial broadcaster and journalist. She is a trusted voice on all matters personal finance and consumer affairs, hosting a number of money podcasts and appearing regularly on TV, radio and in print. Georgie speaks with both authority and personal experience. Before moving into money journalism, Georgie spent a decade traveling around the country as a BBC sports broadcaster, however a spinal injury changed that. Georgie's journey into and out of debt due to her injury sparked a deep interest in consumer rights, financial education and social mobility, which drives much of her work today.